Microsoft plans to bring high-speed internet to rural areas using TV "white space" spectrum, the company announced Tuesday.
The software giant says 34 million Americans still lack access to broadband internet, or what the FCC defines as minimum connection speeds of 25 Mbps. Of those, 23.4 million live in rural parts of the country and rely on outdated cable connections or satellite technology to access the digital world.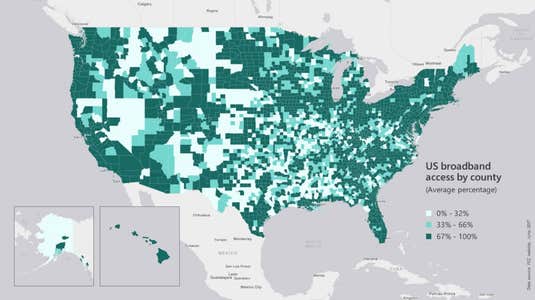 Microsoft claims it can bring broadband to 80 percent of rural communities by repurposing unused TV spectrum in the "white space" spectrum, the unused channels between television broadcasts in the 600Mhz frequency range. As the New York Times points out, this technology is also called "Super Wi-Fi" because it behaves like your home Wi-Fi network but has greater range and can penetrate through buildings. It's why people could watch television programs in rural communities before the creation of satellite TV.
Microsoft wants to connect more than 20 million people who have no or limited internet access in just five years, with a hard deadline of July 4, 2022. The company will spend the first year of its project deploying a network in 12 states, including Texas, New York, Michigan, and Virginia. For the other 20 percent who do not have access to broadband, Microsoft will use more traditional methods like satellite coverage and LTE fixed wireless (towers and ground stations).
The estimated cost of establishing these networks is roughly $10 billion. Microsoft says the unused TV spectrum cuts costs by 80 percent compared to using fiber cables, and 50 percent compared to the cost of LTE fixed wireless.
The U.S. may sit at the forefront of the digital revolution, but it still struggles to provide millions of its citizens access to stable wireless connections. Those who live in remote areas have trouble obtaining fast internet speeds because mobile internet providers are unwilling to build expensive infrastructure in sparse areas.  Another limiting factor for those in rural areas is the enormous cost of internet plans. A 2014 report from New America found those who live in U.S. cities pay significantly more for slower internet than people in other countries. The U.S. currently ranks 17th globally for average peak internet speeds at 48.8 megabits per second.
With its white space network, Microsoft is hoping it can raise the wireless standards in areas forgotten by service providers. But it will have to overcome several challenges before it can go forward with the project. First, there are very few devices that are compatible with white space frequencies, and those that do exist are expensive. Additionally, TV broadcasters believe the network could interfere with their programming. In fact, the National Association of Broadcasters already filed a complaint with the FCC against allowing Microsoft to use the spectrum.
Microsoft says it does not plan to enter the telecom business or "even to profit directly from these projects." It will invest in upfront capital and seek a revenue share from operators to recoup its investments. That's not to say there isn't financial incentive for Microsoft. Access to stable, high-speed could open the door to more than 20 million new customers.
H/T New York Times