More than a year ago, artist Christine Schott shared some of her designs on deviantART for character hoodies inspired by the video game series Mass Effect. It was the result of her desire to see more merchandise options in the BioWare store for female fans of the character Tali'Zorah nar Rayya. Now women have that option: Two of Schott's designs including Tali are currently being presold in the online store.
After Schott posted the unique designs featuring squadmates, popular secondary characters, and villains from the science fiction trilogy in March 2012, they went viral. They were quickly shared on gaming and geek news sites like Kotaku and the Mary Sue, and Mass Effect fans couldn't stop talking about them on the BioWare forums.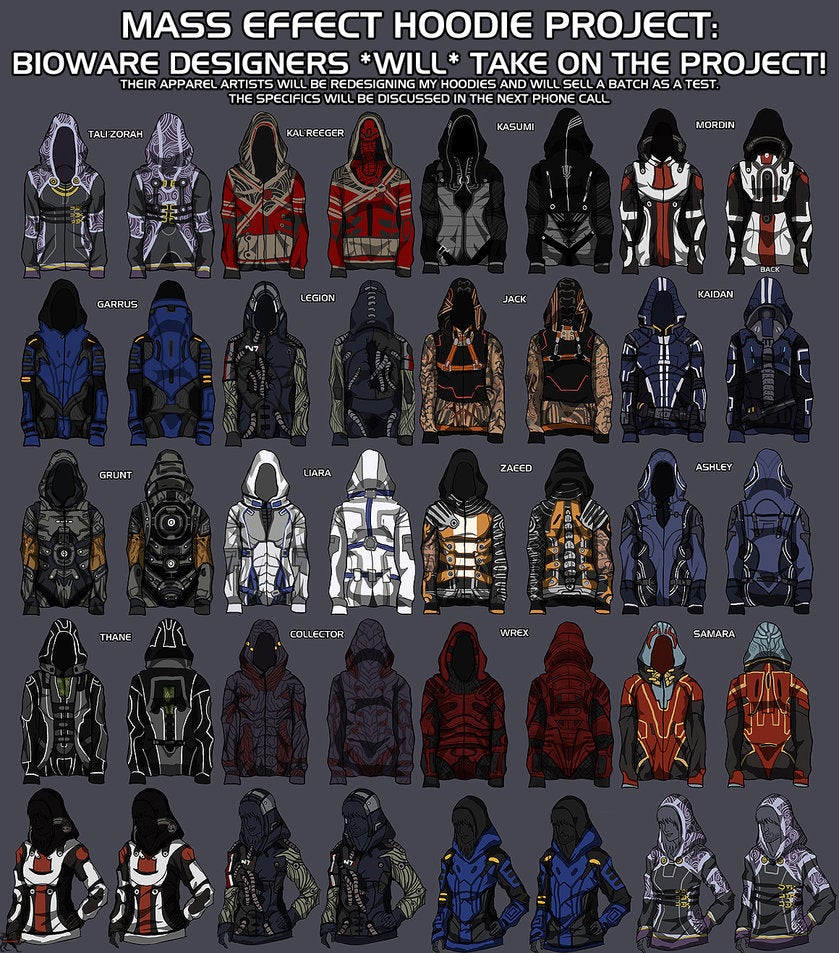 Illustration via Lupodirosso/deviantART
It was on one of these news sites that someone from Treehouse Brand Stores, the company that operates the BioWare store, saw Schott's designs and reached out to her with the idea of possibly collaborating to make them a reality. Working with fans and artists out of house is not a new idea for Treehouse. They've also worked with Indonesian artist Rajaya Yogaswara, known as machine56 on deviantART, and purchased some of his Mass Effect 2 designs.
"Our art team is only so big and only has a certain amount of bandwidth for stuff in all our stores. There's a ton of incredible, talented artists and designers who are fans of these games so when the opportunity to purchase artwork or collaborate on making someone's idea into a product to sell we love to do it," Jed Seigle, CEO of Treehouse Brand Stores, told the Daily Dot.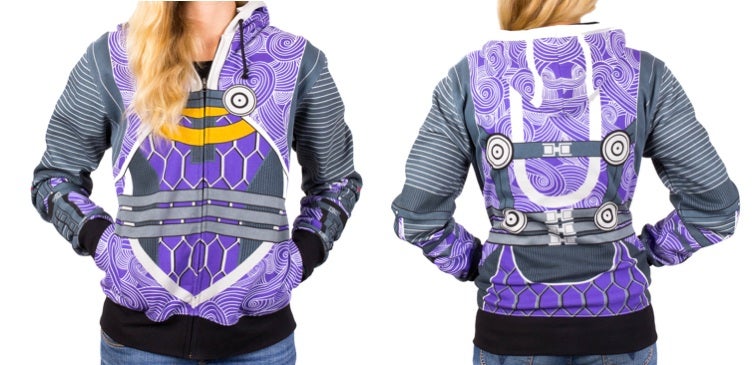 Once the team had Schott's design, they moved forward with developing it into a product. Months passed, and with no word on the hoodies, fans began to think they weren't going to see the light of day. According to Seigle, these took much longer to develop than other hoodies because of their intricate designs. They could not be printed on a finished hoodie but had to be printed on flat fabric panels, otherwise the design would not match up at the seams and the lines wouldn't fit together. Each panel had to be engineered for every size option.
"Printing on one size is easy, but for five different sizes, you need to make sure the lines cross the seams and match up. There are lines that go from the shoulder to the chest that should be aligned and connect," Seigle said. "The Tali hoodie was complicated with all those lines on her armor and her suit that go around from front to back."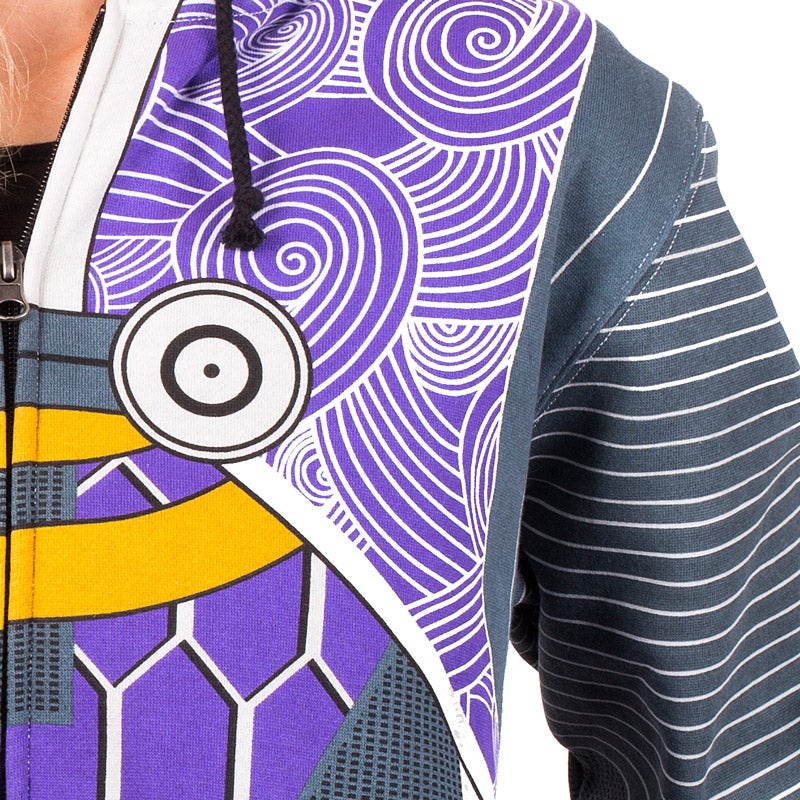 Treehouse tried about four different factories before finally finding one that could execute the designs at the quality they wanted and could move forward with development.
The squadmate characters Tali and Garrus Vakarian were chosen to try first because of their popularity with fans. They also messed around with designs for squadmates Mordin and Grunt.
"We have a list of ones we think would be really cool to do, it was just a question of starting with one or two and seeing how they do. If they sell well, we'll probably do other characters," Seigle said.
Schott did not respond to a request for comment on seeing her creations become a reality but she posted the finished products on deviantART, writing, "It's finally done. I'm so happy with how they came out. And the price I think, is right. I love you all! Thank you Treehouse."
If the response from customers is anything to go by, then it might be looking good for more characters to make an appearance. Seigle said the hoodies have sold really well so far despite reactions from fans on the extremes.
"Costume hoodies are not subtle. People either love them or think they're too loud and obnoxious," he said. 
The hoodies will start shipping the week of November 18. 
Photos via Ryan Salerno/Treehouse Brand Stores