The fight to free Julian Assange is still on. But for the founder of whistleblowing website WikiLeaks, who remains isolated and in "arbitrary detention" at the Ecuadorian embassy in London, help comes from a sprawling multi-channel server on the private chat app Discord.
Across 80-plus channels, volunteer campaigners craft messages, create graphics, organize events, monitor social media, and even plan public rebuttals to breaking news. The vast #Unity4J operation is moderated by several high-profile Assange loyalists and started when Suzie Dawson, leader of the New Zealand Internet Party, organized livestreamed vigils to protest Assange's plight.
The campaigners, however, are at odds with a group of longtime transparency activists critical of WikiLeaks' role in the 2016 U.S. presidential election—and Assange's shifting public profile as a hero to the far-right. Critics blast the campaigners as "Assange groupies" and worry that under Assange, in recent years, WikiLeaks became irrevocably partisan.
The bitter rift is exacerbated by an absence of official leadership as Assange has gone dark, denied internet access and the right to receive visitors six months ago because of his political tweets. But on Sept. 26, seemingly out of the blue, WikiLeaks announced the appointment of Kristinn Hrafnsson as its new editor-in-chief.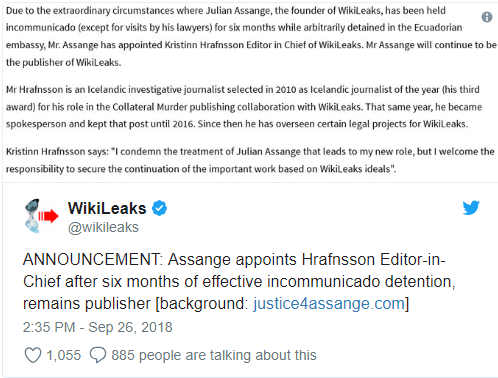 Hrafnsson joined WikiLeaks in 2010, serving as spokesperson until 2017, after seeing the impact of the organization in his home country of Iceland, becoming a new and enthusiastic believer in the merits of radically enforced transparency.
Though few may know his name, Hrafnsson is, on paper, a highly capable and natural fit, one who may be able to bridge the divide. The grey-haired, 56-year-old appeals to both camps as an ideological purist when it comes to the transparency cause.
"I think Hrafnsson will help extricate WikiLeaks from the cult of personality it has become due to various governments' abysmal treatment of Julian Assange," Jesselyn Radack, a lawyer for Edward Snowden, told the Daily Dot, adding that she expected Hrafnsson to be a steady hand guiding the organization.
But it's an appointment not without concerns, as a recent public accusation portrayed him as a hostile and abusive person toward women.
Journalist of the year
Hrafnsson first heard of WikiLeaks as an investigative reporter, when his country was in the midst of a severe economic depression.
As part of the global financial crisis, Iceland suffered its own systemic banking collapse, when all three of its privately owned commercial banks defaulted in late 2008.
In early 2009, Hrafnsson had been abruptly fired by television channel Stöð 2 when he tried to investigate the connection between Kaupthing Bank—a collapsed institution that had a balance sheet 10 times the size of the country's GDP—and two British-Iranian businessmen, Robert Tchenguiz and Vincent Tchenguiz.
So, in June 2009, when WikiLeaks published Kaupthing's loanbook as a single PDF made available publicly on its website, Hrafnsson's world changed. The loanbook revealed mass corruption by the bank's executives, who had been funneling billions of dollars in loans to their own privately held companies.
It was explosive, not just for Iceland but for Hrafnsson, then working with Icelandic national broadcaster RÚV. He called the leak "a tremendously important revelation, perhaps the most important after the banking crisis."
However, in August 2009, Hrafnsson's journalism was frustrated once again. This time, as he was digging into the loanbook leak for RÚV, the media organization was served a gag order by the Reykjavik sheriff's office, forcing an end to its coverage.
Speaking to journalist Andy Greenberg in November 2010, Hrafnsson described the profound impact of the leak and the journalistic circumvention WikiLeaks represented.
"The shock was incredible for our society, and the urgency and need for information was creating pressure on journalists," he said. "There was a lot of banging our heads on the steel wall of the Bank Secrecy Act and getting only bits and pieces of information. It goes to show how important it is to have a venue like WikiLeaks, an anonymous channel to the public."
It was around this time that Hrafnsson also met Assange for the first time. From there his direct involvement with the organization grew.
"What Wikileaks offered in my mind is the most important addition to journalism that we've had in decades," Hrafnsson wrote in 2012 on Reddit. "It was refreshing and inspiring. This is pure journalism. Dedication to provide essential information to the public in order for them to make an informed decision in a healthy democracy."
Assange then suggested that Hrafnsson investigate Collateral Murder, a video showing a U.S. attack helicopter killing two Reuters journalists in Iraq from 2007. The video had been leaked to the organization by Chelsea Manning, then an intelligence analyst, and its publication sparked an international uproar, putting WikiLeaks on the map. In April 2010, Hrafnsson traveled to Iraq to meet the families of the victims.
"I went to Baghdad to meet the widow of the driver of the van, who was murdered, and her two children, who were seriously injured for trying to help the victims," Hrafnsson told La Vangardia of the trip.
The work won him Iceland's 2010 Journalist of the Year award, the third time he'd achieved this. When Assange officially registered WikiLeaks in Iceland as an international nonprofit organization that November, under the name Sunshine Press Productions, Hrafnsson was listed as a board member.
By late 2010, Hrafnsson emerged as WikiLeaks' official spokesperson, hailed as the organization's "new public face" in a December Forbes profile.
Described as "taciturn" and "not one who seems to relish the spotlight," Hrafnsson spoke candidly of his aspiration to "gradually put more emphasis on the leaks than on WikiLeaks, and more emphasis on the organization than the founder."
Hrafnsson would make public appearances to introduce a new leak or speak out against the prosecution of whistleblowers. He was a trusted point of contact for media outlets. However, his role soon increasingly involved addressing the legal woes of Assange.
An air of allegations
In the wake of the sexual misconduct allegations brought against Assange by two women in Sweden, and particularly after Sweden issued an international arrest warrant for the WikiLeaks founder, Hrafnsson could be seen by Assange's side at the press and court appearances.
He may now face allegations of his own.
In the week following WikiLeaks' announcement that he would take over as editor-in-chief, journalist Emma Best made an appeal for information about Hrafnsson.
"Several people who have worked with #WikiLeaks tell me Kristinn #Hrafnsson is a violent drunk with a history of being physically and emotionally abusive of women," she wrote on Twitter.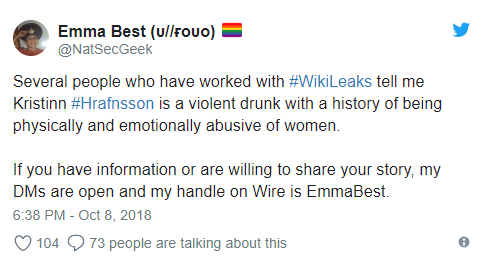 The Daily Dot was unable to independently confirm the veracity of these allegations. Best did, however, issue the following statement to the Daily Dot:
I was somewhat relieved when I saw Kristinn Hrafnsson was named as WikiLeaks' Editor-in-Chief, as his credentials far exceed Julian's. He's more professional and more credible, and his name isn't associated with people like Sigurdur Thordarson or Israeli Shamir the way Julian's is, and his name wasn't associated with rape.

 

When I related my relief to an associate who had worked with WikiLeaks in the past, they described Hrafnsson as abusive and a violent drunk. I brought the matter up with someone who has worked with both Julian and Kristinn, they immediately confirmed the description of his drinking and abuse of women. After my tweet, an associate contacted me to say they had their own sources who had described Kristinn as a violent drunk.

 

At this point my relief is gone, and I don't know what to think of Kristinn as editor-in-chief—but I believe the people I've spoken with.
WikiLeaks has not responded to the Daily Dot's requests for comment regarding the claims. Hrafnsson did not respond to interview requests sent to WikiLeaks for this story.
The election and the feud
Hrafnsson steps back into the fray full-time as editor-in-chief at a particularly tumultuous time for WikiLeaks and its broad supporter base.
The U.S. presidential election of 2016 ideologically fractured the organization's support base. Those committed to the "pure journalism" vision Hrafnsson had been inspired by in 2010 were left questioning whether WikiLeaks had acted with political bias and violated its impartiality in order to strategically influence the election in favor of Republican candidate Donald Trump.
In the months before election day, Democratic nominee Hillary Clinton's presidential campaign had been taking serious damage week after week via batches of emails from her campaign chairman John Podesta and the Democratic National Committee, released by WikiLeaks.
Some of the leaked emails suggested that the DNC was working to undermine the Bernie Sanders primary campaign, in favor of Clinton—prompting the resignation of DNC chair Debbie Wasserman Schultz. For Trump and his supporters, it was the gift that kept on giving.
"Getting off the plane, they were just announcing new WikiLeaks, and I wanted to stay there, but I didn't want to keep you waiting," Republican presidential candidate Donald Trump told a packed rally in Ohio just days before the election, on Nov. 4. "Boy, I love reading those WikiLeaks."
The leaks quickly and radically changed the demographics of the organization's support base. Suspicions and fears underlined by leaked Twitter chatlogs seemed to show an internal preference for a Republican win. There were mounting allegations of contact with the Trump campaign.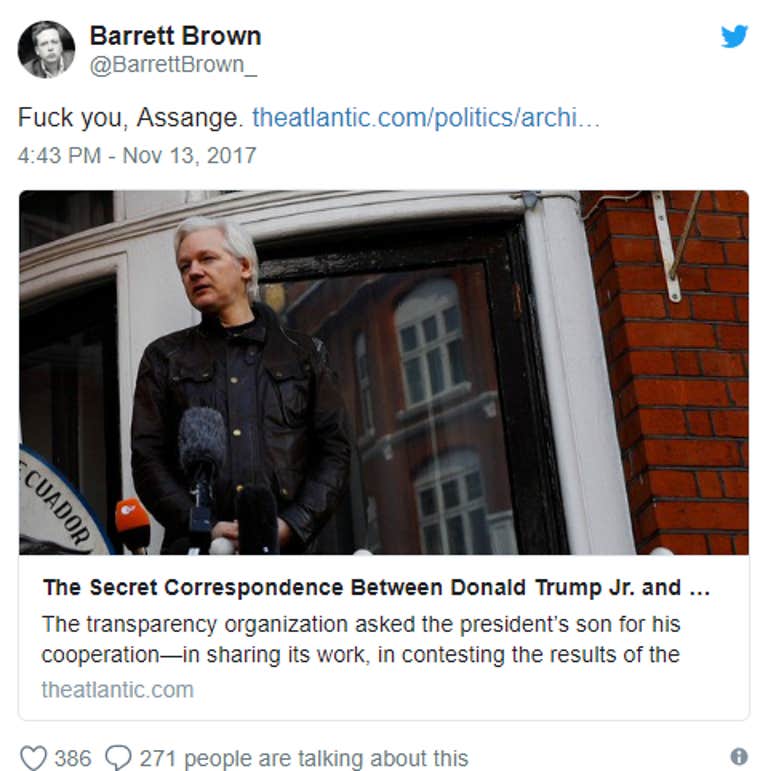 Meanwhile, a new wave of conservatives previously opposed to the organization over its leaking of military and government secrets now hailed Assange as a hero and joined calls for him to be freed.
In open and bitter spats online, conflict erupted between the two main factions of transparency activists: The critics of Assange and loyalist campaigners who were united in the fight for Assange's freedom but divided on the significance of his politics.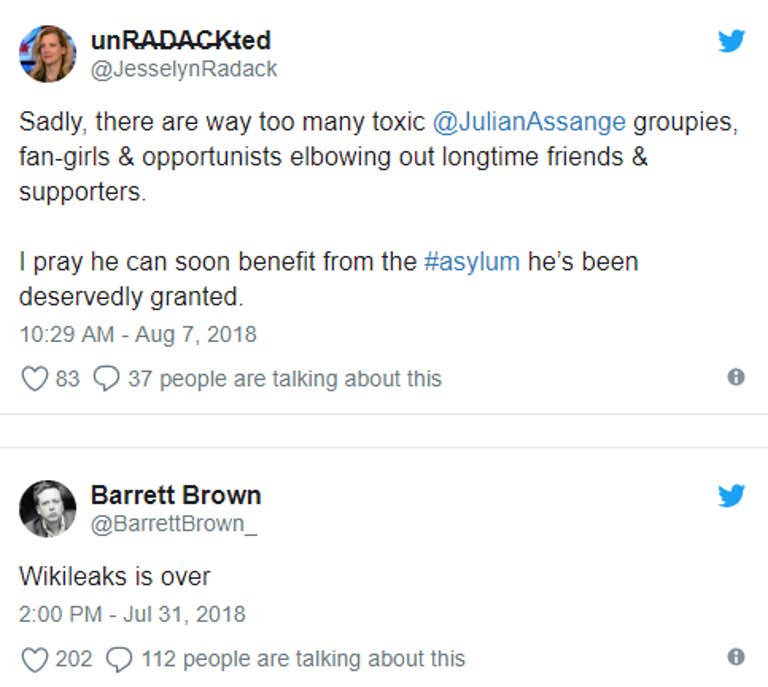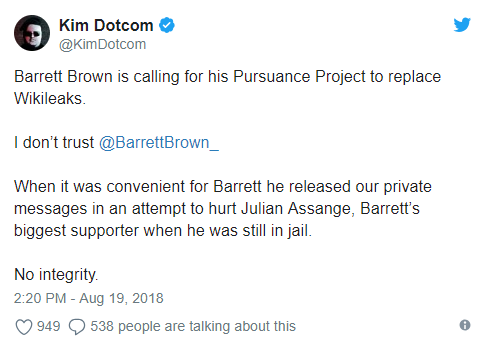 Critics blasted loyalists as "cult-like," unquestioning followers of Assange, who were uncomfortably allied with the right. Campaigners, meanwhile, slammed critics as agents of division who had bought into destructive anti-WikiLeaks media narratives and emphasized the need to free Assange.
Hrafnsson himself has not publicly addressed the conflict in a direct way, except to distance himself from the controversial events of 2016.
Speaking to the Associated Press in November 2017, amid collusion allegations and questions about WikiLeaks' message exchanges with the Trump campaign in the lead-up to the presidential election, Hrafnsson said that he had stepped away from his full-time role with the organization in early 2016, before Trump's candidacy.
He denied that he had met with anyone from the Trump campaign but said he could not say with certainty whether anyone else from WikiLeaks had done so.
He walked a fine line, one that didn't kowtow to or betray Assange. It won him new fans.
The rocky road ahead
Hrafnsson's first statement as editor-in-chief last month seemed as much a call to calm as a proud commencement.
"I condemn the treatment of Julian Assange that leads to my new role," he said, "but I welcome the opportunity to secure the continuation of the important work based on WikiLeaks ideals."
The brief comment has been welcomed by high-profile individuals aligned with each faction across the WikiLeaks divide.
"I've known Kristinn Hrafnsson for nearly a decade," Jesselyn Radack told the Daily Dot. "As a lawyer who represents whistleblowers, he has my complete confidence as WikiLeaks' new editor-in-chief."
Radack is a human rights attorney known for her high-profile clients like whistleblower Thomas Drake and counts herself among those "longtime WikiLeaks supporters" who say they have been "attacked and alienated" by pro-Assange campaigners.
"I am also hopeful that Hrafnsson will get WikiLeaks back to its roots of being more apolitical," Radack continued. "As a transparency organization, it should not be helping sway elections in the United States or anywhere else—just [publish] the truth without regard to outcome."
Elizabeth Lea Vos, a journalist and leading #Unity4J campaigner, has dedicated much time in helping the Free Assange movement. She's also on board with the new hire.
"I think that the decision to bring Hrafnsson on as editor-in-chief is one that makes sense. It means that WikiLeaks is refusing to allow Julian Assange's abominable circumstances to affect the organization's capacity to publish," she said.
"I hope that under Hrafnsson's leadership WikiLeaks continues to publish the type of groundbreaking material that makes tyrants and corrupt actors across the globe squirm," Vos added. "To continue to live up to WikiLeaks' founding principles while Assange is isolated will show that gagging a single political prisoner is not enough to stop the truth from being exposed."
Vos joined Suzie Dawson, leader of the New Zealand Internet Party and entrepreneurial internet activist Kim Dotcom in holding livestreamed vigils in March.
"I'm grateful for everything Julian did to open our eyes about Government crimes, lies and deceptions," Dotcom told the Daily Dot. "Everyone who values the truth should support Wikileaks, Julian Assange, and the new editor-in-chief, Kristinn Hrafnsson."
Some of WikiLeaks' most prominent dissenters declined to discuss the appointment of Hfransson with the Daily Dot.
Despite the potential and rare solidarity among transparency activists, it remains unclear whether the hiring is a permanent move or a temporary one. Assange will remain as publisher. Just what license that gives to the new editor-in-chief is uncertain, and it's possible that WikiLeaks is too fragmented to ever return to its heydey of prominent reporting scoops.
But for serious grassroots transparency activists, at least, the cause is the common denominator—and an absolute commitment to the cause is something that the majority believes Hrafnsson possesses.