There's a woman on Kickstarter who wants to be the world's first Professional Insultress. All she needs to raise is $3,000. 
California native Dorlene B wants to become the first woman in the world to make a living professionally insulting third parties, and she's turned to crowdfunding to make that happen. Her plan, should she raise the necessary funds, is take that money and purchase the necessary tools—desktop publishing software, graphics-happy computer, cardstock paper, a color printer—to get her business up and running. 
Once that happens, Dorlene B will be firing off insults at the rate an auctioneer fires off figures. 
Here's how the whole thing works:
1) You vent towards or directly insult Dorlene B.
2) Dorlene B takes it all in.
3) She listens, she agrees, and she writes it all down.
4) Then she turns to her graphics-happy computer and puts together some iteration of a greeting card, note, or PDF file, one that details your venting or insults in her own creative words.
5) Should you be happy with the insult Dorlene B has composed, she'll package it up and send it off to your originally intended recipient. 
"With the world on edge of disasters and people so stressed with the economy, most people need to let off steam safely," Dorlene B wrote. "I offer a service that will provide a clever means of venting that particular thought toward someone or something that the client believes needs to be 'insulted,' or simply told off. 
"The insult does not need to be sent, nor delivered to be a success. It's into the vent-sharing that this services provides."
She's even left a few examples of the work she can do on her Kickstarter page.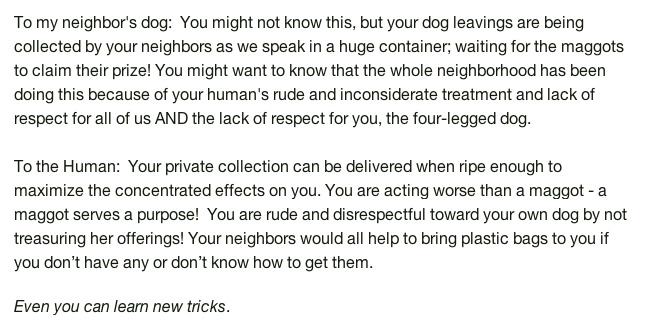 $3 gets you a "short personalized note with your choice of sentiment style." $5 gets you four "word-smithing" insults. 
Ladies and gentlemen, it's time to start backing. These insults won't write themselves.
Photo via Team Coco/YouTube