Did you feel that? It was as if Instagram just got … cooler. Like vibes of authoritative awesomeness went rippling through the social network. It can only mean one thing.
Yes, America's favorite sitting vice president, one Joseph Robinette Biden Jr., joined the photo-sharing service today and is likely fiddling with some retro filters as you read this. For now, however, there's just one stylish snapshot on the veep's brand-new account.
Here's what the avuncular politician had to say upon diving into the world of selfies and artfully staged food porn (or what his staff said, rather—Biden's own posts will be marked "-vp."):
Vice President Biden's getting ready to head to Pennsylvania with President Obama this afternoon, where he'll lay out steps we can take to train America's workers with the skills they need for good middle-class jobs. Follow @VP for the latest from the Vice President, and the occasional aviators pic.  
It's safe to say that we can also expect images of Biden going to town on some ice cream cones, winking like a pro, getting into massive water gun battles, and washing his beloved 1981 Trans Am. But given that tomorrow is #tbt, or Throwback Thursday, I'd like to suggest he upload a headshot from 1988, when he was serving in the U.S. Senate, that adorns my living room. Addressed to my wife, it expresses a fond wish that she grow to become like her parents. 
Around here, we call it "the Curse of Biden."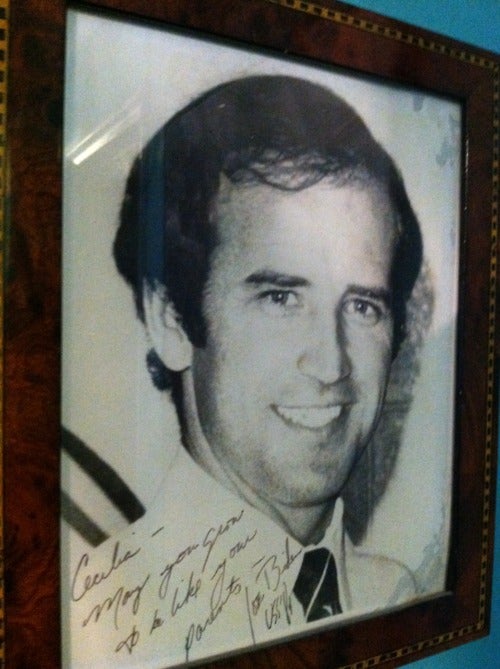 Aside from being a horrible jinx, I'd say this portrait is solid proof that a true BAMF is photogenic in any era.
Photo by Marc Nozell/Flickr