The internet collectively exploded on Tuesday when it was revealed that a smear campaign against Robert Mueller was likely the brainchild of 20-year-old Jacob Wohl, a right-wing Twitter personality who made a name for himself as a prominent Trump-supporting pundit.
Jacob Wohl's entire life pic.twitter.com/DnIs8sON0i

— SwiftOnSecurity (@SwiftOnSecurity) October 30, 2018
The scheme involved a mix of deception and faith, hoping that in the era where women's stories about sexual assault are finally taken seriously, any accusation floated against a prominent figure would be championed. But the scheme had a few too moving parts (that contained blatant falsehoods), which caused its swift undoing.
It started when Wohl claimed to have met with a "prominent DC lobbyist," saying that credible accusations against Robert Mueller were likely to come to light in the next couple of weeks. He seems to have meant Jack Burkman, a champion of the Seth Rich conspiracy theory, who was later implicated in the scheme with Wohl. Burkman was the first to claim he had access to Mueller accusers, saying he would go public with them this week.
Now here's where things start to get confusing.
Around that time, college professor Jennifer Taub, who was a frequent cable news guest where she spoke about the Mueller investigation, was approached by a person from SureFire Intelligence—a bogus "intelligence" firm made up by Wohl, with contact info that reaches his mom. In an email, the company offered her compensation for her time to give anything she may have had on Mueller.

It appears that Wohl, under the guise of SureFire Intelligence, was attempting to reach women who may be willing to speak out against Mueller (truthfully or duplicitously), in exchange for compensation. Wohl denies this.
But it is also around this time that reporters started receiving emails from a woman who said she had been approached by a person offering to pay her money to come forward with allegations against Special Counsel Robert Mueller. Approximately 20 or so reporters claimed to have received them.
https://twitter.com/yashar/status/1057325791187427328
This appears to also have been Wohl, according to reporters who looked into this tip.
The tip was flagged by pundits Ed and Brian Krassenstein for the FBI. When they tried to report it out, they reached a series of dead ends that they eventually tied back to Wohl and SureFire Intelligence. The FBI says it's been made aware of the plot.
…
So Wohl was both trying to get info on Mueller and outing the fact that he was trying to get information?
The first part of the scheme makes sense. If a woman publicly comes forward in this climate with allegations against Mueller the thinking is that initial reception would be empathetic: There would be belief and support—and an immediate call for Mueller to recuse himself from his investigation into President Donald Trump.
The scheme's masterminds apparently hoped to weaponize the Me Too movement for their own personal gains (which is an accusation they have lobbed at liberals repeatedly, especially during the recent Brett Kavanaugh hearings).
The Gateway Pundit ran with a purported investigative report from SureFire Intelligence claiming to have vetted a woman who was assaulted by Mueller on Aug. 2, 2010. Wohl has contributed to the Gateway Pundit before, so it seems possible that Gateway Pundit's Jim Hoft knew Wohl was his source.
But even the Gateway Pundit took down the documents after they were exposed by journalists online who noted that the day Mueller was "accused" of rape was the same day he was serving jury duty in D.C.
hey dumbass jim hoft and jacob wohl: Robert Mueller was SERVING JURY DUTY IN DC the EXACT DAY you claimed he raped a woman in NYC (August 2, 2010). that's some surefire intelligence for ya pic.twitter.com/h1P0y85cAP

— lvl 45 chao$ potu$ (@thetomzone) October 30, 2018
Wohl's idea appears to be that he could pay a woman to come forward with accusations, and also bait reporters into discrediting her because they'd already been tipped about the payments.
If they reported this after the accusations came out, Wohl and his cohorts could claim that the media was refusing to believe women, and accuse reporters of smearing assault survivors to help protect the Mueller investigation. And he said as much in a series of tweets Wednesday morning, accusing the mainstream media of working with Mueller.
Well, actually, Wohl floated two theories on Twitter before deleting one. Wohl deleted a theory about the "Deep State scum inside the media," and said the hoax emails came straight from Mueller's office.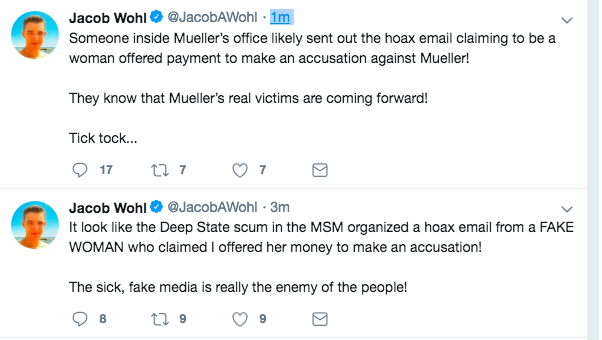 https://twitter.com/JacobAWohl/status/1057643335387615233
Wohl did not respond to a request for comment.
It would seem like being so thoroughly exposed would make this the end of it. But according to his Twitter, he still plans on attending a press conference on Thursday, which was originally announced before this all blew up in his face.
https://twitter.com/JacobAWohl/status/1057616287562715138
When it comes to doubling down on getting caught in a lie, you have to hand it to him.