On Wednesday, German astronaut Alexander Gerst tweeted what he described as the "saddest" photo he'd ever taken from the International Space Station (ISS).
The photo gives us an aerial view of Israel and Gaza. Like any other aerial photo taken at night, it shows cities and towns as clusters of light in the darkness, with major roads illuminated like threads between major population centers. The difference is, in this case, many of the lights are actually caused by explosions over the cities.
My saddest photo yet. From #ISS we can actually see explosions and rockets flying over #Gaza & #Israel pic.twitter.com/jNGWxHilSy

— Alexander Gerst (@Astro_Alex) July 23, 2014
Gerst, a geophysicist, is 57 days into a 6-month stay on the space station. He regularly tweets pictures from orbit, but most of them are selfies or typical aerial photos of oceans, clouds and volcanoes.
The Gaza conflict has increased over the past few days, to the unfortunate extent that the violence can now be seen from more than 300 kilometres above the Earth's surface. Gerst's photo is far from the tranquil version of our home planet that we're used to seeing.
Update: Utah Valley University Associate Professor Michael Harper points out on Facebook that much of what's shown—indeed, perhaps all that is captured—in Gerst's photo is the lights of various Israeli cities. The Gaza Strip, the primary area targeted by Israel's military action, is also visible, though as this photo shows, it's only a small part of what's depicted in this extraterrestrial photo: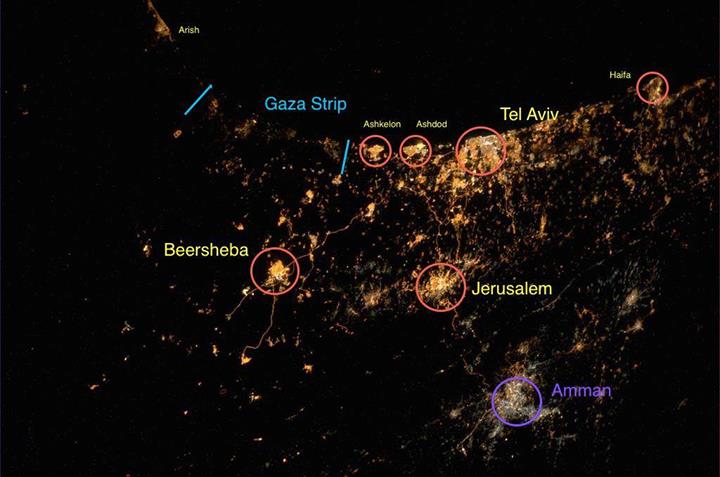 Photo via Facebook
Gerst may have witnessed rocket attacks from the ISS, though it is unclear whether this was actually captured in the photo he posted. 
Photo via Alexander Gerst/Twitter