Way back in 2010 when Instagram originally launched, it took very just a few months for the app to gain millions of users, so it was only briefly a small community. Regardless of its size, the heart of its appeal is how intimate it feels: You pull it up on your phone, and suddenly you're peaking at these little square snapshots of other people's lives.
Even after expanding to 200 million regular users, even after getting purchased by Facebook, even after Justin Bieber and every Kardashian ever infiltrated, even after brands figured out they could sell on it… Instagram, with its minimalist design and mobile-first approach, still somehow feels casual and close-knit. A recent update to the app's Explore page reinforces Instagram's intimate charm.
Unlike the rest of Instagram, Explore hasn't felt intimate, ever. It surfaces the photos with very high engagement, but that often has more to do with how maniacal the users are about cajoling people into "liking" their posts than it is about quality. Originally, Explore went by another name: Popular. Instagram users who wanted more followers aspired to end up there, since it was the easiest way to boost your count.
The Popular page turned into the Explore page in 2012, but this was mostly just a name change. Explore still featured the photos and videos that performed well, which meant lots of photos from celebrities and the Instagram-famous users who campaigned for followers. To see what followers had liked, users had to go to the News tab in the notifications section, which doesn't have the same visually-oriented layout of Explore.
Philippe Gonzalez, the man behind the Instagram Museum and the head of the Instagramers online community, is excited about this change. He told the Daily Dot that many community members believed the old Explore tab was flawed. "The algorithm never really gave a fair game and an equity solution," he said. "People with loads of followers were likely to be present on the Popular page for each of their posts published, when others never made it to the Explore page."
The general consensus believed that the old Popular/Explore page was more about gaming the system than surfacing the highest-quality images.
But the most recent update, launched this week, should alleviate this complaint. Instagram updated Explore to include photos and videos liked by people users follow. This means Explore will now be a way to see what friends see, as well as a way to gauge what's popular across the service. All of the photos and videos that appear on Explore will be public, so nothing from a locked account or Instagram Direct will appear.
Instagram didn't reveal what percentage of the Explore photos will come from friends' recommendations, though the company did confirm that they made the change. "We're always looking to update the types of photos and videos you see in Explore to better tailor it to you," a spokesperson told Daily Dot. "We'll show you a variety of content that people you follow have liked, as well as content that is trending in the Instagram community."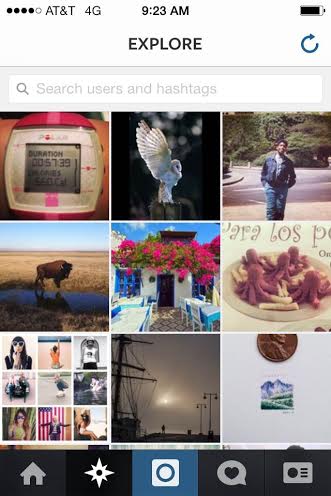 My Explore page is now mostly filled with photos that my friends have liked or posted themselves, and it looks much more enticing than what I saw in the old Explore tab. This is a smart move on Instagram's part. The Explore tab often features content with many likes that isn't necessarily of interest to all users; there can be a proliferation of sexy selfies and flashy shots posted by people whose chief talent on Instagram is drumming up engagement. Now I see a lot of shots of tacos, and my friends. Much better, much more my speed. As TechCrunch pointed out, this change shows how Instagram is different than Vine, since Vine's Popular Now tab is far better at aggregating what are objectively the best Vines of the day.
Gonzalez is excited about the change, although he believes it should be the beginning in a series of improvements to exploration and search on the service. "This new behavior is not 100 percent the best solution. In the future Instagram might integrate some individual and targeted parameters from your geolocation, age, hobbies, or hashtag you used. But it's a good start," he told the Daily Dot.
The way early adopters used Instagram was more exploratory than the way early adopters used Facebook. It wasn't an app where you primarily followed people you were already friends with or looked up people you knew. That did happen, but people who joined Instagram also connected with other active users because they liked their style or shared interests. In that way, it was more like Twitter than its parent company: Users could lock their profiles, but the service was more exciting with a public account. Because Instagram was the first major social network that existed solely on mobile, people felt like it was a more closed world than it was, a little universe of photography. There was a feeling of a native community and intimacy, even as that community expanded quickly.
Search and discovery remains a tricky beast for social networks. Within the last year, we've seen ample experimentation, from Graph Search, to Twitter's expanded options, to the many, many third party Instagram options that continue to challenge the app's own offering.
There seems to be confusion about whether to go bigger and give us more via search and discovery is better, or whether surfacing things from our own intimate circles is preferred. Twitter, which only shows you who you follow, pushes you to see more, via its notifications and search feature, but Instagram and Facebook seem to be trying to pull you into your own chosen communities more.
So, which is better? What do we want? To be pushed out into the ether of social happenings we don't know about, or to be shown more from the people whose content we already know we like?
We don't really know yet, and neither do these platforms. But by adjusting Explore to reinforce that feeling of belonging to a close-knit community, Instagram is certainly improving what's long been a lacking feature.
H/T TechCrunch | Photo by nasrulekram/Flickr, remix by Jason Reed (CC BY 2.0)