Instagram recently debuted its private message feature, Instagram Direct, launching itself into competition with Snapchat and Twitter. The service allows Instagram users to send photos and messages to just one other friend or a group of friends.
The debut of Instagram Direct wasn't surprising—there's been speculation throughout the year that the photo-sharing app would allow its users a private message option, especially after Snapchat's ascent into the social sharing pantheon. What was surprising: for some Instagram users in the U.S., Japanese social network Mixi appeared today as an option for sharing Instagram photos.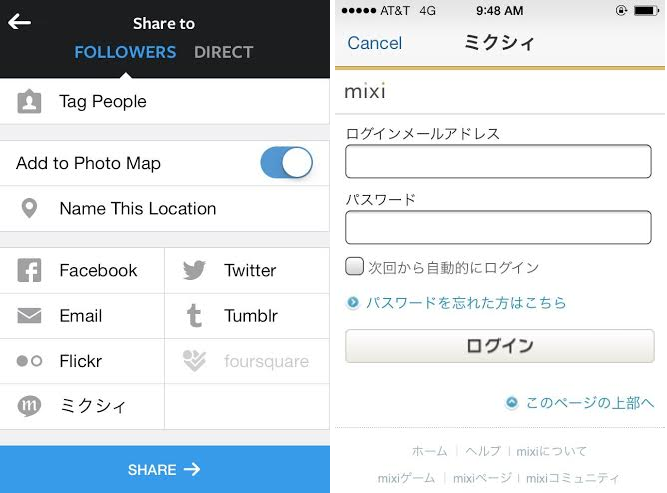 Mixi integration has been available for iOS Instagram users since 2012, but it's only supposed to appear when users set their language settings to Japanese. China's Sina Weibo and Russia's VKondtakte are other regionally-specific sharing options that usually don't appear to users who select English as their preferred language. For whatever reason, a glitch caused Mixi to evade its language constraints and started popping up as an option for U.S.-based, English-language accounts. An Instagram spokesperson tells us the issue is being investigated, and it will likely be fixed soon.
Of course, people who saw Mixi as a new sharing option may have been curious about what it was, mistaking it for a newer app, but it's far older than Instagram. Mixi was founded in 2004 and has over 20 million users in Japan. The network, which boasts a robust feature roster (check-ins, Facebook-esque profiles, voice blogging, and popular gaming apps) is currently the subject of major stock market movement, since stocks spiked based on speculation that upcoming gaming apps will boost the company's profile.
Instagram users who saw the Mixi sharing toggle may have been tempted to try it, but accessing Mixi from outside Japan is difficult. Registration requires a working Japanese cell phone number, which really throws a kink in the plans of people who want to sign up from the U.S. There are apps developed to help people circumvent this restriction, but they won't allow for quick Instagram integration.
If you're one of the Mixi mixup, it probably won't last forever, but perhaps it's sparked an interest in the wide world of region-specific social media. 
Screengrab via Mixi PR/YouTube