When Instagram launched Hyperlapse last week, the app quickly rocketed to the top of the App Store charts, and for good reason; The innovative timelapse tool is quite powerful, and can create some fantastic content. But while it was being adopted by countless iOS users, another app was enjoying a surprising surge in sales. And that app's name also happens to be Hyperlapse.
Hyperlapse—the one not created by Instagram—was originally released in August of 2013, and remained fairly dormant for many months. The app uses the Street View feature of Google Maps to show what it's like to travel along various routes in places you've never been. It incorporates a timelapse feature as well, but obviously it's nothing at all like Instagram's new video app.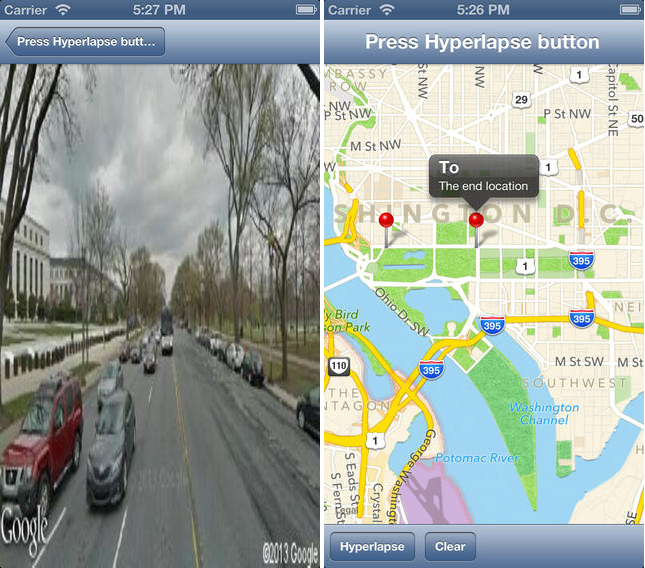 But the fact that it's not actually the new Instagram app didn't stop tens of thousands of iOS users from searching for "Hyperlapse" on the App Store and downloading the first thing that popped up (again, not the Instagram one). According to the developer, Position Games, over 45,000 downloaded the free app since the Instagram one by the same name was released… and it's probably a safe bet to assume the vast majority did so by mistake. 
The skyrocketing popularity was so dramatic that "old" Hyperlapse reached the top six spot in the App Store. 
In a move that the developers of the original Hyperlapse app insist was designed to alert users that they were looking at the wrong app, they decided to raise the price of the app from free to 99 cents. Apparently that still didn't stop upwards of 2,000 people from paying and downloading the app anyway.
It might be easy to accuse Position Games of trying to make a quick buck off of a case of mistaken identity, but the fact that they also went through the trouble of putting a warning right in their own app's description on the App Store suggests they were doing everything possible to prevent confusion.
Of course, the flood of both paid and free downloads lead the original Hyperlapse app to receive a whole bunch of negative reviews as well, with users demanding that the original app change its name. Apparently it's harder to admit you downloaded something without looking than to simply get angry and demand your 99 cents back. No surprises there. 
Photo via Luke,Ma/Flickr (CC BY 2.0)