Online video streaming service Hulu is wading into Colorado politics by banning an online advertisement relating to abortion this week that the company deemed "too controversial."
The rejected ad opposes a Colorado ballot initiative called Amendment 67 that, if passed by voters on November 4, would change the definition of "personhood" in the state's criminal code to include human embryos. This would effectively make abortion murder by classifying the act as the termination of a person. Amendment 67's critics argue that the bill is nothing more than an attempt to outlaw abortion and emergency contraception.
Enter Amanda, a rape survivor who was treated with emergency contraception at a hospital in Colorado after she was violently raped. In the 30-second clip that Hulu rejected, Amanda explained her opposition to the Colorado amendment:
"I was on my daily run when I was attacked and beaten and raped," she said. "What I've been through is one of the many reasons I oppose Amendment 67. When I was at the hospital I was offered emergency contraception. Amendment 67 could ban abortion and emergency contraception, even in cases of rape or incest. Of course, we all want to protect pregnant women, but amendment 67 isn't the way."
Hulu's decision raises the question of whether a service that markets reality shows about underage pregnancy is censoring a women's health advertisement in order to support Amendment 67's conservative backers.
According to RH Reality Check, Hulu has run campaign ads endorsing Rep. Cory Gardner (R-Co.), a GOP Senate candidate and co-sponsor of the "Life At Conception Act," which is essentially a federal version of Amendment 67.
Reached for comment, Gardner's office referred the Daily Dot to a public relations director, who deferred to a campaign manager, who did not immediately respond.
Women's rights group UltraViolet was quick to promote an online petition opposing Hulu's decision, as was NARAL Pro-Choice America.
"They singled out women's health for censorship and there are women in Colorado who will be significantly hurt if this amendment passes," Adam Bink, UltraViolet's campaign director, told the Daily Dot by phone. "The notion that they don't run controversial ads is absurd."
According to Bink, Hulu viewers have reported a number of political ads that UltraViolet deems equally controversial.
"They're seeing ads concerning Planned Parenthood and the Governor's race, concerning the Senate race and birth control. They're seeing ads on casino funding for schools, on genetically modified food. They're seeing ads on plenty of controversial topics," Bink said. "To single out women's health is unfair policy."
Hulu did not immediately respond to a request for comment, but UltraViolet sent the Daily Dot an email allegedly written by a Hulu employee. In it, the company apologizes for the "inconvenience" it caused the anti-Amendment 67 campaign, but repeats that Hulu's bylaws don't allow them to air ads that "advocate a controversial political or other public position."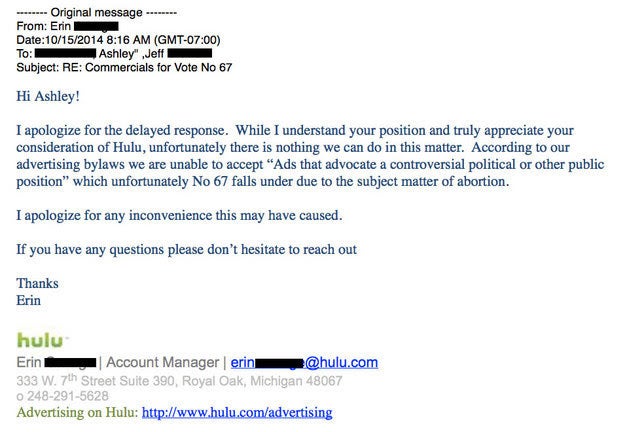 Hulu isn't the first company to receive heat this year for a decision to ban abortion-related (or at least, pro-abortion related) content. Last month, crowdfunding giant GoFundMe spelled out its strict no-abortion policy after a young woman successfully campaigned for her own abortion. As with Hulu, it didn't take long for people to accuse GoFundMe of hypocrisy, since the site continued to host fundraisers for anti-abortion protests outside abortion clinics.
The backlash against Hulu has been significantly less dramatic than the one that targeted GoFundMe. The crowd-fundraising site suffered an immediate public relations crisis after many organizations vowed to abandon the platform. This could be because the ad that Hulu rejected isn't nearly as controversial as a fundraiser for an actual medical procedure—it merely advocates for a woman's right to have one.
Update: 6pm ET, 10.23.14: In a statement to the Daily Dot, NARAL ProChoice Colorado condemned Hulu's ban on "controversial" political advertising about abortion.
"Seven in 10 Americans support abortion rights, yet somehow Hulu thinks an issue the vast majority of Americans agree on is controversial," said Karen Middleton, Executive Director of NARAL ProChoice Colorado. "Thousands of Colorado students and parents recently demonstrated against silencing the truth of American history, and it's also offensive that Hulu wants to silence an important discussion about our reproductive rights being under attack."
Photo by nanagyei/Flickr (CC BY 2.0) | Remix by Fernando Alfonso III