Virtual reality hasn't taken off as many analysts expected. Part of the reason is that today's solutions are clunky and expensive. People don't want a plug running from their head to a computer as they're twisting about a simulated world. Not only does it make VR look goofier, but our increasingly wireless world expects a greater level of practicality in its gadgets. VR, in its current state, doesn't fit the trend.
Not a lot of products at CES feel like a solution to a genuine problem, but the DisplayLink XR is. It lets you play games in virtual reality without any wires. The idea is simple: Attach a big portable battery pack to the back of an HTC Vive. Of course, it's not that easy. The amount of data being sent to a VR headset is four times that of a standard high-definition television. To process that data wirelessly, it needs to be compressed in a way that doesn't result in lag or decreased video quality.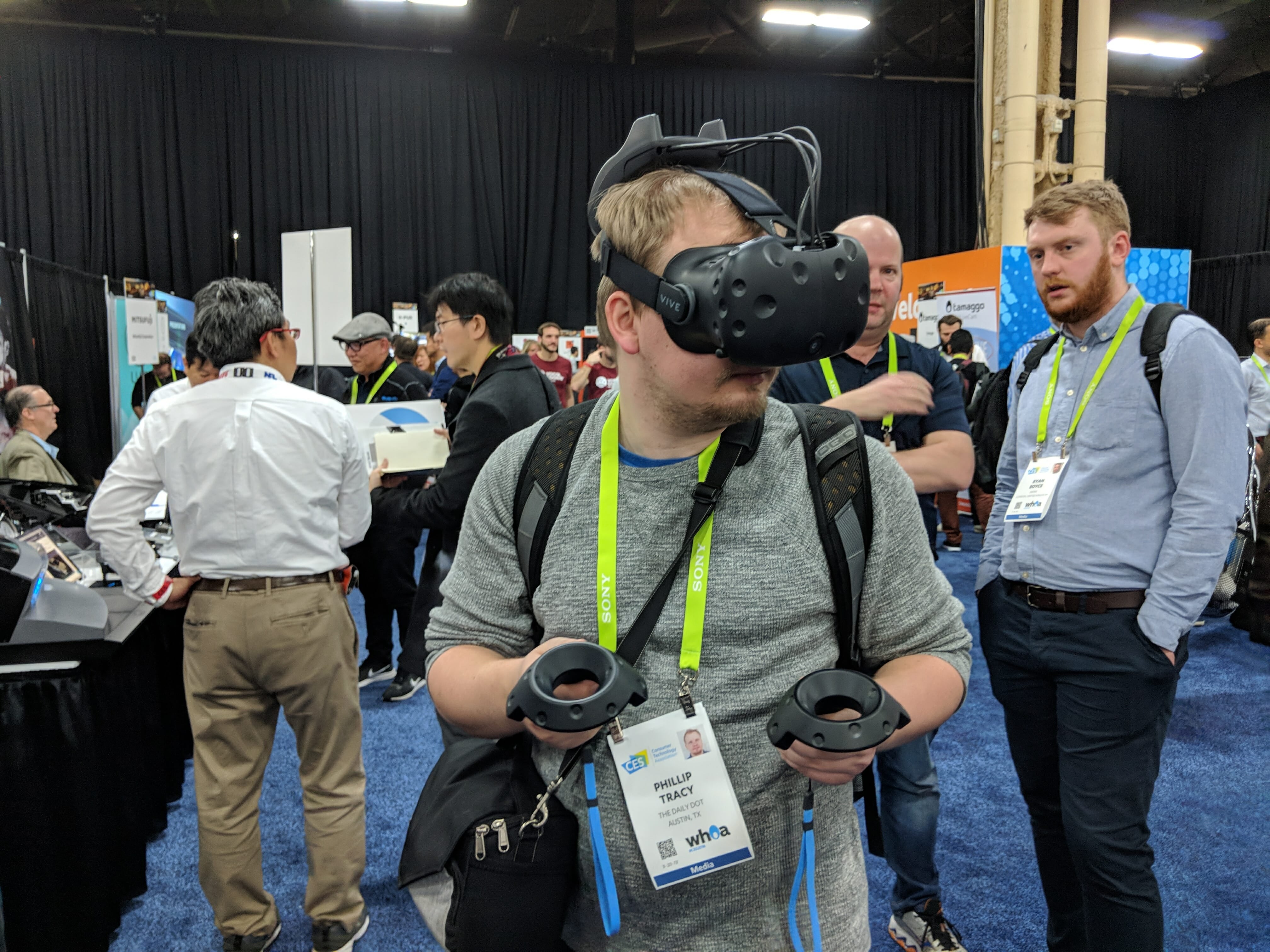 DisplayLink does this expertly. I didn't experience any latency issues as I blasted my way through a high-definition sci-fi space shooter. The first-person shooter I played ran as smoothly as any wireless setup I've tested and there was no lag. The image quality was also superb, without any jarring rendering issues or soft details.
Despite its large size, the battery was surprisingly comfortable to wear. It formed nicely to the back of my head and didn't add as much weight as I anticipated. That was a huge relief for someone who is quite sensitive to headaches. The last thing you want is a headache to go along with your VR-induced nausea. I can thankfully report feeling nothing of the sort after my three-minute demo.
Unfortunately, I can't comment on the headset's long-term comfort. However, that may never be a potential issue since the battery only powers the Vive for two hours per charge. That's a respectable runtime but we should expect improvements in the future as lithium-ion cells become more efficient.
I've always imagined wireless VR as a natural next step and my demo only confirmed those suspicions. The moment I started playing, it hit me that I was getting an early look at the future of virtual reality.
The day after I demoed the DisplayLink XR, HTC announced a wireless adapter for its HTC Vive that uses DisplayLink technology. The company is expected to release pricing and availability information in the coming months. Until then, rest easy knowing VR is about to get a whole lot better.