Yesterday, the House Judiciary Committee tackled hate crimes and white nationalism in a contentious hearing that incorporated elements of academic debate, courtroom-style drama, and political circus.
For four hours, the committee endeavored to get the facts about hate in America, discuss ongoing and future methods to fight it, including by law enforcement and tech companies, and how to balance these efforts against freedom of speech and expression.
Online, the hearing proved to be of particular interest to those who espouse hateful rhetoric. Opening statements hadn't even concluded when YouTube announced that, "due to the presence of hateful comments," it was suspending comments on the livestream.
Those testifying included people with personal experiences with hate crimes, subject matter experts, and representatives from Facebook and Google/YouTube, both of whom were taken to task by members of Congress angered by their roles facilitating the spread of hateful and racist content that has helped fuel the proliferation of hate groups.
Several called on the companies to increase transparency and threatened that if they didn't do better at policing hate on their own, then Congress would do it for them.
Hate crimes have risen substantially since President Donald Trump's election in 2016, and he was an omnipresence at the hearing; time and again members referred to his statements and policies that have been criticized as both racist and emboldening to racists.
"When [our leaders] dehumanize and demonize refugees or Muslims, or anybody else from a marginalized community, that's a problem," said American Defamation League's Eileen Hershenov. "…when you have anti-Muslim bans and anti-immigration and refugee stuff, this gives embrace and emboldens white supremacists."
"What we've seen with this administration is that words, the rhetoric, the policy actions, matter, and they're influencing how people think about and interact with fellow citizens who may be of a different race or different religion," said Kristen Clarke, president and executive director of the National Lawyers' Committee for Civil Rights Under Law. Clarke further noted that she found it particularly concerning that there has been a 25 percent increase in incidences of hate in American classrooms in recent years.
Rep. Lou Correa (D.-Calif.) said that in his district, one of the most diverse in the nation, children are afraid to go to school. "A lot of those kids in those schools are very nervous, very stressed out, very scared."
Eva Paterson, president and founder of the Equal Justice Society, called on Republicans to censure the president. "We would love to see Republicans stand up and say, 'Mr. Trump, what you're saying is not helpful, it harms people of color, it harms Muslims.'"
Tech companies' role in fostering the spread of hate proved a pervasive theme throughout the hearing, with members questioning their methods, transparency, and plans for the future.
All were criticized, but Facebook was particularly singled out.
The company's Public Policy Director, Neil Potts, said that Facebook now has 30,000 people tasked with safety and security, including among them former intelligence and law enforcement; is working with organizations and others that have expertise in hate speech; and has partnerships with other stakeholders in the fight against hate. Still, he acknowledged that it remains a work in progress.
"We have made significant progress. There's still a lot of room to go."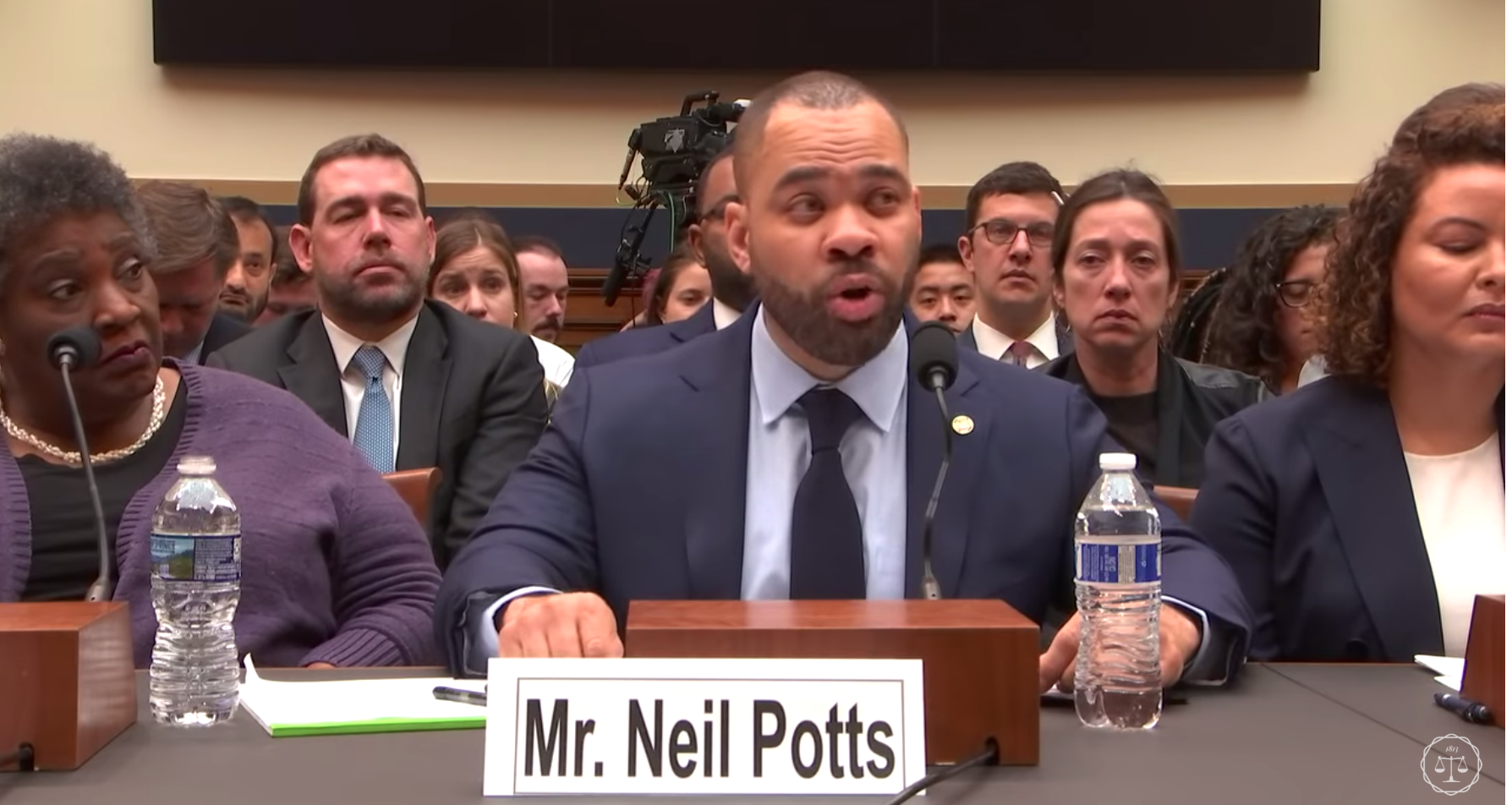 At the end of the hearing, Clarke noted that, in spite of its recent decision to add white nationalists and separatists to the list of those banned, Facebook groups that espouse technically banned ideology are still active on the site.
"'It's Okay to Be White' and 'Nationalist Agenda' … are still live today."
Two of the Facebook groups bearing these names have 18,000 and 8,700 followers, respectively.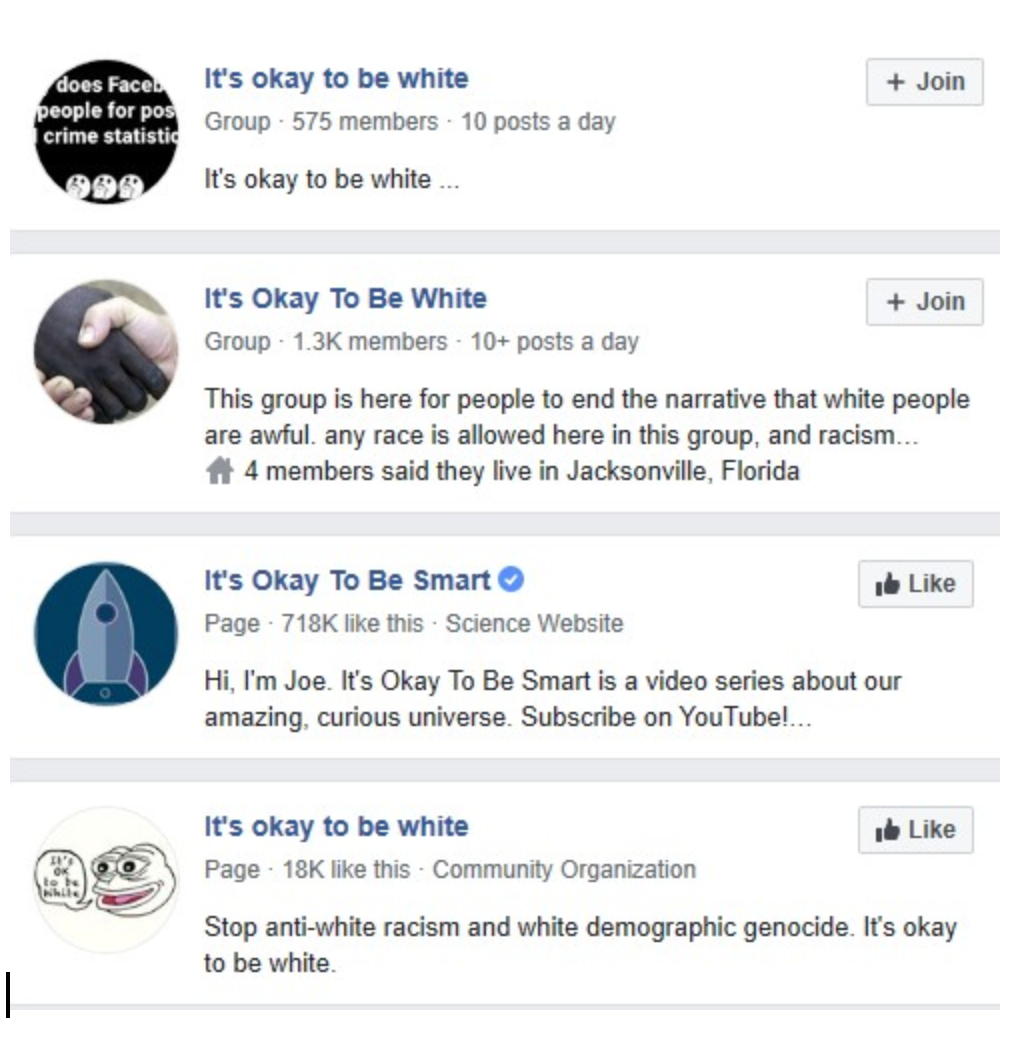 Several members brought up recent hate crimes, like the mass shooting in New Zealand earlier this year, the racist murders of nine black churchgoers in South Carolina in 2015, and others.
Dr. Mohammad Yousif Abu-Salha spoke of his personal tragedy. In 2015, his two daughters and son-in-law were murdered in North Carolina in an act believed at least partially motivated by Islamophobia. "Three beautiful young Americans were brutally murdered, and there is no question in our minds that this tragedy was born of bigotry and hate," he said.
Others testifying to their experiences with hate included Zionist Organization of America President Mort Klein, whose parents survived the Holocaust, and Fox News pundit Candace Owens, who was a target of hate speech when she was in high school. Both appeared at the invitation of Republicans in what appears to have been an effort to hijack the committee by questioning its purpose and necessity, attempting to sow discord between victims of hate, and minimizing the current danger presented by white supremacy.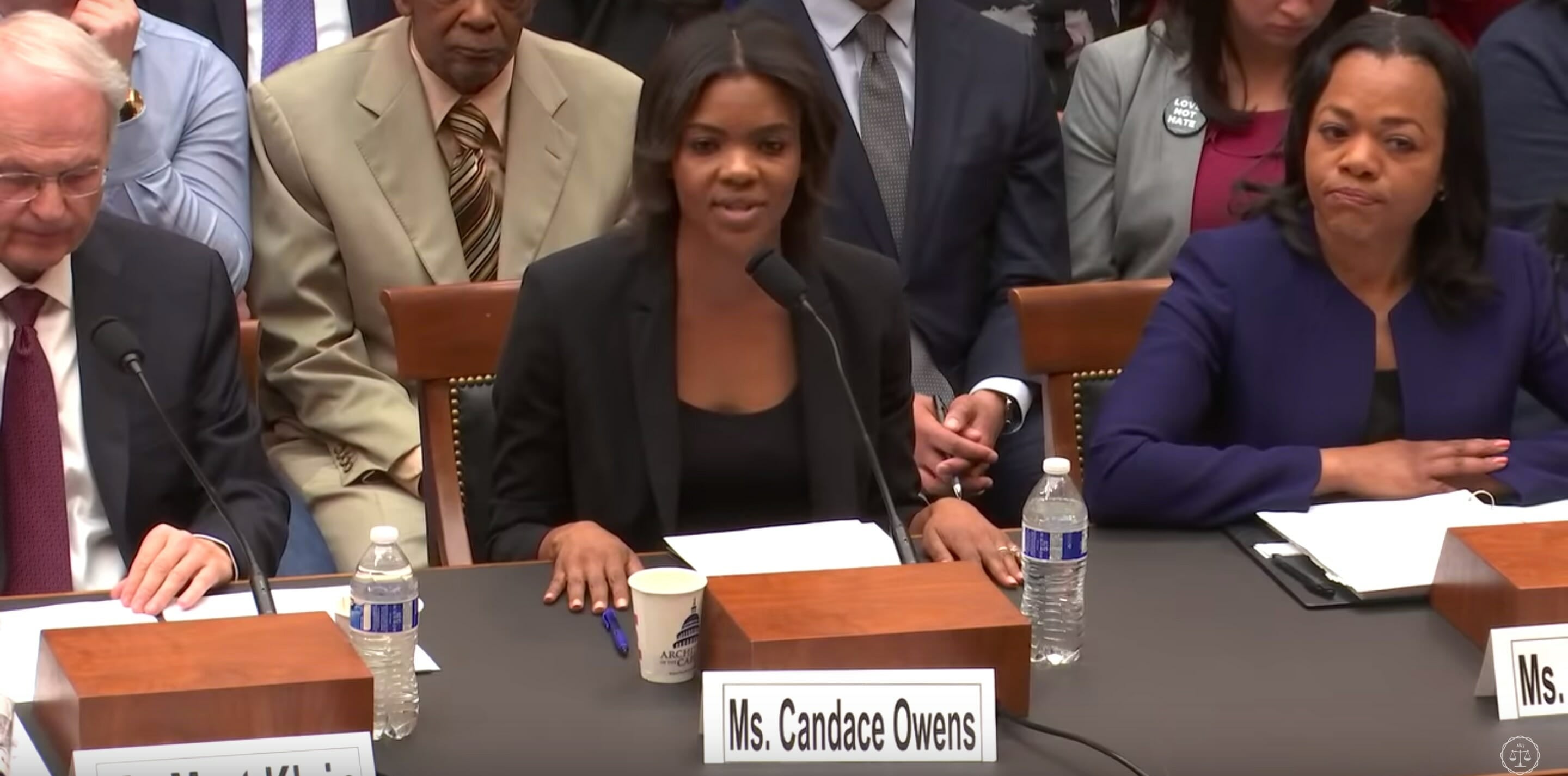 As she has in the past, Trump favorite Owens argued that because racism against Blacks isn't as pervasive as it was when her grandfather was a child, it's no big deal, and said that Democrats are exaggerating the incidence of racism to get votes.
"The hearing today is not about white nationalism or hate crimes, it's about fear mongering, power and control," she said. "It's a preview of a 2020 Democrat election strategy."
Owens, herself a member of the media, also claimed that the media didn't know she was the victim of a hate crime in high school, though the incident was widely reported at the time, and falsely claimed that the left-wing media didn't report on her being shouted out of a restaurant last summer.
Several Democrats on the committee criticized Republicans for inviting Owens to testify, most memorably Rep. Ted Lieu (D-Calif.), who played a recording from last year of Owens saying, "If Hitler just wanted to make Germany great and have things run well, okay fine, the problem is that he wanted, he had dreams outside of Germany, he wanted to globalize." Owens has since distanced herself from this statement.
Rep. Tom McClintock (R-Calif.) took the tactic of likening regulating hate speech with repealing the First Amendment.
"It is a very slippery slope between banning hate speech and banning speech we just hate," he said. McClintock also issued a veiled threat to tech companies, implying that their efforts to regulate hate speech could make the case for their being deemed publishers, rather than platforms, and thus liable for speech on their sites. "Are you a neutral forum or are you an editorial publication responsible for your content?" he asked.
Republicans and their witnesses also took the opportunity to try to make the conversation about anti-Semitism and to again criticize Democrats for not sufficiently punishing Rep. Ilhan Omar (D-Minn.) about statements she made, and later apologized for, about Israel that were criticized as being anti-Semitic.
"We should really study why is it that one half of the world's Muslims have anti-Semitic views…." Klein said. "Is it a coincidence that two of the three freshmen who have made anti-Semitic remarks happen to be of that faith?"
Late in the hearing, Dr. Abu-Salha addressed Klein's comments. "I find it troubling that Mr. Klein turned this conversation into an almost Islamophobic conversation when I'm talking about my tragedy and my loss as a Muslim…. We're not here to discuss foreign policy and Mr. Klein mixed foreign policy with our conversation today too much."
After four hours of debate, sobering facts and grandstanding, the committee adjourned. It remains to be seen what, if anything, will come of the hearing other than some headlines and soundbites.
One thing certain is that, left unchecked, hate will continue to infect America. As soon as comments were reopened on YouTube at the conclusion of the hearing, trolls bombarded the video with racist and hateful statements, many of which were anti-Semitic.
"If we don't join in coalition and have each other's backs, no minority is safe, and the only winners are those who sow division," said Hershenov.