Instagram has long been a stalking tool. When the app launched its mapping feature, things got particularly voyeuristic. Truly, the onus is on users: Instagram launched well into Facebook's reign, when we already knew about social networks and their inherent problems with privacy.
But a new Web app (which is fully responsive for mobile) called HereFeed makes Instagram eavesdropping easier and more beautiful. After requesting to use your location, HereFeed surfaces pink bubbles, indicating areas being Instagrammed. This creates a real-time heat map of Instagram uploads.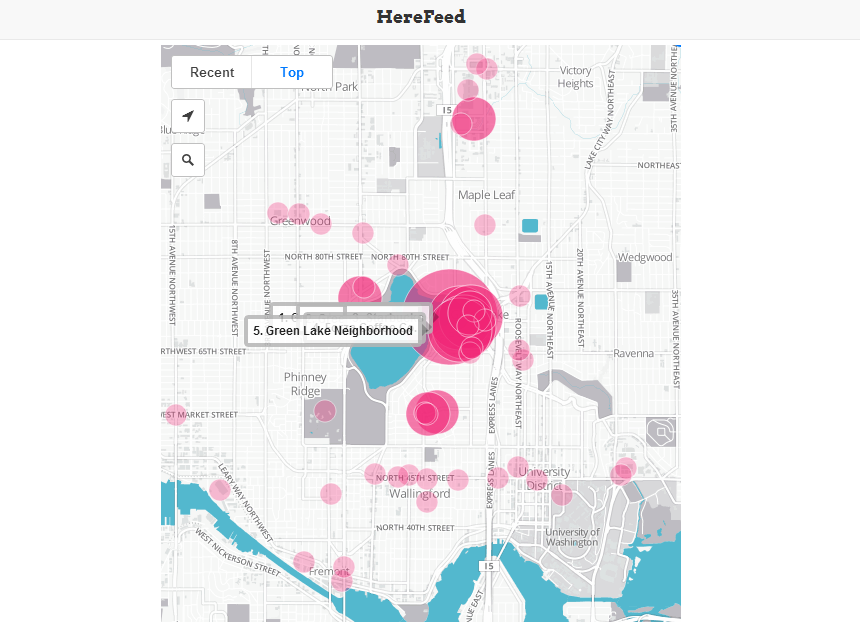 It's similar to Skedadel, an app that focuses on geo-tagged Instagram posts to create a sort of visual Yelp to your city. It doesn't focus on real-time the way HereFeed does, though; it's more of an index for finding a place versus an up-to-the-minute view of what's currently happening.
"One day I was using Instagram and accidentally tapped the location name right below the username of a photo," HereFeed creator Ryan Sit told me via email. "It doesn't look like a link, so most people don't realize you can tap it. It showed all the images in a location. I immediately found that fascinating since there were so many photos, and I didn't know Instagram made that accessible."
He says he was further inspired to create the app when he was at a new restaurant and wanted to see photos being taken there. "First I checked Yelp, but then I wanted to see the Instagram photos there. It was clumsy, I had to take a photo, location tag it, then tap my tap to see all the photos because Instagram doesn't have location search.
"When I saw the Instagram photos, I noticed that Instagram had multiple times more photos at that restaurant than Yelp did, only after [about a year and a half] of Instagram launching that feature. That's when I realized Instagram had more local data than Yelp and decided to do something with it."
He points me to a few interesting HereFeed collections happening, like Facebook's campus, or the Olympic Village.
Right now, HereFeed only has live feeds for a few cities and areas (Sochi, San Francisco, Silicon Valley, New York City, L.A., Las Vegas, and San Diego). When you look at any part of the world that isn't listed, you'll see top locations in that area (in my own neighborhood, there's a surplus of gym selfies, brunch, and beer-related activities going on).
Sit has been working on HereFeed for the past few months (a self-funded project) after leaving Science (he was also formerly a VP of social products at Myspace). He says that more live feeds are in the works, so you should soon be able to see what's going on in your hood in real-time, too. 
Screenshot via HereFeed