Advances in 3D printing have yielded everything from cars to artificial hearts to pancakes to guns, but one artist is experimenting with the technology on a different level: 3D-printed grills.
For a new project called "Grillz," New York City artist Roopa Vasudevan analyzed the lyrics of hip-hop songs from the Notorious B.I.G., Jay Z, and Puff Daddy, among others, and used an algorithm to pull out references to things like wealth and poverty. The lyrics are then processed through a program called Pygenius, which "returns data from rap and hip-hop songs in a clean, easy-to-read, and understandable format that allows for the data to be used in other projects." She used Geomerative to model the grills. The result is pieces that often look more like mystic rock formations than jewelry.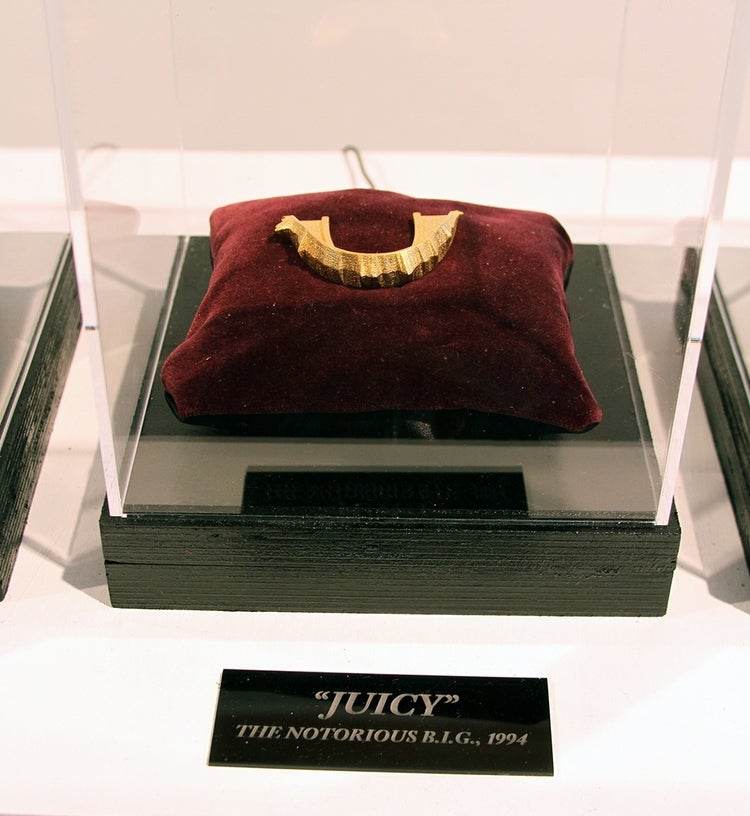 According to Vasudevan's site, her project is an "exploration and analysis of the usage of language in mainstream hip-hop lyricism, with particular attention paid to mentions of money and income. Individual songs are algorithmically analyzed for references to extreme poverty—the projects, drug dealing, prostitution—as well as extreme wealth—cars, cash, jewelry and the like. Mentions in each category are scored according to relative distance from words of the opposite polarity, and the resulting landscape formed is extruded into a 3D shape and printed as wearable grills: jewelry designed to fit over one's teeth, and which have become inextricably linked to hip-hop culture over the years as a symbol of over-the-top, ostentatious wealth."
If you happen to catch Vasudevan's exhibit in person—"Grillz" was part of the Dumbo Arts Festival last month—you can listen to the grills, which have been shaped by that algorithmic lyrical process. It's not entirely clear what point Vasudevan is attempting to make by analyzing these lyrics and their larger place in culture, but it's an interesting look at how communication can be shaped and visualized, the spoken word being broken down and revised for print. It's also a reminder that 3D printing is starting to rule everything around us.
H/T Design Boom | Images via Roopa Vasudevan