In its neverending quest to alleviate the semi-torturous experience that is email, Google is in the process of testing a brand new set of features for Gmail. In screenshots uncovered by Geek.com, Gmail for Android is shown with a bold advancement of the Smart Labels tab layout that was introduced last year. Along with the current tab groupings of Social, Promotions, Updates, and Forums, Travel, Purchases, and Finance have been added to the mix.
Gmail tabs have been somewhat controversial since their introduction last year, with some users hating having to search for emails through a series of tabs, and this move won't appease them. But for those who enjoy Gmail automatically weeding out the unimportant items in their inbox, these new tabs will be a welcome addition.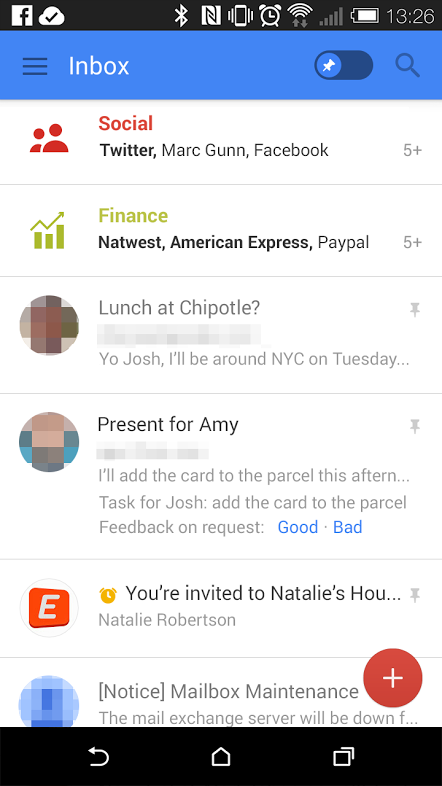 A snooze feature has also reportedly made an appearance, allowing emails to appear as read for a certain period of time. Once the timer has expired—it can be set for several weeks reportedly—the email will rise to the top of the inbox and appear as unread. There is no controversy here, this is something that many users have wanted for some time, and it's good to see Google attempting to catch up, as this has been a major feature of third-party apps like Mailbox for a while.
There is also a pinning feature that has replaced the current starring system in this iteration of Gmail. Pinning allows emails to stick at the top of your inbox as long as needed. You can toggle a switch when you want to see pinned items at the top or your regular inbox. Pinning could potentially be a decent replacement for starring, but as with any changes to major features in Gmail, it will be met with backlash if it goes through.
It should be noted that Google routinely tests many features on a plethora of its products that don't make it into the final versions. There is no guarantee that these features will make it into the next public iteration of Gmail, or that this is everything Google is testing in Gmail, but it's good to see Google attempting to make the slow death that is email a little less painful.
H/T Geek.com | Photo via abraham.williams/Flickr (CC BY-SA 2.0)