California has a long history of weird governors and even weirder candidates, a list to which we may now add the GOP's Glenn Champ, a Bible-thumping, Tea Party-ing registered sex offender.
Champ, by his own description—which reads better if you play the Christian pop song "Overcomer," hosted on his utterly bizarre website—is "a small contractor businessman that makes the crooked places straight and the rough places smooth." According to the Los Angeles Times, he also "spent more than a decade in state prison, convicted of crimes including voluntary manslaughter and assault with intent to commit rape."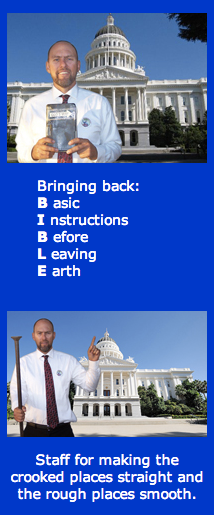 But Champ's days of soliciting teenage prostitutes and mowing down drunk pedestrians with his car are behind him, now that he's tight with the man upstairs. "CHAMP represents a new breed of Christian soldier," he declared, "moving forward in the army of the lord, on the highway of righteousness, stomping on the devil's head, with a new song of righteousness's in our hearts."
Why vote for a zealot promising "a total overhaul of court house, school house, and church house" in order to combat "ungodly legislation drafted by demonic terrorist extremists own agenda"? Great question, and here's his perfectly sane answer: "Men of God cannot be bought for money, because they have already been bought by the blood of Jesus the Christ. Also, been through the trials of life and the fire of intimidation coming out of the furnace as tempered steel."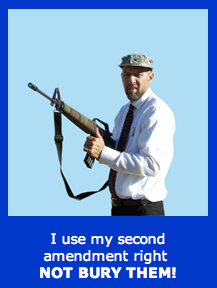 That mention of "trials" may be the site's lone allusion to Champ's convictions in 1992, 1993, and 1998, though as the L.A. Times reported, he views his time in prison as a selling point: "I know what the criminal mind thinks, and I know how it works and I know how to stop it, and that's something [other politicians] don't get," he said. Hey, at the country's current rate of incarceration, we're going to have to start electing felons at some point! (Come to think of it, Champ is probably not allowed to vote himself, which could seriously cut into his base support.)
At any rate, Champ's competition in California's free-for-all "jungle primary" has their work cut out for them. I mean, the guy's surname itself is a synonym for "winner." As long as people never find out about his sordid past, or his immense difficulty with the English language, or his total lack of solid political knowledge/ideas/experience, he should do quite well indeed.
H/T Wonkette | Photo via Glenn Champ/Facebook