Many states have struggled with the rollout of the COVID-19 vaccine. Few as seriously as Florida, which has seen people waiting overnight or sitting in miles-long lines of cars, system crashes, and other serious issues with scheduling and implementation.
That's why some Sunshine State health departments are calling in the experts. No, not the Centers for Disease Control and Prevention. Not even the World Health Organization.
Some of Florida's most populous jurisdictions are turning to Eventbrite to help them out. Brevard, Seminole, Sarasota, Manatee, and Collier Counties are among those using the event planning and ticketing management website to schedule COVID-19 vaccines.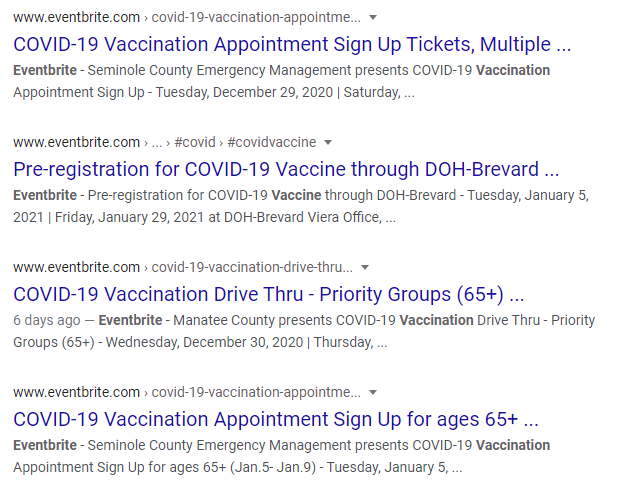 While using Eventbrite is arguably innovative, as overtaxed health systems are understandably struggling to effectively and efficiently vaccinate residents, it hasn't been without problems.
For one, short supply plus high demand means that vaccination "tickets" quickly sell out. As of Jan. 4, Brevard County's vaccines were sold out through Jan. 29, the last date listed. Seminole and Manatee County's Eventbrite pages said that the event had ended.
Shamus Khan, a Princeton University professor, tweeted about sitting in front of a computer repeatedly clicking refresh in hopes of snagging one of the coveted spots for their parents when a vaccine event goes live.
Khan also said that, much like a BTS concert, an entire batch of vaccine tickets sold out in minutes.
There's also the possibility of scalping vaccine tickets. All ticketing platforms have had their struggles with scalping, Eventbrite included.
Even more alarmingly, as the professor and author pointed out, many people don't have a computer or internet access. Thus, receiving a vaccine could arguably be somewhat conditioned on wealth and privilege.
Others, such as senior citizens, who are among those currently eligible for vaccinations, might not be internet savvy.
---
From our friends at Nautilus
---
People were largely stunned to learn that Florida is using the same platform that's offering tickets for a standup comedy show in Animal Crossing and a lecture on hunting witches to schedule distribution of a lifesaving vaccine for the virus that's killed more than 300,000 Americans to date.
"This is something straight out of dystopian hellscape fiction and it's baffling people think it's normal to be living like this," tweeted one.
Many criticized politicians, such as President Donald Trump and Florida's Republican governor.
"[Gov.] Ron DeSantis is running vaccines in Florida like FyreFest," commented one Twitter user.
Others shared thoughts about how their own families will experience the Eventbrite vaccine rollout.
Neither Eventbrite nor Gov. DeSantis have thus far commented on the matter.
---
Read more of the Daily Dot's tech and politics coverage