The Internet may have celebrated its 25th birthday today, but yesterday marked a slightly more recent innovation: 22 years ago, Nathaniel Borenstein became the first person to send a photo via email. And what a joyous photo it was.
Quartz, which interviewed Borenstein this week, explained that the young researcher—now chief scientist for the secure cloud service Mimecast—worked together with colleague Ned Freed to develop Multipurpose Internet Mail Extensions, or MIME, in hopes that one day he'd receive photos of his grandchildren online.
The picture he first transmitted with that technology, however, on March 11, 1992, was a shot of his barbershop quartet, the Telephone Chords, so named because they all worked together at a company called Bellcore, a New Jersey telecom. (The company also boasted a larger choir known as the Dial Tones, if you were wondering.)
What were these guys singing? Why, a song about MIME itself, of course:
Let me send you email if you have the time 

Let me sing you email now that we have MIME 

You have lots of bandwidth, I have lots of bits 

Let's use MIME for email, plain text is the pits!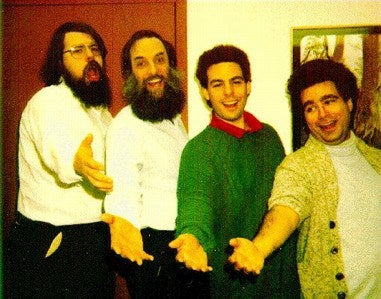 Has anyone, in the decades since, made better use of the official standard "that defines the way that multimedia objects are labelled, compounded, and encoded for transport over the Internet"? I humbly submit that they have not.
H/T Quartz | Photo by Chris Dlugosz/Flickr