In the U.S., where broadband speed is notoriously sluggish, consumers can take some small comfort that Internet service providers (ISP) are at least delivering the subpar speeds that they advertise.
In its yearly survey of broadband speeds, the Federal Communication Commission (FCC) found that while most ISPs do deliver the Internet into customers' homes at advertised rates on average, for some providers there is "significant room for improvement" in terms of delivering those speeds on a consistent basis.  
The FCC released these findings Wednesday in its 2014 Measuring Broadband America report, the fourth such report on fixed broadband speeds the commission has produced since 2011.
"Consumers deserve to get what they pay for," FCC Chairman Tom Wheeler said in a statement.
In a general sense, consumers purchased Internet packages with increased advertised speeds during 2013. The average across all surveyed consumers was 21.2 Mbps, which is a 36 percent increase over 2012.
The chart below shows the average download and upload speeds as a percent of advertised speeds for various ISPs. Several companies, such as Cablevision and ViaSat, even delivered download speeds that significantly exceeded advertised rates.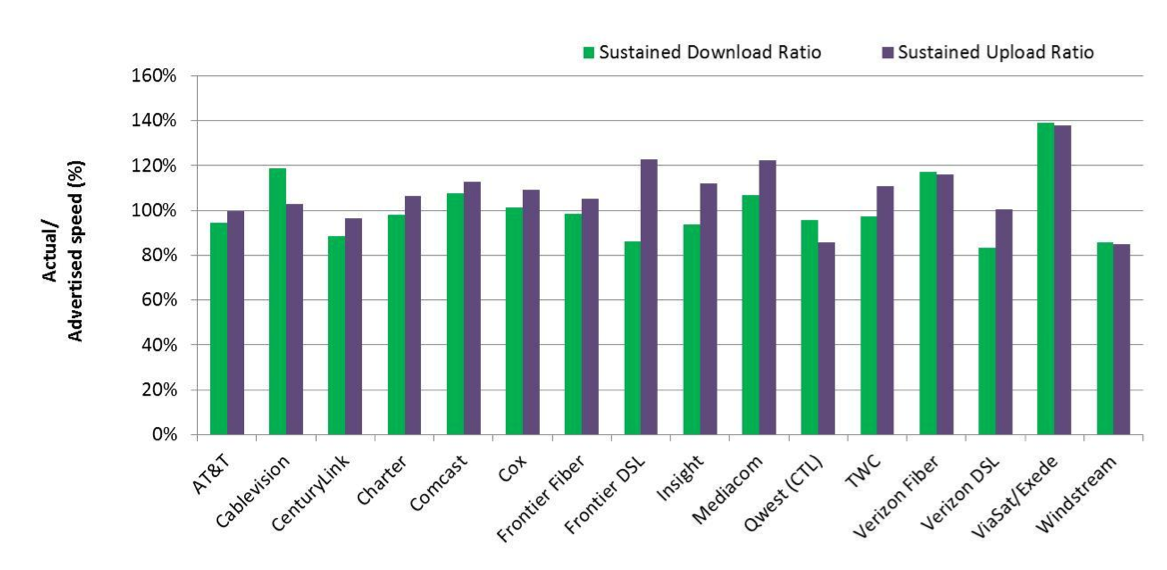 Though not addressed in the FCC report, it's worth noting that the U.S. lags significantly behind other nations in terms of broadband speed, ranking 30th in the world in one recent report.
The FCC's main gripe with ISPs was that they weren't all delivering advertised speeds on a consistent basis. The chart below shows the average speed as a percent of advertised speed that 80 percent of surveyed customers were receiving 80 percent of the time during peak hours.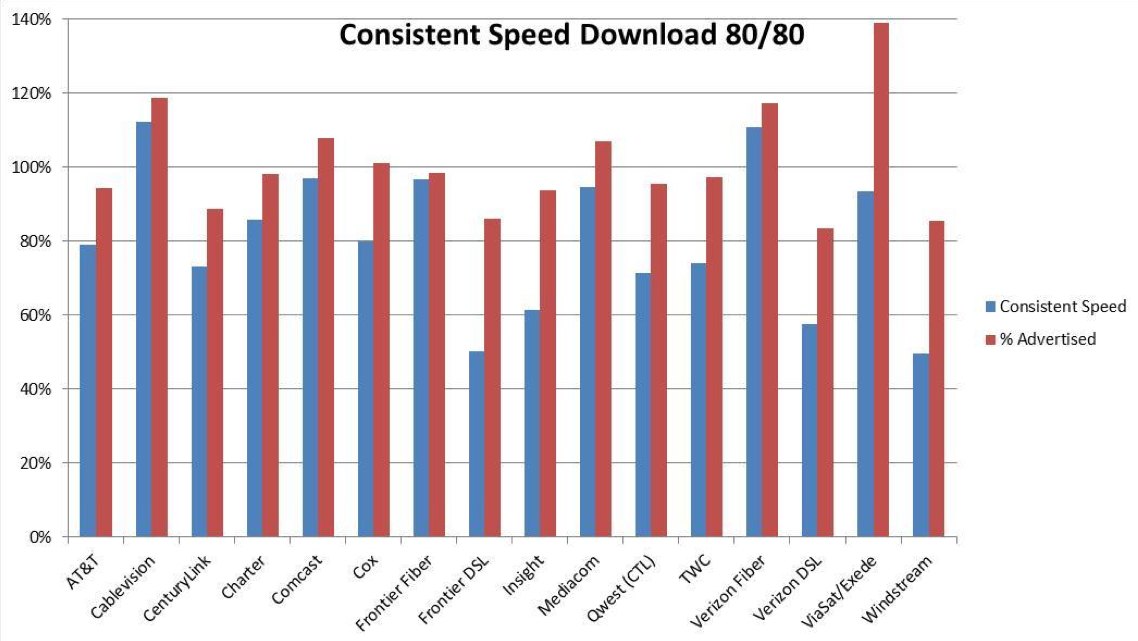 The FCC chose not to address net neutrality in the report, saying that it "uncovered network congestion at certain interconnection points" but "that data is not included in the findings of the report." The FCC has made its full data set available to the public, including its findings on congestion.  
The entire 2014 Measuring Broadband in America report is copied below, and supplemental material including the FCC's methodology and gathered data are available on the commission's website.
FCC's 2014 Fixed Measuring Broadband America Report
Photo by Ben Sutherland/Flickr (CC BY 2.0)