On Monday, the Justice Department announced that the founder of the neo-Nazi Atomwaffen Division has been arrested for plotting to attack the electric grid in Baltimore, Maryland. Brandon Russell and purported co-conspirator Sarah Beth Clendaniel are charged with conspiracy to damage electric facilities.
The FBI said during a press conference on Monday, according to CNN, that the pair "conspired to inflict maximum harm on the power grid."
Far-right gathering spaces online are full of baseless claims that the entire thing was set up by the federal government. Some are even claiming that Russell and Clendaniel are feds themselves.
Extremists rarely accept that one of their own would do anything illegal—even when there is significant evidence of their ideology and they have been convicted of a crime in furtherance of those beliefs. Russell founded Atomwaffen Division and served time for illegally possessing explosive devices, which he reportedly planned to use to target nuclear facilities, synagogues, and civilians.
Several members of Atomwaffen have also committed violent crimes, including murder.
Extremists have developed an unsettling fixation with sabotaging infrastructure to bring about the fall of modern society, which they believe will end with the return of a white supremacist regime.
Some have taken steps in furtherance of such plans, such as the three men who pled guilty to providing materials to attack the U.S. power grid last year. The Justice Department reports they were motivated by white supremacist ideology.
As the Daily Dot previously reported, white nationalists online claimed responsibility for the series of attacks on electrical facilities late last year.
The allegations against Russell and Clendaniel, who reportedly began corresponding when both were incarcerated, fall in line with this behavior.
Russell and Clendaniel allegedly communicated with an FBI informant about their plan to sabotage multiple electric substations around Baltimore during severe winter weather in the hopes of creating maximum impact.
The charging document says that one of Clendaniel's usernames on an encrypted chat included the number 88, which is white supremacist code for "heil Hitler."
Nevertheless, online spaces where extremists congregate are full of baseless claims that the pair are actually feds.
"Sounds more like FBI conspiracy actors," a Telegram subscriber wrote.
A member of Kiwi Farms' Telegram channel claimed one of the two was "fedposting," far-right slang for a federal informant who infiltrates online extremist groups.
A Gab user expressed the same sentiment, writing, "This feels like another FBI 'Let's create a crime for the headlines' operation."
"Here you go with another government-sponsored [FF]; of course, they outed themselves to an [FBI] informant; the woman is white, and they have pics of lots of what (GUNS), she also lets them know this is racially motivated [AMAZING]," @halfdollar48 wrote on Gab, adding, "they've ticked all the boxes for a hoax."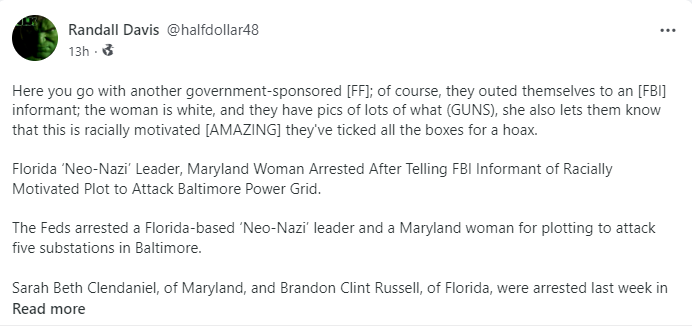 A few outliers don't blame the feds, but still can't accept the possibility that white supremacists would conspire to attack electric substations, which is a facet of the accelerationist culture popular among people with these beliefs.
A person on Truth Social described the pair as "antifa goons."
"Yeah, a secret society which has hid in the shadows for hundreds of years is suddenly openly telling everyone they exist," a Telegram user wrote sarcastically of the news of Russell's and Clendaniel's arrests.
It's not yet known how Russell and Clendaniel will plea to the charges.


We crawl the web so you don't have to.
Sign up for the Daily Dot newsletter to get the best and worst of the internet in your inbox every day.