Word on the Web—and, one supposes, on CB radio—is that this weekend the D.C. Beltway will be the site of apocalyptic traffic engineered by conservative truckers fed up with American politics. But these would-be protesters, who plan to clog the interstate while driving the speed limit, or instigate a general strike, or actually "arrest" members of congress, depending on whom you ask, are having a little trouble on the social media side: Facebook and Twitter have dropped their pages.
Over on Twitter, an account with the handle @T2SDA (for "Truckers to Shutdown America") was suspended. Angry users have been hammering the hashtag #T2SDA in support, decrying Twitter for shredding the First Amendment—unaware, it would seem, that it's the government, not private corporations, charged with adhering to the Bill of Rights.
RT if you support the #PatriotTruckers and their protest against the Obama regime on October 11th. #T2SDA pic.twitter.com/BmX2Br3xKz

— Sean (@RevolutionUK_) October 7, 2013
A "Truckers to Shutdown America" Facebook page was also deleted. According to a replacement page, "Truckers Ride for the Constitution," it had some 86,000 likes at the time of its removal. The reincarnation presently boasts more than 65,000 likes and pushes general strike tactics rather than physical obstructionism:
The American people are sick and tired of the corruption that is destroying America! We therefore declare a national protest in support of our nation's truckers on the weekend of October 11-13, 2013! Truck drivers will not haul freight! Americans can strike in solidarity with truck drivers! Truckers will lead the path to saving our country if every American rides with them!
The truckers also promised to repay Facebook for the insult, vowing to send a special convoy to their company headquarters in the hopes of "shutting them down" as well, though again, the exact methodology they had in mind was unclear. The Facebook page also displayed solidarity with the purged Twitter account (as well as Muslims, surprisingly enough):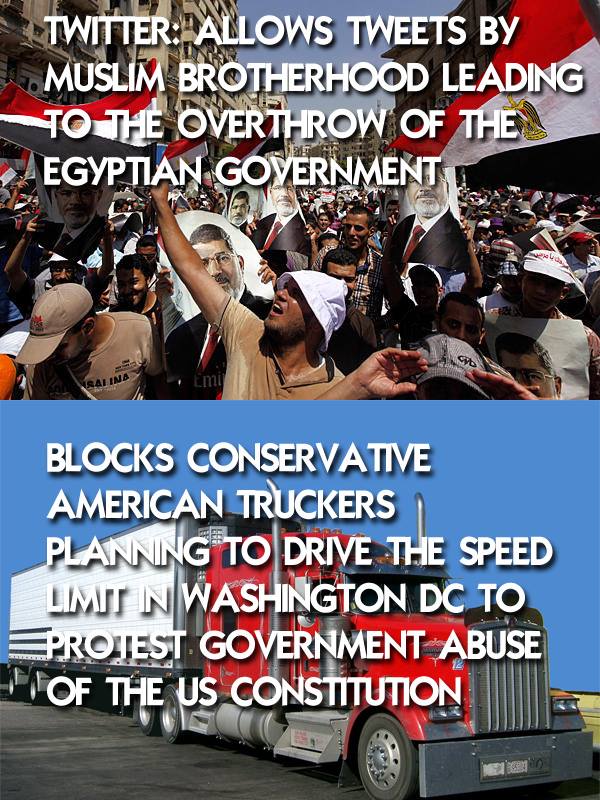 It gets even stranger than that: Georgia trucker Earl Conlon, who launched the T2SDA concept with comments made to USA Today, has already admitted that it was all a ploy to "stir the feathers of the mainstream media," as nothing "gets the attention of the mainstream media like some sort of disastrous threat," according to the Washington Post. He himself won't make it to the Beltway loop on Friday and apparently doesn't think it would be fair to other drivers to intentionally cause gridlock, not that anyone caught up in the furor of his hoax has taken much notice.
No, the Twitter and Facebook limbs of the movement are still going strong, though many involved are not truckers themselves, just people who approve of ridefortheconstitution.org's agenda against "domestic enemies such as Barack Obama, John Kerry, Lindsay Graham and John McCain, etc." Conlon, according to the Facebook page, no longer speaks for the truckers, as he wasn't advocating for a strictly "peaceful" event, with no laws broken.
Meanwhile, new press releases continue to call the rally "unstoppable," and radio host Pete Santilli has taken over as spokesman for the group, telling FoxNews.com that "One of our demands is NON-NEGOTIABLE: President Obama must be removed from office for crimes against the United States and all unconstitutional executive orders nullified. How that is accomplished legally is for the legal and constitutional experts to determine." Such experts being, we assume, in short supply.
We reached out to Facebook, Twitter, and Ride for the Constitution operatives alike to find out the official reasons given for the account deletions, but no one on either side felt compelled to clarify the matter.
Photo by Alain GILLET/Flickr