If you still have Facebook and have to endure the ads the company throws into your feed, then you're probably exposed to some rather strange topics. And you've probably wondered more than once why you're being targeted for these products or politicians.
Facebook's ad algorithms are clunky and, though the company has tried to make them more transparent, they're still really shady. ProPublica, a nonprofit newsroom, built an ad tracker for the site—a plugin that ripped Facebook's ads to tell users why they were being targeted—but Facebook re-coded its website to shut down the tool.
A spokesperson for the tech giant told ProPublica: "This was a routine update and applied to ad blocking and ad scraping plugins, which can expose people's information to bad actors in ways they did not expect."
But many assume benevolence toward their user baser wasn't what the company had in mind with shutting it down. 
Facebook has its own tool that tracks political ads (which the Daily Dot has covered before), but it's far less transparent than the third-party trackers.
Even though access has been removed, there are still tens of thousands of ads archived in ProPublica's system. And some of the stranger ones explain just why you're seeing an ad for that politician or legislative victory that you've never heard of.
The award for the most bizarre ad targeting could go to a former adviser to the president. It's an ad for a documentary—Trump @ War—that is touted as a film put together by Steve Bannon and features such past Trump insiders as Dr. Sebastian Gorka and Corey Lewandowski.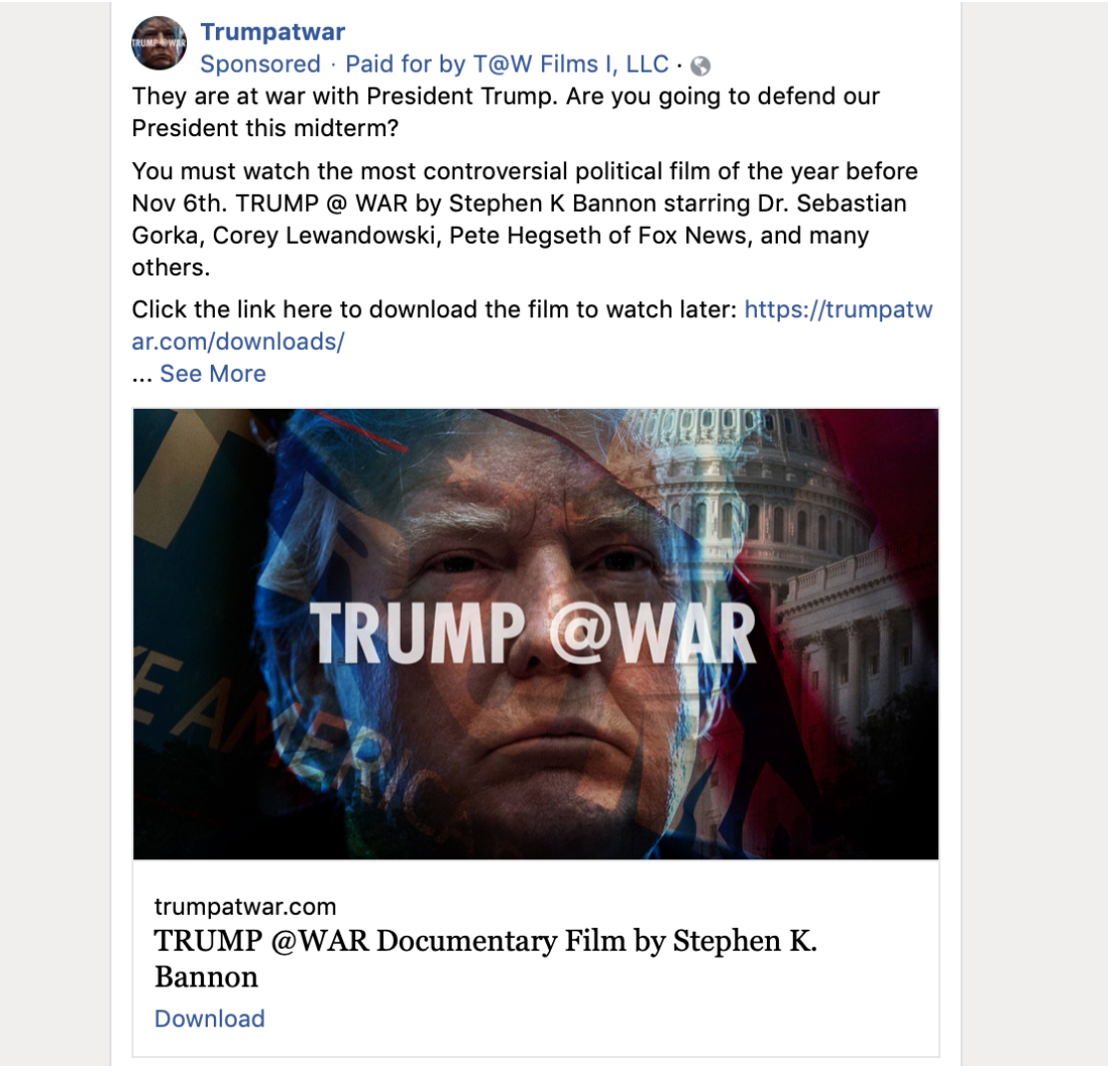 But, the kicker: The film is targeting an audience based on Facebook users who have indicated that they like Grey's Anatomy. Because if you're into steamy scenes of doctors, Bannon's ad people think what you're really craving is a story about the rise of Trump.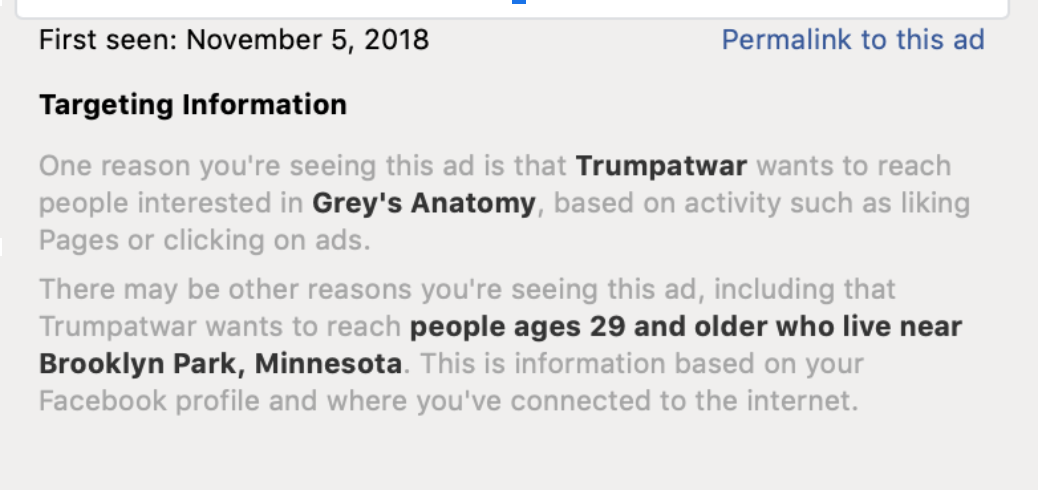 The tracker tool shows how candidates can try and steal supporters of their opponent who may be wavering or just not committed enough.
In October 2017, a year before the 2018 elections, Beto O'Rourke was trying to raise awareness among Ted Cruz's Facebook audience by targeting people that had expressed interest in him. Take a look: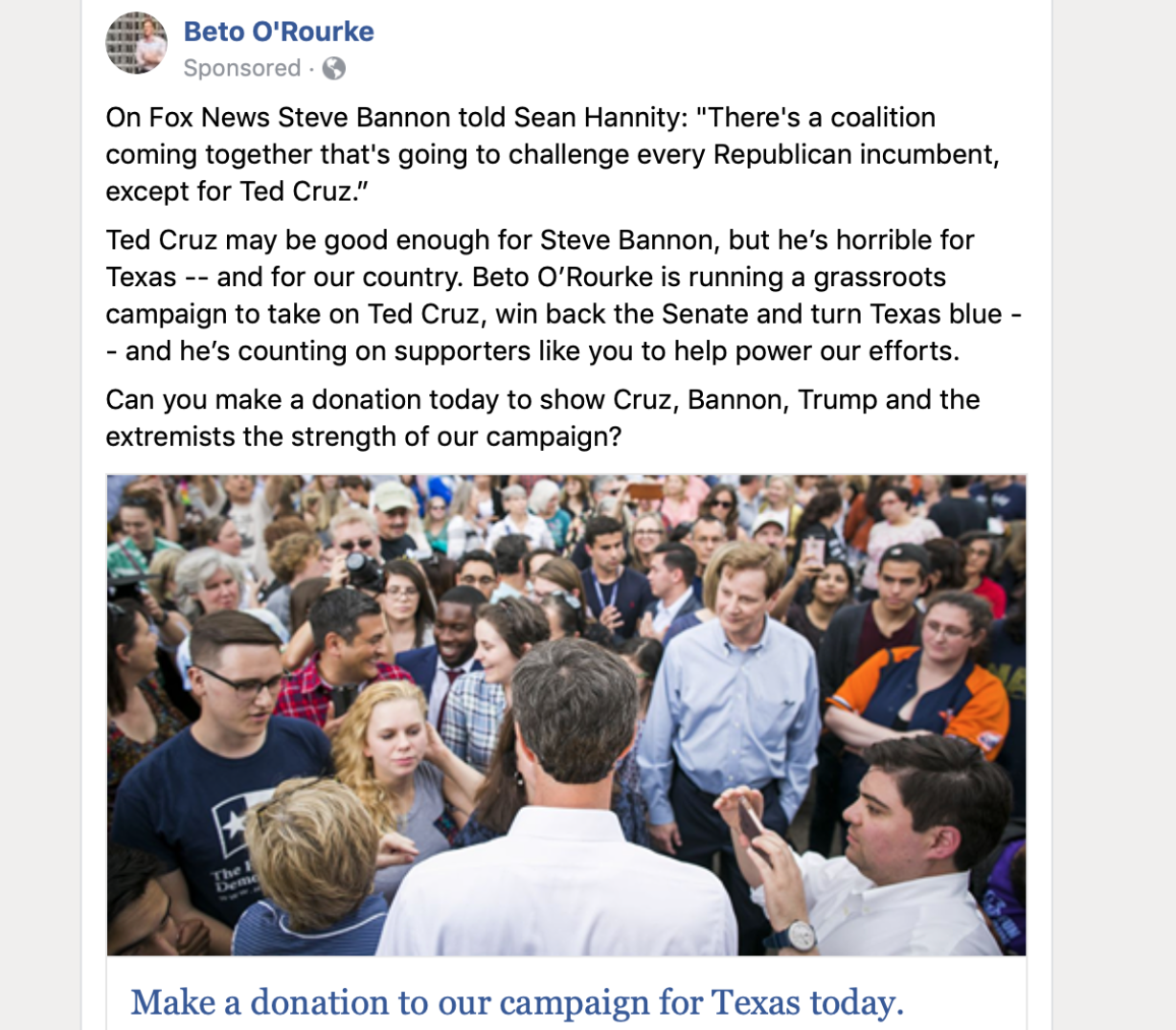 It's obviously pretty smart politicking to try to pull your opponents' supporters, but Facebook ads show how it can be done so easily. O'Rourke officially announced that he would unseat Cruz in March 2017, so this came several months into his candidacy.
O'Rourke had a dominating presence on social media, with a viral Facebook Live clips of him skateboarding in a Whataburger parking lot and playing air drums in the drive-thru.
And it's likely he was blasting some of those viral moments out to Cruz's fans.
O'Rourke even targeted Cruz fans with a fundraiser, citing stats on how well he was doing against the unpopular politician.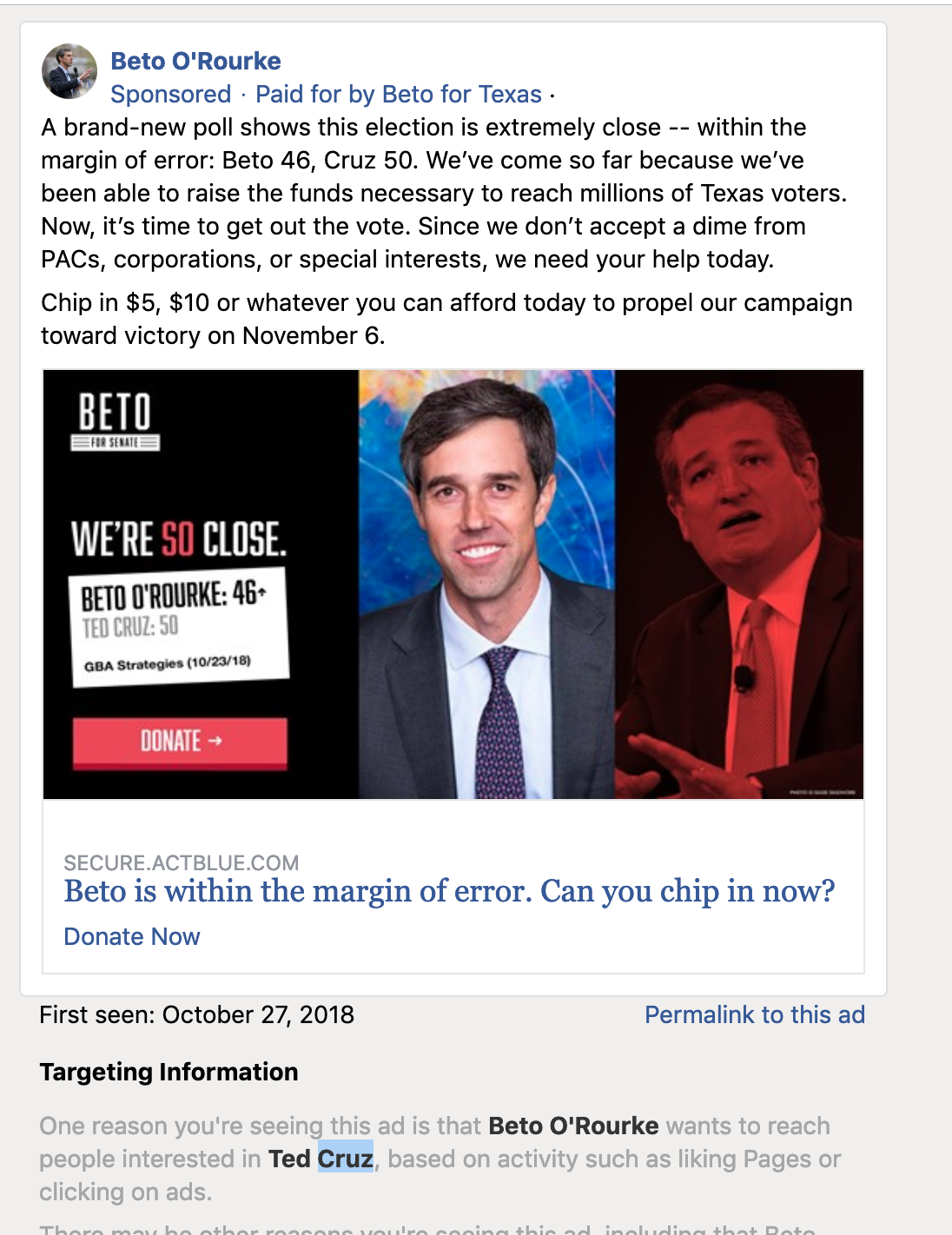 O'Rourke also played off the relationship between Trump and Cruz, perhaps hoping to attract support from people who didn't like Cruz's pliable relationship with the White House.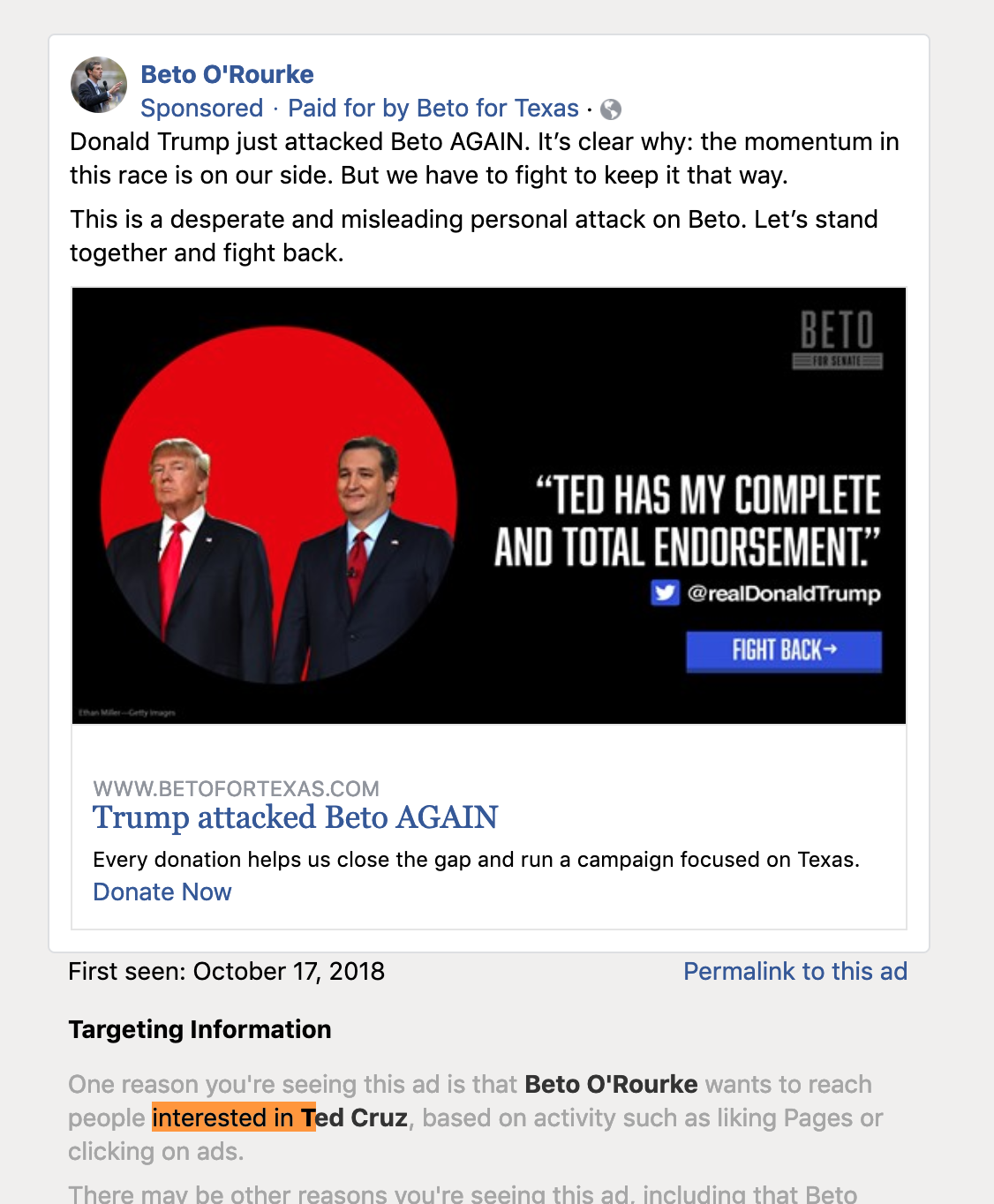 Another facet of the Trump administration is people latching onto and trying to make a dollar off the president's brand name. Keep and Bear, a company that makes conservative T-shirts and tchotchkes is targeting users who like "Ivanka Trump."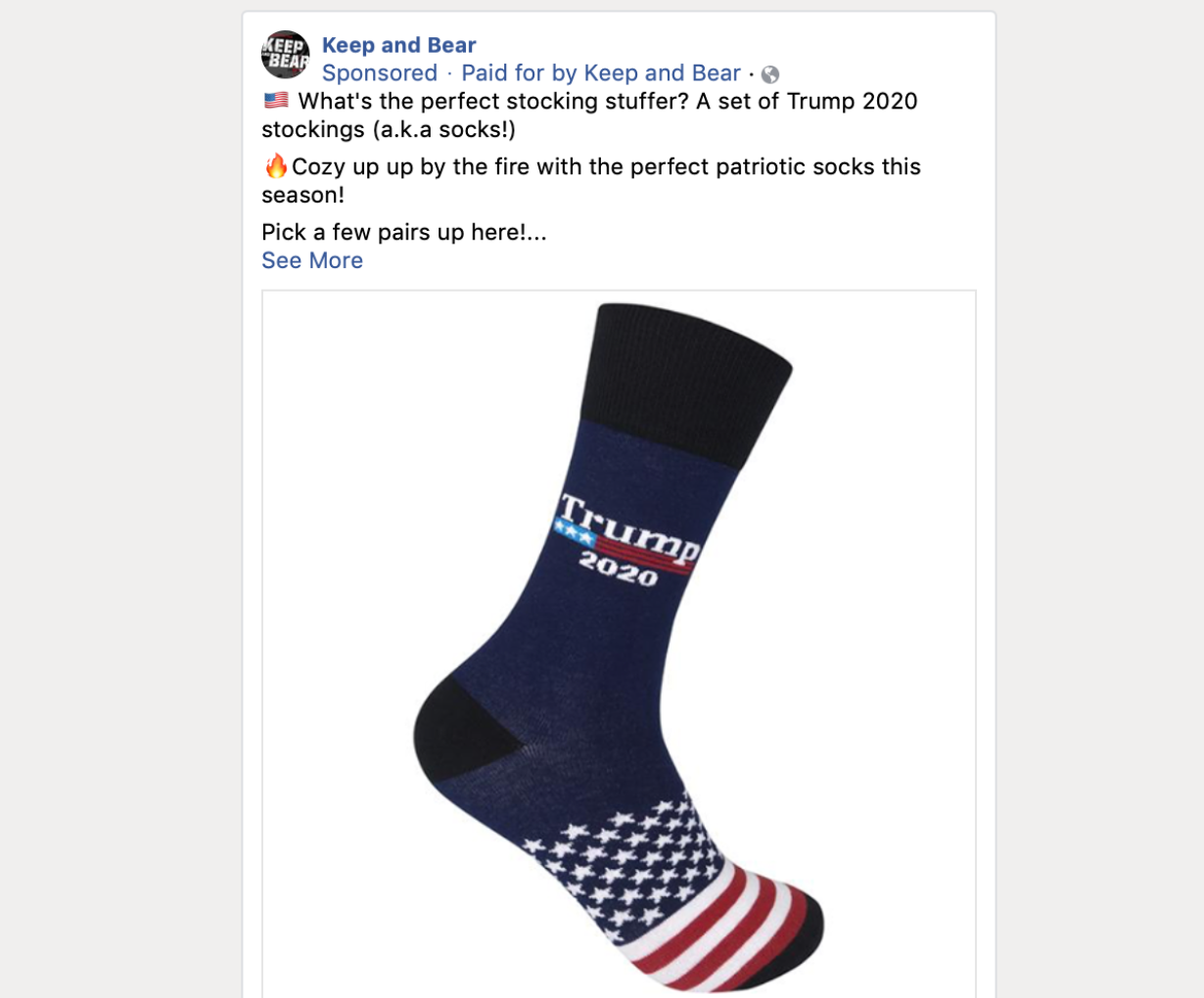 The product that the company has decided to show those users is actually really tame. It's just a pair of Trump 2020 socks.
Ivanka Trump used to have her own fashion line, but shut it down. Maybe this wacky pro-Trump novelty company is trying to fill that void? The company also targeted people interested in Laura Ingraham.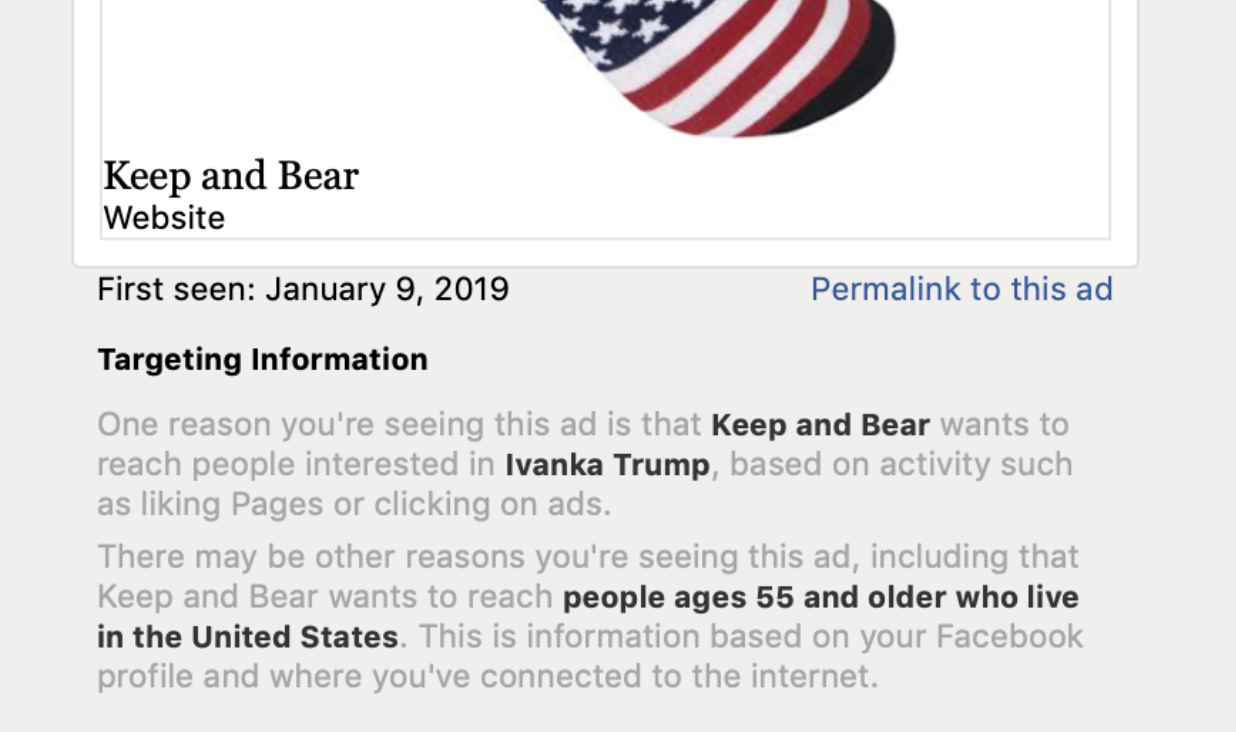 Here's one that's maybe not that surprising, but also could be used for ammunition: The Democratic Party is targeting Facebook users who like mainstream media outlets. There are ads that the Democrats have run aimed at people interested in the Washington Post and the New York Times.
A search of hundreds of similar ads reveals Republicans didn't target any fans of mainstream media outlets.
It's not just politicians who have developed weird ways to use the world's largest base of consumers. CARE, a nonprofit that works to fight global poverty is targeting users who have expressed interest in the show The Big Bang Theory. The show about a gang of California geniuses is famously popular among an older audience, but do Big Bang Theory fans have any particular interest in alleviating poverty around the world? Perhaps they think the audience is affluent?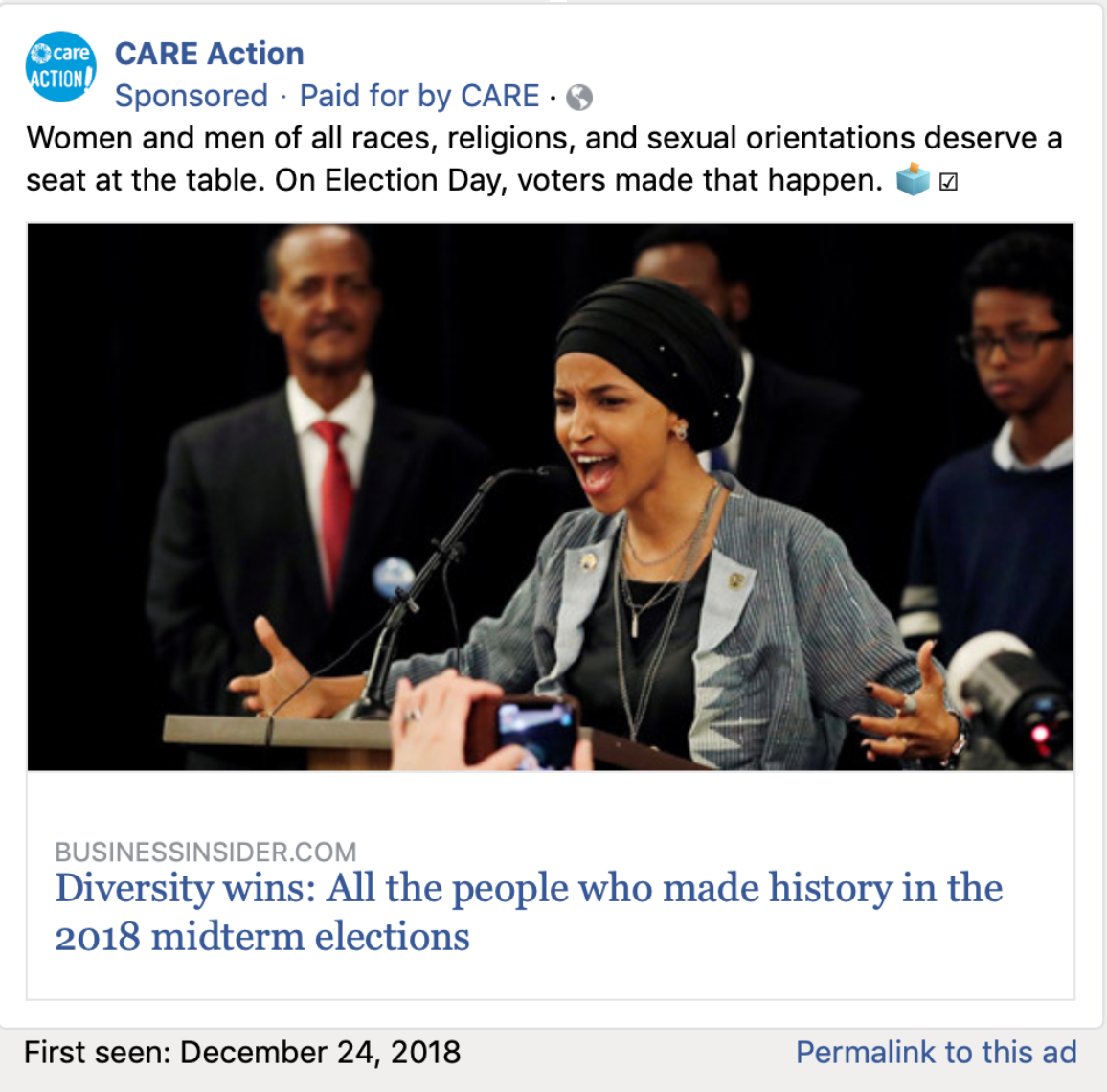 And in another ad, one which urges users to sign up for a petition to make sexual harassment illegal in workplaces, CARE is targeting users who have expressed interest in The Simpsons.
Good luck figuring that one out.
But if it didn't work, people wouldn't do it.