Facebook is leveraging its far-reaching social network to help solve blood shortages in India.
On Oct. 1, users in India will be able to sign up to become blood donors directly from their Facebook profiles or by pressing on a News Feed promo. Participants will be asked for some basic information, like their blood type and whether they've donated before.
Facebook will then send out requests from blood banks and individuals in need of blood to nearby donors. Donors can review the request and decide if they want to give blood. Contact information from WhatsApp, Messenger, or phone is then shared between the two parties so they can complete the process. Facebook assures donors' personal details will remain private unless a person chooses to share on their timeline.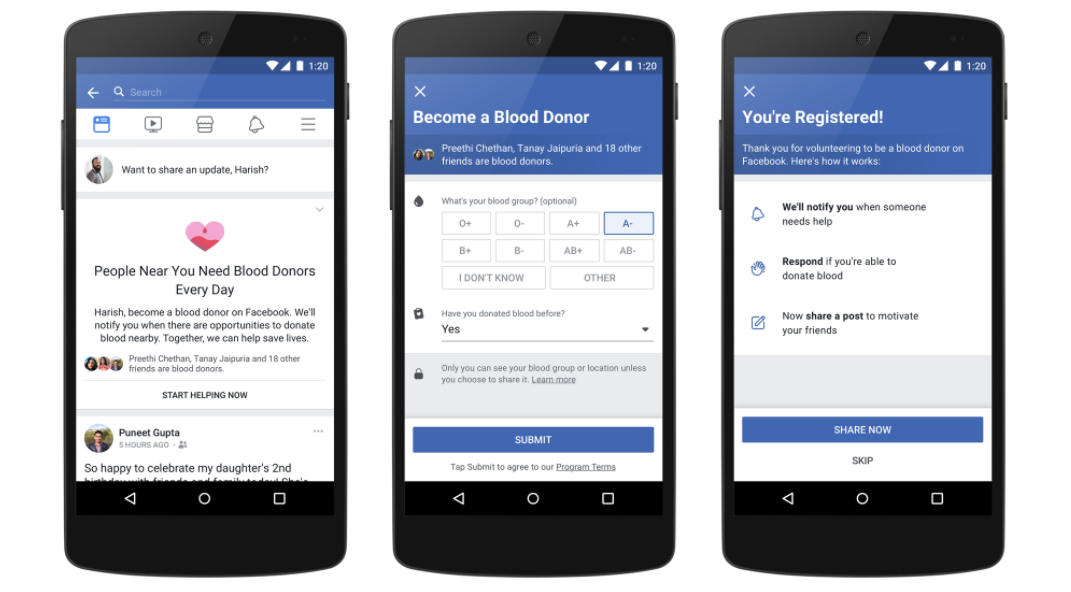 Parts of India, especially rural areas, are suffering from severe blood shortages with an average of 10 percent less blood on hand than what's required. The shortage is caused by a lack of knowledge about the process and unfound myths that have lived on for hundreds of years. It has forced those in need of transfusions to turned to social media sites like Facebook to post requests on group pages.
"In India, this drives thousands of people to request blood donors on Facebook each week," Hema Budaraju, Facebook product manager for health, said in a blog post. "Our research suggests that when people have better information and tools, they're more willing to donate blood — and it's easier for people who need blood to find donors."
Facebook says its new tools will first become available on Facebook's Android app and mobile site on National Blood Donor Day.
H/T CNN