Facebook released its 2014 first-quarter earnings report today, debunking suspicions that the social media network is losing users, and solidifying reports that the company is, uh, loaded.
The earnings call was stats heavy (as these things go) so we won't bore you with too much of that—but here are the craziest numbers to come out of the report:
The company reported first-quarter earnings of $885 million with a $2.5 billion revenue—up 72 percent from last year's report.
Facebook's daily active users (DAUs) increased by 21 percent since last year, from 665 million to 802 million. DAUs have even increased since the last quarter, though by a much smaller deviation.
Facebook is seeing the greatest user increase on its mobile app, as it reported 609 million mobile DAUs, a 43 percent increase from last year's 425 million.


 
The site has also seen an increase in monthly active users (MAUs) with a 15 percent normal user increase and a 34 percent mobile MAU jump from last year's report.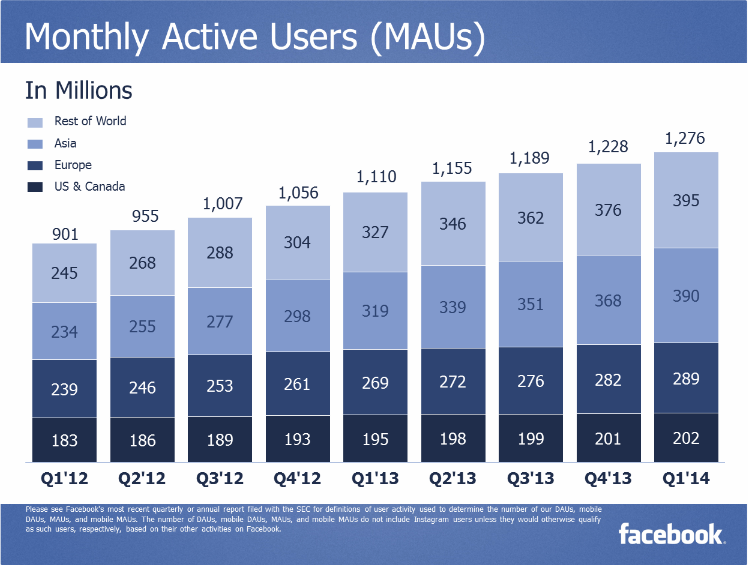 There's an average 1.28 MAUs on Facebook, a steady and constant increase from past reports since the company went public in May 2012, showing that maybe young people aren't actually leaving Facebook.
As has almost always been the case, Facebook brings in most of its dough from advertising. Almost 60 percent of the company's ad revenue comes from Facebook mobile, something many didn't think was possible when the company began advertising on the app.
CEO Mark Zuckerberg spoke about working to better tailor advertisements to users during the call, and said he has hopes that ad content will be as interesting and original as is the rest of what's posted to Facebook.
Zuckerberg also mentioned Facebook's recent acquisition of WhatsApp and Oculus, but didn't elaborate on any future plans for the billion dollar purchases.
Also of note: The company's CFO, David Ebersman, is stepping down, Zuckerberg said, and will be succeeded by David Wehner later this year. Despite this adjustment, Facebook employees have high hopes and expectations that the growth the company has seen will only continue.
"It's been a busy quarter and a strong one," Zuckerberg said. "We're proud of our company and where we are today."
Illustration by Jason Reed