Last year at South by Southwest, Down (the app formerly known as Bang With Friends) got itself in a little hot water with festival organizers when it launched the event-specific BangWithSXSW, which—surprise!—found you other people at the show who wanted to get it on. With you, just to be clear.
SXSW sent the team a cease and desist letter in part because the domain sxsw.bangwithfriends.com was an unapproved use of "SXSW." Bang With Friends ended up amending the URL to austin13.bangwithfriends.com. I say "in part," though, because organizers also weren't thrilled with the Bang With Friends posters, which were an illustrated guide in various sex acts and positions. They were, according to the South By powers that be, too suggestive.
Bang With Friends also handed out condoms at the show. And you can see above what that aforementioned suggestive poster looked like.
Well don't think that the curfluffle from last year made them back down. The renamed app is back to help with SXSW hookups (the Down app will help you find parties and cuties at the festival via its partyDOWN feature) and it's being just as honest in its advertising. Behold this year's posters.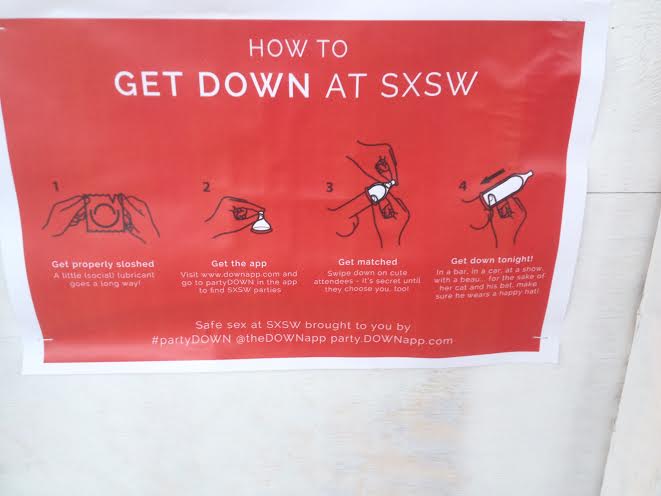 Before you clutch your throat in disgust, a few things: Down is an app explicitly for hooking up with your friends. It doesn't really claim to be anything else; at its most innocent, it's for flirting with your social circle.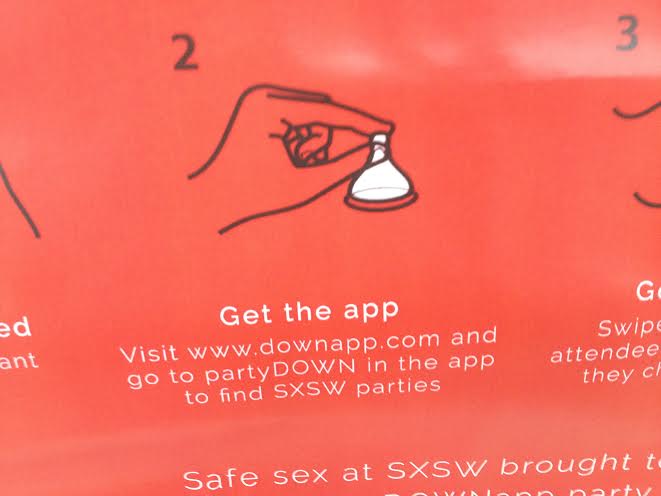 Secondly, the poster I saw was blocks from the hub of everything. Last year, they were plastered around the conference center where unsuspecting children grown people could see them.
Thirdly, I've seen people walking around in their underwear or spandex suits promoting other "family-friendly" apps and companies. 
Anyway, consider Down in town for SXSW. Cards on the table, we're going to their beer pong party today, because bro app culture is here and there's nothing you can do about it.