As the White House continues to scramble to lock down a cohesive story about why President Donald Trump fired FBI Director James Comey, his son, Donald Trump Jr., is adding his bit to the mix—by going full-blown conspiracy theory.
One of the reasons Trump's firing of Comey has shocked Washington is because only one other FBI director has been fired in American history. Former President Bill Clinton fired then-FBI Director William Sessions in 1993.
A key difference between Sessions and Comey's firings: Sessions was under investigation by the Justice Department. As the Los Angeles Times reported in 1993: "The Justice Department report found, among other things, that Sessions had engaged in a sham transaction to avoid paying taxes on his use of an FBI limousine to take him to and from work, that he had billed the government for a security fence around his home that provided no security and that he had arranged business trips to places where he could meet with relatives."
After Sessions refused to resign, Clinton fired him at the behest of then-Attorney General Janet Reno. "We cannot have a leadership vacuum at an agency as important to the United States as the FBI," Clinton said after making his decision. "It is time that this difficult chapter in the agency's history is brought to a close."
By contrast, the White House's reasons for Trump firing Comey keeps changing, and an increasing number of reports have found that the FBI's continuing investigation into his campaign's ties to Russia played a significant role in Trump's decision to fire Comey. Regardless of the president's motivations, this fact remains: Trump fired the law enforcement official conducting an investigation into his own campaign.
Amid this explosive situation, Trump Jr. on Thursday shared a conspiracy theory about Bill Clinton that has become a popular touchstone among pro-Trump communities online: that Clinton actually fired Sessions to cover up the murder of Vince Foster, Clinton's long-time friend and former deputy White House counsel.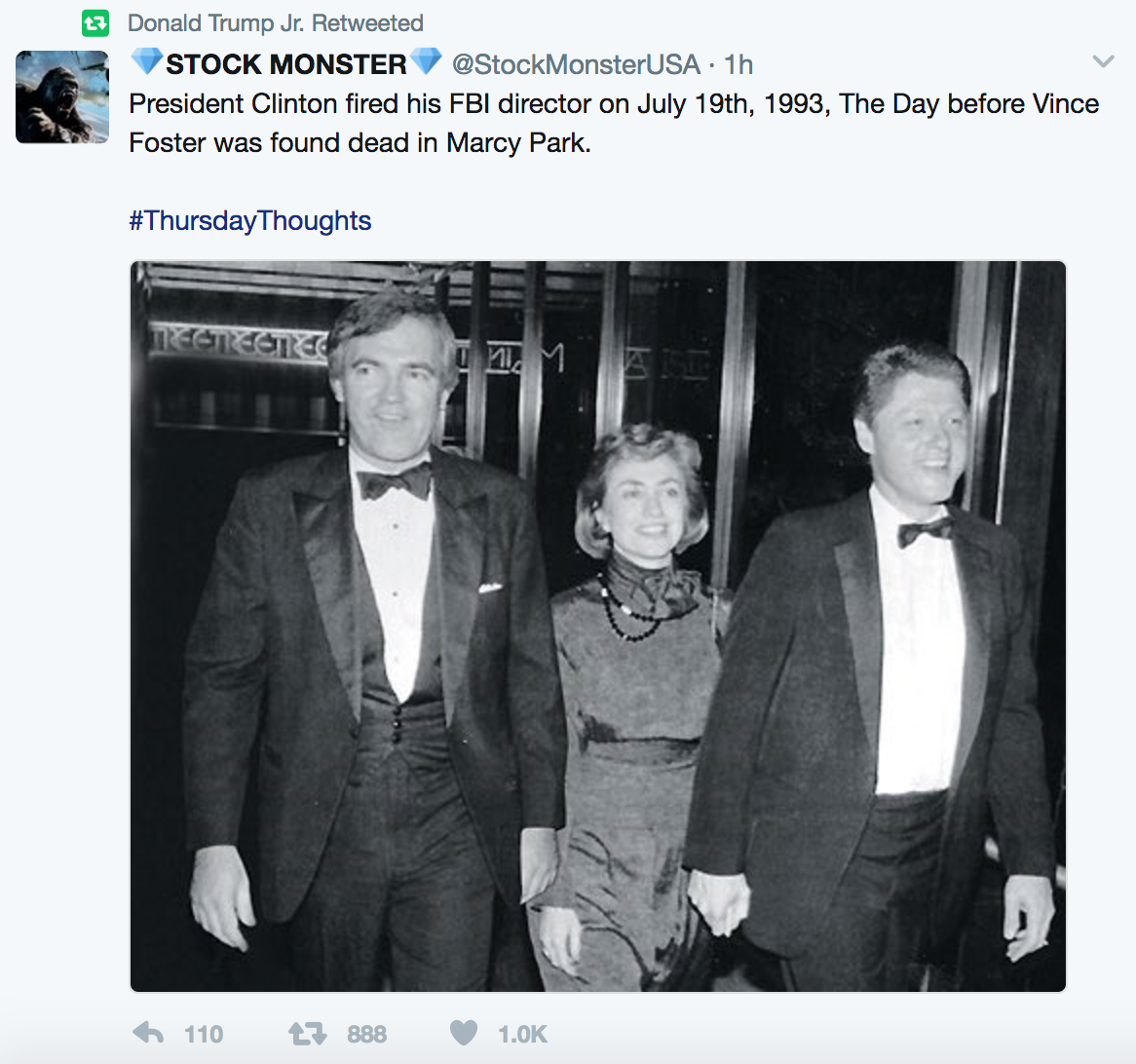 Thing is, five separate investigations concluded that Foster took his own life and was not murdered. And the fifth investigation, which lasted three years, considered all the evidence and circumstances believers in the Vince Foster conspiracy theory still cite as proof that Clinton had him murdered. But because of the intense partisanship surrounding Clinton and distrust of the Clintons by Republicans, many still believe that the Clintons had Foster murdered to cover up other crimes.
Of course, it may come as little surprise that Trump Jr. is sharing this conspiracy theory; his father believes in it, too. "He had intimate knowledge of what was going on," Trump said of Foster in a May 2016 interview with the Washington Post. "He knew everything that was going on, and then all of a sudden he committed suicide."
Regardless of what you believe about Foster's demise, one scandal does not make another scandal go away.