The momentum to push American police officers to wear body cameras is growing.
Sen. Claire McKaskill (D-Mo.) believes cops should wear cameras if they want hundreds of millions of dollars in federal funding. Over 150,000 people have signed a White House petition to require all police have video rolling while on duty.
Now, even the cops themselves are getting on board.
Denver, which aims to equip all patrol and traffic officers with body cameras next year, is expected to allocate about $1.5 million towards the objective accountability that cameras bring.
"Citizens should know officers are being held accountable," Chief Robert White told the Denver Post. "The only officers who would have a problem with body cameras are bad officers."
The Denver City Council still has to approve the new expense.
Denver has been running a test program with body cameras on officers in their Lower Downtown neighborhood for two months—four more months are slated to go on the study—with, White said, successful results. Lower Downtown has the highest rate of police activity in the city.
Local officials around the country are joining the popular swell toward police transparency. New York City's public advocate has urged the city's police department to adopt cameras and Los Angeles is currently studying the idea.
A 2013 study in Rialto, Calif., a city that outfitted all of its 250 officers with cameras, found that body cameras reduced use-of-force incidents by a staggering 59 percent. Civilian complaints against the police dropped by 87.5 percent.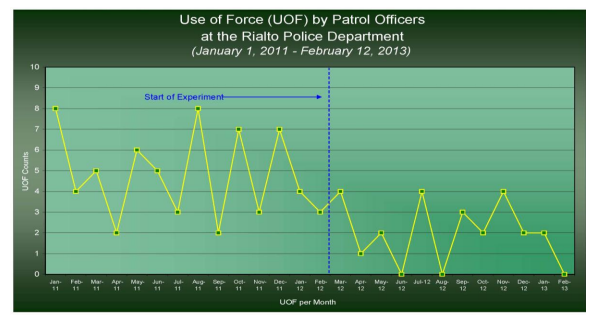 H/T  Denver Post | Photo via mac_ivan/Flickr (CC BY 2.0)