National Rifle Association (NRA) spokeswoman Dana Loesch is defending herself after a clip of her talking about the media being curb stomped was brought up in the wake of the Capital Gazette shooting on Thursday.
Loesch got into a Twitter-spat with journalist Shaun King after he posted a video clip of the NRA spokeswoman speaking on a show on NRATV in 2016.
In the clip, Loesh said she would be "very glad to see" the media be "curb-stomped."
After King tweeted out the clip, the NRA spokeswoman claimed that the clip was taken out of context, and said she was referring specifically to "debunked reports" being "curb-stomped," not the media.
Feel free to get the entire video, not 46 seconds, wherein I discussed a series of debunked reports & say I was pleased that they, the stories, were "curb stomped." But you had to insist I was discussing people. I'm not like you, @ShaunKing . I don't encourage or excuse violence. https://t.co/IWZQA5jsT1

— Dana Loesch (@DLoesch) June 29, 2018
However, a Media Matters for America transcript of the interview—which Loesch gave with NRATV host Grant Stinchfield shortly after the 2016 election—doesn't help her case very much.
During the interview, the NRA spokeswoman criticizes media coverage in the past and says the press "impugned the character of half of the country."
She also complains that "nobody gets a fair shake on policy" before calling the media "the rat bastards of the earth" and "the boil on the backside of American politics."
While Loesch said she was referring to "stories" being curb-stomped, a blog post published by the NRA-backed America's 1st Freedom website wrote a headline about the interview where it says she was "happy to see mainstream media 'curb-stomped.'"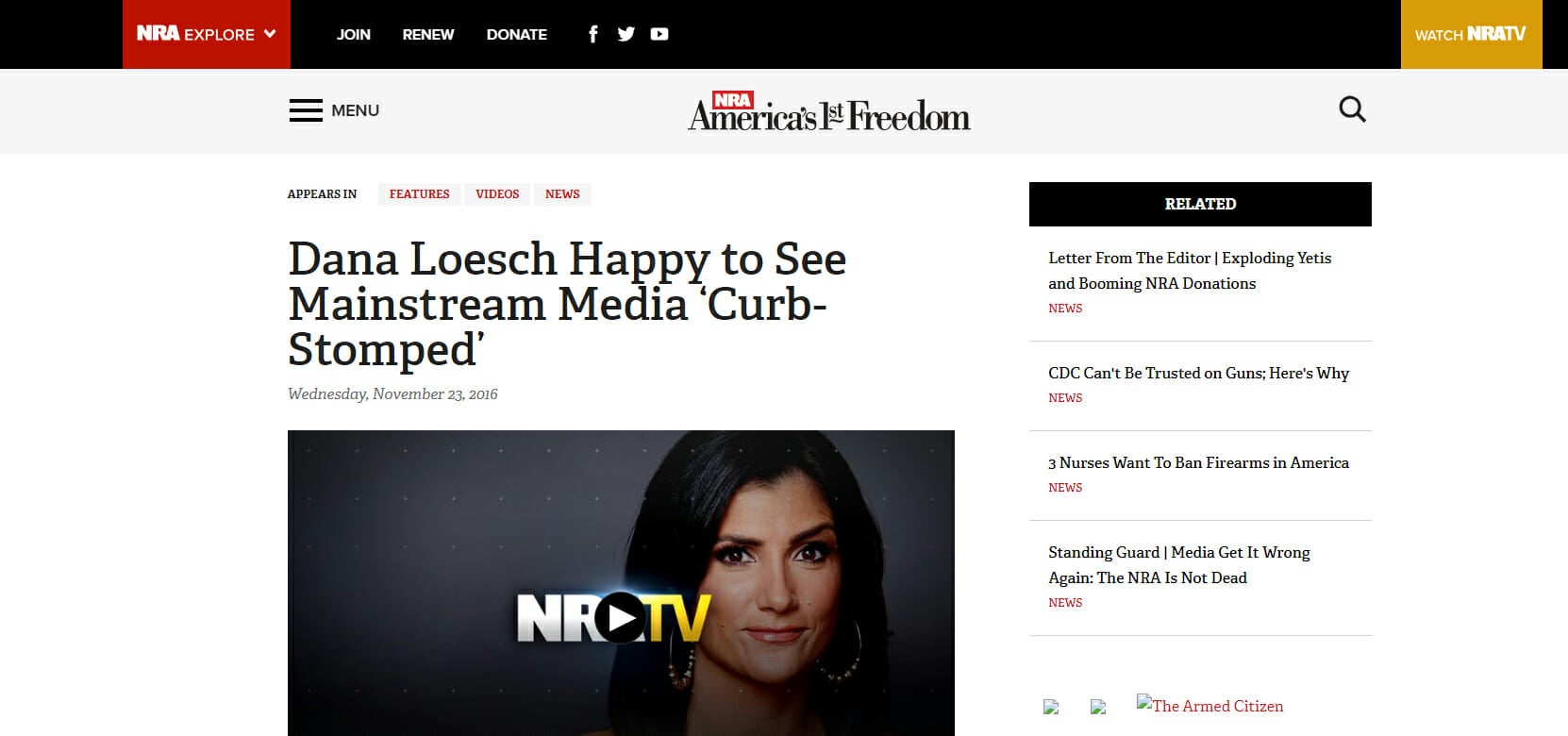 The spokeswoman's anti-media comments are one of several recent comments by right-wing commentators, and even President Donald Trump, that have been criticized in the wake of the Gazette shooting on Thursday.
People online weren't buying Loesch's defense.
U are not responsible 4 yesterday's shooting, @DLoesch. But u DO need to address what u said, admit that it was wrong, and acknowledge that this kind of rhetoric is wildly irresponsible.
RESURFACED VIDEO: 'Rat bastard' journalists 'need to be curb-stomped' https://t.co/u285Tdv8vs

— Jarrett Bellini (@JarrettBellini) June 29, 2018
Dana Loesch said in late 2016 that journalists are "rat-bastards of the Earth" who she's happy to see "curb-stomped." Much of right-wing America talks about the media in an inflammatory way. It's been going on for a long time. After today, hoping they'll reevaluate this habit. pic.twitter.com/dJuRuTdptz

— Adam Best (@adamcbest) June 29, 2018
Dana Loesch advocated for journalists to be *curb stomped* because they're the enemy & treat Trump unfairly… something she's denying saying, now that 5 journalists were murdered by a Trump supporter. https://t.co/PXL0tv7uXj

— nicole (@NikkiTikki_Tavi) June 29, 2018
"I'm happy, frankly to see [the mainstream media] curb stomped … they are the rat-bastards of the earth" – @DLoesch https://t.co/HDoLgmay3v

— Adam Schrader (@Schrader_Adam) June 29, 2018
https://twitter.com/danooli_dani/status/1012680735860371463
Loesch is known for her incendiary remarks against the press.
Earlier this year she was widely-mocked for an NRA ad she starred in where she looked like she was about to burn a copy of the New York Times and asked her followers to "fight their violence of lies with the fire of truth."
On Twitter, Loesch denied that her rhetoric had anything to do with the Capital Gazette shooting.
It's disgusting that people like you are exploiting a tragedy and blaming me for a psycho who stalked a woman and transferred his murderous obsession to a newsroom when they covered his crime. Shame on you. https://t.co/rZydiMCs0f

— Dana Loesch (@DLoesch) June 29, 2018
READ MORE: