With the release of the Apple Watch and tech-infused accessories by designers Rebecca Minkoff and Opening Ceremony at NYFW last week, the term "wearable tech" has been bandied about frequently in recent days, to the point where you can't click on a tech blog without seeing some smart ring or bracelet or bag or T-shirt being heralded as the wave of the fashion future. But when Francesca Rosella and Ryan Genz launched their tech clothing line in 2004, "wearable tech" was not quite so popular. In fact, the term had barely entered the vernacular.
"I was working for very large fashion companies, and when I suggested making dresses that lit up, back in 1998, they looked at me like I was insane," Rosella told me when we met during New York Fashion Week last week. 10 years after launching her line with Genz, "wearable technology is a buzzword. It's interesting to see how everyone wants to jump on the bandwagon."
As the founders of fashion company CuteCircuit, a tech apparel brand that recently celebrated its 10th anniversary at New York Fashion Week with its ready-to-wear collection, Rosella and Genz are indubitably trailblazers in the fashion tech world. They've designed dresses that display tweets, shirts that make you feel like you're receiving a hug, and LED-embedded couture gowns and dresses for pop stars like Bono and Katy Perry.
But it would be inaccurate to call CuteCircuit a wearable tech company. Unlike most wearable designers, CuteCircuit doesn't focus on accessories that perform one function, such as a bracelet that charges your phone or a necklace that tracks how many calories you've burned. Rosella and Genz aren't so much trying to fuse technology with design, as designers like Diane von Fursternberg and Tory Burch have done with their collaborations with Google Glass and FitBit, respectively; they view the tech and design processes as virtually indistinguishable from one another.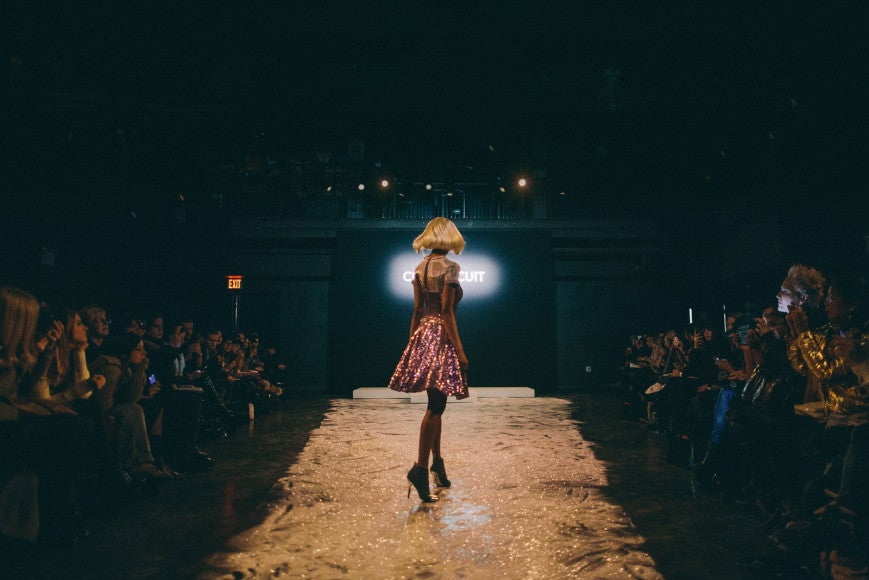 "I think it's the wrong approach that designers should go out and find some technologist to collaborate with just to stick something in their garment and make it buzzworthy," says Genz. "That's not the point. Fashion is a language. It's a way people express themselves. The reason we use technology in our clothes is to try to make fashion as cool and fun and expressive and spectacular as possible."
Rosella and Genz have been marrying tech with fashion since 2004. Although critics of wearable tech complain today that many products are too bulky and obtrusive, back then, Rosella says, the possibilities for designing aesthetically pleasing wearables were even more limited.
"When we first started the company, lots of the materials we wanted to use for our garments didn't exist, because there were normal wires out there and bulky electronics," she says. "And we were like 'we're CuteCircuit: the circuits have to actually be cute.' Every material we wanted to use, we had to design ourselves, and find manufacturers who would make it for us."
To that end, Rosella and Genz patented their own technologies for the smart fibers and microtechnologies they use in their garments. To make the garments more lightweight, they also swapped out bulky wires for conductive ribbons, which are connected to slim batteries that are "a little bit wider than a 50 cent coin." As I saw in their first ready-to-wear line at New York Fashion Week, the result is a line of tech-infused fashion that looks virtually indistinguishable from anything else you'd see on the catwalk.  
In 2006, the company made headlines with the Hug Shirt, a Bluetooth-enabled garment that uses sensor technology to transmit a virtual hug between the wearer and the recipient. Genz and Rosella say that's when people first started showing interest in the potential of wearable technology.
"The Hug Shirt really made people think that this wearable technology thing is not a gadget you have to strap somehow on your body, but a garment with very nice functionality," Rosella says. "People think of wearables as scientific and used for maintenance, but the Hug Shirt has a personal expression related to it. And that's what I think the most important thing about wearables should be: human connectivity."
Since then, Genz and Rosella have expanded on the principle of using wearables for human connectivity by creating garments that can be customized via social media. In 2012, they debuted the Twitter Dress, a Swarovski crystal and LED-embedded gown worn by Pussycat Dolls singer Nicole Scherzinger at a red-carpet event. Users who tweeted at Scherzinger with the hashtag #tweetthedress saw their tweets being displayed on the dress in real-time.
Of course, garments like the Twitter Dress or Katy Perry's Met Ball gown, while novel, have little real-world functionality; they're better suited for a red carpet event or concert than day-to-day use. With their new ready-to-wear collection, which features motion sensor-equipped dresses and garments with customizable LED patterns that can be modified via tweet, Genz and Rosella hope to retain the principles of smart interactive fashion, while convincing people of its practical, real-world functionality.
"We really want to show people it's possible to have wearable technology that you can wear when you go out to the office in the morning, and you can wear it when you go partying in the evening, and it's still the same garment," Rosella explains.
With its new app, Q, CuteCircuit allows you to customize your ready-to-wear garments by letting you download up to 50 patterns, which you can then transfer to your skirt, dress, or jacket. CuteCircuit has also partnered with Accenture to release a second app, which allows users to download site-specific patterns from clothing in high-end stores in London and New York.
While the concept of interactive, customizable clothing is compelling from a fashion perspective—imagine having to buy only one skirt, and having it look different every time you wear it—, it also has the benefit of being environmentally sustainable. Many large companies "manufacture thousands and thousands of garments and they only sell half of it and the rest goes to landfill," Rosella explains. "I think it's very important to manufacture less garments. With the digital aspect, you can download new patterns and have it always be fresh and new."
In the midst of the wearables craze at New York Fashion Week, Rosella and Genz feel somewhat vindicated that their industry peers has started jumping on the tech fashion bandwagon. "I find it really interesting that everybody is thinking about wearables because it's like, finally, we're not alone anymore," Rosella says. Now that wearables have gone mainstream, however, CuteCircuit is embarking on a new goal: To make wearable tech look like something people would actually want to wear.
"Sometimes people are biased toward technology because they think batteries, wires. I think in the future, people will become less biased and think about the design," Rosella says. Since their new collection debuted at Fashion Week, "people have been coming up to us in the last few days and saying, 'It's just like fashion!' People are scared of fashion tech looking too adventurous or too red-carpet, but we're proving it just looks normal. Normal with magic powers."
A previous version of this article reported Ryan Genz's last name as "Lenz." It is actually Genz. 
Photos via CuteCircuit