The ratings for CNN apps on Google Play and Apple's app store are plummeting as thousands of people are flooding them with one-star reviews.
As of Friday morning, CNN's ratings for the Apple app have taken the largest hit. On the app's Apple store page, it shows an overwhelming number of one-star reviews being submitted for the app's "current version." Earlier versions of the app show a normal mix of reviews.
Meanwhile, its Android application still had a 3.8 average review on Friday morning—with most of the recent reviews being one star.
Apple did not immediately respond to a request for comment by the Daily Dot. Google said they were "looking into the situation."
"Last November, we announced improvements in the ways we identify and remove fake reviews and ratings to combat spammy behavior," a spokesperson for Google told the Daily Dot. "While this enhanced capability gave us greater accuracy for identifying and removing more fake reviews and ratings, we're always looking for ways to protect our users and developers."
Many of the new one-star reviews claim CNN is "fake news" and biased against President Donald Trump.
"I downloaded this app as a favor for a friend who was searching for a reliable news outlet," a recent one-star review on the Apple app store reads. "The style of the app was appealing and the ease of use was nice. The problems began when I started to read articles published on the app. There a systematic disregard for objective viewpoints. The authors write using accusatory language that leads the uniformed reader to specific and planned out conclusions."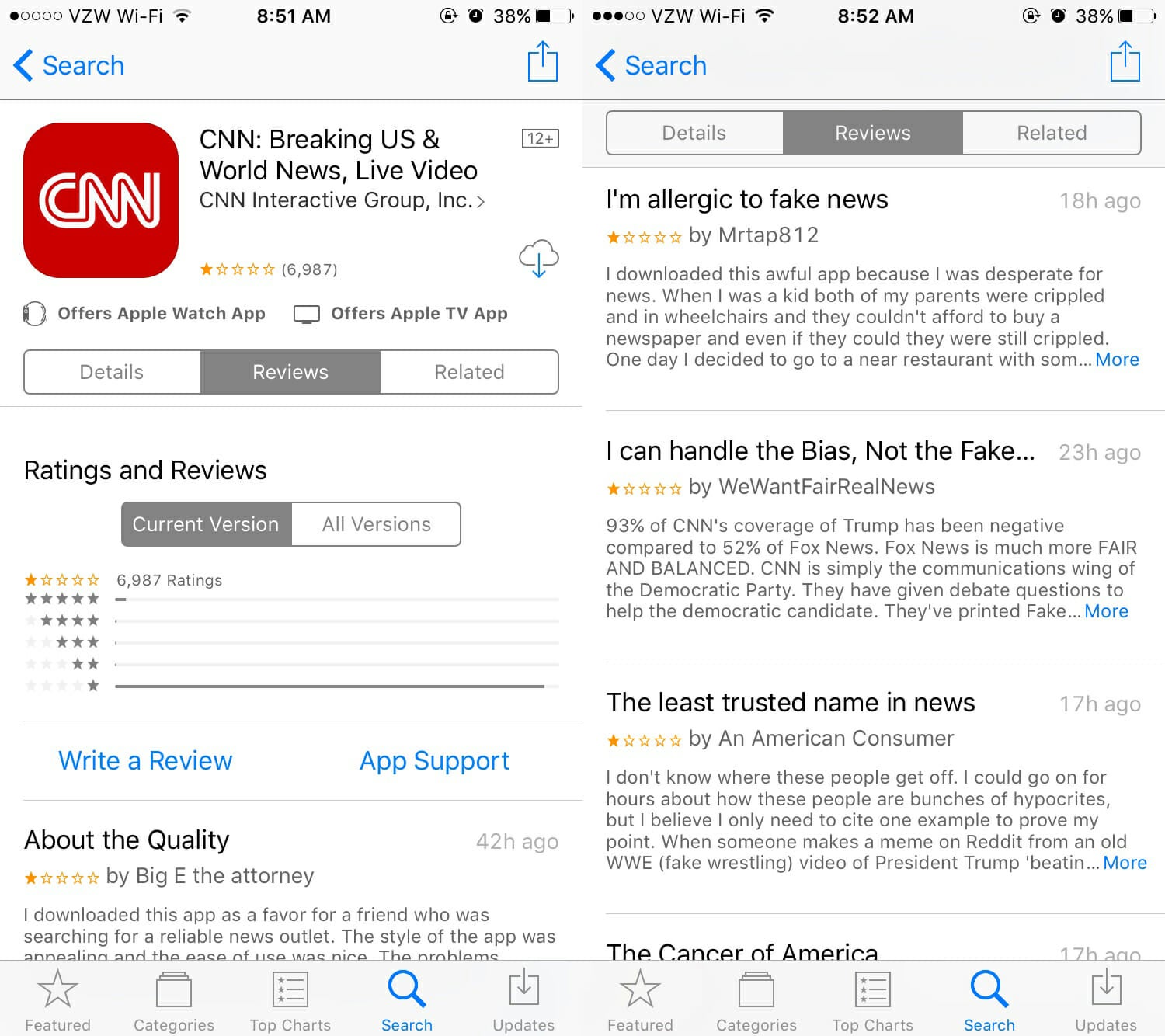 Meanwhile, other reviews are nonsensical and have nothing to do with CNN, news, or reviewing the app.
"This app made my Yeezys boneless, and now I can't talk to short people properly," a review on the Android store reads. "Even walking my doggo is hard now, I feel like I'm doing it a disappoint. It's name is Dwayne "The Romp(er)" Johnson and if you have any love in your heart, you will pray to the god we worship which happens to be the dancing hotdog from the snapchat filter."
There has been a large push from the alt-right crowd against CNN following several recent missteps the network has made in recent weeks—even Donald Trump Jr. can't seem to stop tweeting about them.
The most vocal outcry against CNN came after the outlet's KFILE investigative unit published a story about the person who was allegedly responsible for creating a GIF of President Donald Trump clotheslining someone with CNN's logo superimposed on their face.
In the article, CNN wrote that they withheld the GIF creator's identity after he apologized and promised to stop writing anti-Semitic and bigoted posts. One line in particular, however, sparked outrage.
"CNN reserves the right to publish his identity should any of that change."
The line sparked fervor online, using the hashtag #CNNBlackmail. The network denied blackmailing anyone in a statement.
Update 3:18pm CT, July 7: Added comment from Google.