Dr. Christine Fair, a professor of Security Studies at Georgetown University, was suspended from Twitter yesterday following a tweet about the Republicans on the Senate Judiciary Committee.
Fair was briefly reinstated, only to be suspended again, after she was reported for including someone's email in a tweet.
"Look at thus [sic] chorus of entitled white men justifying a serial rapist's arrogated entitlement. All of them deserve miserable deaths while feminists laugh as they take their last gasps. Bonus: We castrate their corpses and feed them to swine. Yes?" Fair wrote on Sept. 29.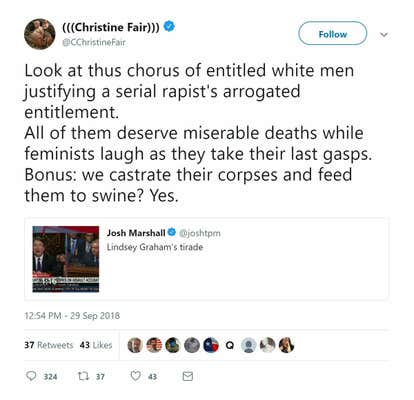 After she received a suspension, conservative outlets like Fox News and the Daily Caller wrote about the incident, expressed concern about Fair's potential bias in the classroom. Some on Twitter called for Georgetown to reprimand her.
You should see many of her other tweets! She is seriously messed up! I can imagine students being scared to state any opinion which could differ from her extreme man hating views

— Jen (@Vandejl13) October 1, 2018
https://twitter.com/mkos66/status/1046875720314707969
@Georgetown What say you? Is this acceptable to you?

— Nicola B. (@PsychBeaulogy) October 1, 2018
If Georgetown doesn't do something about this, its federal contracts & Federal student loans should be pulled/ended.

— Jewish Russophile (@JewRussophile) October 1, 2018
https://twitter.com/IMA_CA_GOPer/status/1046934952288313344
Georgetown. When are you going to fire this violent woman? She is unstable and a danger to kids. #Georgetown

— Shaggy One (@ShaggyMSB) October 2, 2018
After her account was reinstated and the offending tweet deleted, Fair tweeted, "Fox News Failed to silence me.  Thank you all for sending @Twitter messages of support. I do NOT and NEVER have condoned violence. My tweet, as I have explained, was an attempt to make YOU as UNCOMFORTABLE as I am using the language of the abuse I receive by the hundreds."
https://twitter.com/CChristineFair/status/1047152439978266624
https://twitter.com/CChristineFair/status/1047152746502205441
It appears, however, that Fair has been suspended again, after tweeting out an email address from someone who had sent her threatening emails.
https://twitter.com/TMGiarratano/status/1047183032430473216
Reported for targeted harassment and doxxing

— Tired of Winning⭐️⭐️⭐️ (@tiredofwinning2) October 2, 2018
Lol well that lasted long pic.twitter.com/4KczlGCpDV

— Tired of Winning⭐️⭐️⭐️ (@tiredofwinning2) October 2, 2018
Fair has tweeted anti-Trump and anti-Kavanaugh sentiments in the past. Georgetown University told the Daily Dot that the tweets are Fair's private speech.
"The views of faculty members expressed in their private capacities are their own and not the views of the University. Our policy does not prohibit speech based on the person presenting ideas or the content of those ideas, even when those ideas may be difficult, controversial or objectionable. While faculty members may exercise freedom of speech, we expect their classrooms and interaction with students to be free of bias and geared toward thoughtful, respectful dialogue."
When her Twitter account was reinstated, Fair received mountains of vitriolic, misogynistic tweets.
https://twitter.com/ToTheRepublic2/status/1047166070413381632
https://twitter.com/JMS0104/status/1047154101757382658
Do you have a sister named #LorenaBobbit? Just asking for all #WhiteMen on planet earth

— Pappy Knows (@Ole_pappy) October 2, 2018
Why single out white men? It didn't make me uncomfortable it's just vile. My guess is from the looks of you that you never reproduced. Thank God for that. No bad pupils just bad teachers like you. The outcome for you will be biblical.

— Mike Meadows (@mikewvu83) October 2, 2018
https://twitter.com/ToTheRepublic2/status/1047165083481075712
Fair's suspensions come on the heels of several high-profile suspensions and bans of conservative voices like Alex Jones. Several Twitter users commented with complaints that conservative voices spreading fake news and racist rhetoric have been reprimanded, but that Fair was not.
Neither Fair nor Twitter responded to the Daily Dot's request for comment.
This article has been updated.