Dirty Delete is a weekly column that goes deep into the social media history of politicians that runs on Thursdays in the Daily Dot's web_crawlr newsletter. If you want to get this column a day before we publish it, subscribe to web_crawlr, where you'll get the daily scoop of internet culture delivered straight to your inbox.
Analysis
Tennessee House Speaker Cameron Sexton (R) is mired in scandal. But online, he's all smiles.
Sexton led the charge to expel Black lawmakers who demanded action following a mass school shooting in Tennessee this spring. This earned him widespread condemnation and made the "Tennessee three" heroes on the left.
That same month, Sexon was accused of not living in his district as required by law, according to Popular Information.
Then there's the pesky subpoena for his phone records in the criminal trial of a former House Speaker and a former staffer charged with public corruption. The staffer claims he and Sexton were basically besties and that he helped Sexton win the speakership.
Oh, and lest we forget, there are questions about exactly when and what Sexton knew about allegations that a fellow Republican lawmaker allegedly sexually harassed legislative interns.
Sexton is really going through it.
His online presence doesn't give so much as a whiff of his many troubles, however. It's all yay Tennessee sports, glad-handing, and get out the vote, y'all—with a dash of Jesus.
You'd never know he's the same guy who opposed removing a bust of the founder of the Ku Klux Klan from the Tennessee capitol, reacted to the George Floyd protests by proposing to increase criminal penalties for graffitiing state property, and likened the Tennessee three's verbal protest to the Capitol riot.
The only hint of Sexton's checkered record is in comments on his posts.
The man is a troll magnet. People will even dig up his seven-year-old Facebook posts just to call him "Grand Wizard" and tell him to "eat it."
Sexton is on Twitter, Facebook, and appears to have an inactive Instagram.
Dirtiest Delete
Sexton is much more inclined to like a tweet than write one and he rarely deletes anything.
There is one exception.
Shortly after leading the charge to expel the Tennessee three for daring to speak on the assembly floor, Sexton deleted the first of three tweets about their ousting.
The first disappeared into the void. In the others, Sexton awkwardly attempted to explain why they deserved to be expelled.
He claimed they were trying "to make themselves the victims" and accused them of taking away the voices of the protesters, the victims of the shooting, and their families, which is a weird way of saying they stood up for them.
Should've probably disappeared those too, Mr. Speaker.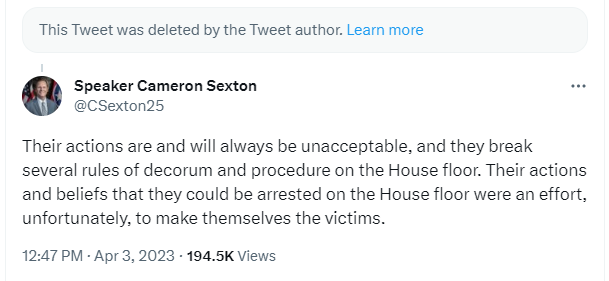 Like what you are reading?
Sign up to receive web_crawlr, a daily newsletter
from the Daily Dot, in your inbox each morning.