Today, BuzzFeed announced that it is shuttering its news division. A cumulative 180 people will reportedly be fired across the parent company's brands, which includes BuzzFeed, HuffPost, Complex, and Tasty.
The news has Chief Executive Officer Jonah Peretti taking serious heat online. It also led one of Peretti's replies to a tweet by a BuzzFeed employee to resurface. Last month, Peretti jokingly implied that he wasn't aware the company had a newsroom. On Thursday, he deleted that tweet.
In March, BuzzFeed reporter Scaachi Koul pushed back on a Vanity Fair story that characterized the company's journalistic ambitions as "dulled" following staffing cuts and declining revenue.
"I know we're tired and media is bad, but come on. Dulled journalistic ambitions? I've been working on an investigative piece for a year," Koul tweeted.
Koul said she was also sad that BuzzFeed News had laid off its investigative team, but said that much of the 60 then-remaining staff were "still working on 'big' 'journalistic' 'projects.'"
"If you think BuzzFeed News doesn't have any journalistic aspirations, please tell that to the eight thousand pages of deposition records and court transcripts that are burrowing a hole on my fuckin' desk and my current blood pressure reading. Be expeditiously for real," Koul added.
Then she tagged Peretti and said, "Please don't shut the newsroom down after I yelled like this in public. It will be very humiliating for me, personally."
Peretti replied in a seemingly facetious tone, "We have a newsroom?!?"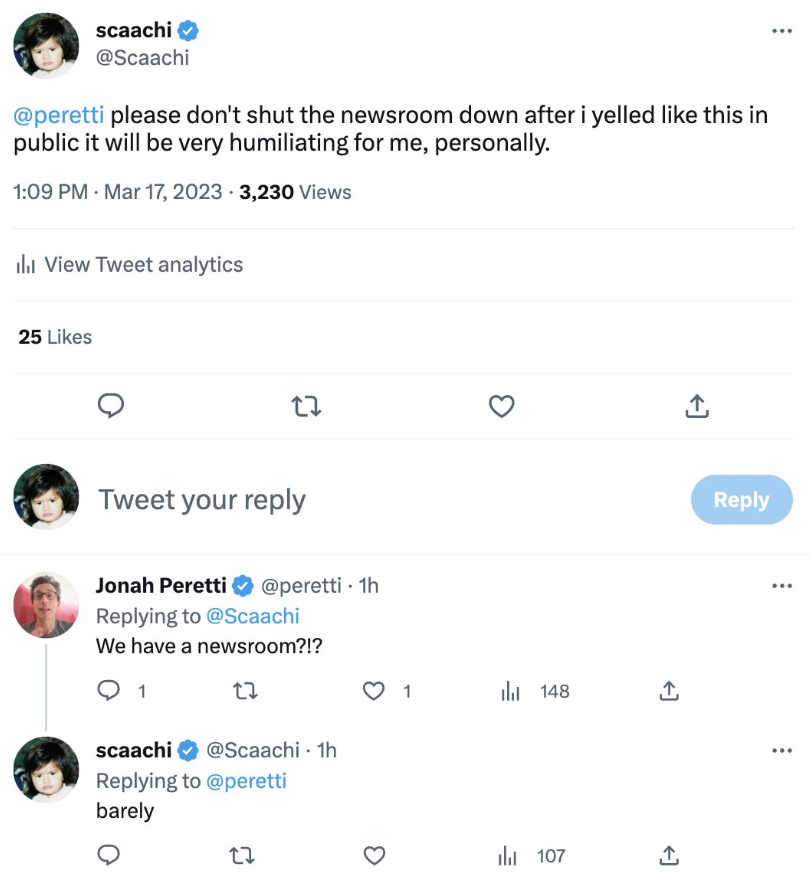 This exchange occurred on March 17. Just over a month later, he shut the newsroom down.
Peretti deleted the tweet after news of the layoffs broke.
On Thursday, Koul tweeted a screenshot of their conversation. Once again she tagged Peretti.
"I saved this interaction because I knew it would come true eventually," she said in a follow-up tweet. "I am neither surprised by the swiftness or the cruelty."

We crawl the web so you don't have to.
Sign up for the Daily Dot newsletter to get the best and worst of the internet in your inbox every day.