Bridgestone is following up on the "air-free concept" tire it showed off six years ago with a similar product made for cycling.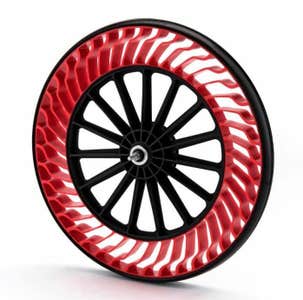 The wheels are made of a rigid thermoplastic resin that is designed to absorb the road and provide a smooth riding experience for cyclists. The curved spokes that sit on the inner part of the structure help the tire maintain its shape as it travels across different terrain. A tire without air also means bikers won't be stranded on the side of the road with a flat. The concept is similar to the airless "tweel" tire Michelin created back in 2005, which can be found mounted on anything from construction machinery to golf carts.
When Tokyo-based Bridgestone showed off its airless automobile wheels back in 2011, it said the leak-free materials could reduce CO2 emissions by increasing efficiency. With its bike design, it hopes to reduce waste by using a fully-recyclable product that can be remade when it starts to wear down.
The company expects to release the tire to consumers in 2019 in advance of the 2020 Tokyo Summer Olympics. To be used for the game, though, it will need to get permission by the governing board in time for biking events. If granted, Japan can add another example that shows off its dedication to saving the planet.
H/T Gizmodo