Mahatma Gandhi starved himself for the independence of India from British tyranny, Cesar Chavez for the labor rights of farm workers. Hoping to join the ranks of those great civil disobedience protesters is Brian Zulberti.
Lounging in a beach chair outside the Supreme Court, wearing a hat that reads "Us Versus Them,"  Zulberti is currently staging his own hunger strike, prepared to die so that you won't get fired for posting a naked selfie or racist tweet. 
The Delaware lawyer has a storied past of pulling viral and sensationalist stunts in order to draw attention to the legal burden he champions, that being the legal separation of social and digital lives from professional ones. It's an issue Zulberti has experienced first hand after being fired from his job as a high school tennis coach for posting comments online about an opposing teams player. But even then, Zulberti wasn't naive to the repercussions that a boisterous digital voice can have.
"I knew I was potentially walking through a mine field when I made those posts, especially given the conservative nature of that school," he told the Daily Dot. 
Since then, the Villanova Law School alum has only become more antagonistic when it comes to his career prospects. In 2013, Zulberti dispatched photos of himself flexing his arms in a Villanova tank top to countless Delaware law firms in lieu of résumés. Presuming that many would google the name of a potential applicant, he posted a half naked picture of himself on Facebook with a sign begging to be hired "as a lawyer. Damn, NOT A ESCORT."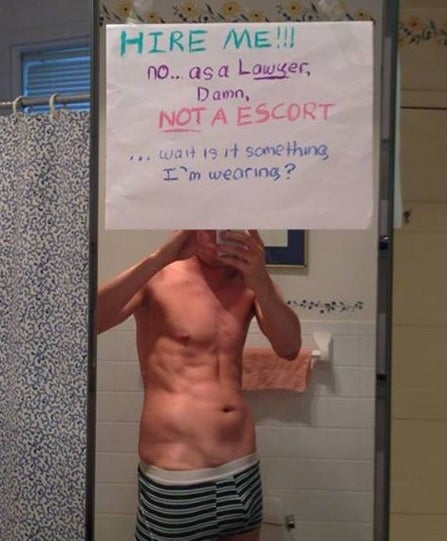 Photo via AboveTheLaw.com
This hunger strike isn't the first time Zulberti has used his body to make his point known. In 2013, he posted a series of inflammatory naked photos that he captioned with phrases like "Maybe I should be a defense lawyer, because I definitely don't mind a hung jury." On the subject of his political penis protest he told the Washington Post, "Look, if I've got to get your eyes to my penis to see the problems with the nation, then so be it."
Zulberti began his hunger strike on June 2, at 6pm, marking the crescendo to his latest offense against what he calls "the single most crucial social issue of our generation." Breaking from his nationwide tour, in which he focuses on a firing due to social media in each of the 50 states, he has made his message clear: 90 seconds of prime time news coverage or death.
When he spoke to the Daily Dot, he was some 72 hours into his strike.
"I'm not in any excruciating pain or ready to keel over, but I am getting worn down from the heat, the media, and the lack of food," he said. 
His fervor for the social media rights of every employee in the country is undeniable. A page on his personal website, entitled "Brian's Message," reads like a diatribe against the proverbial big brother who becomes more intrusive with each technological innovation. However, his ample tenacity can't substitute for his clear lack of legal strategy. When asked if he had any proposed legislation to end the consequences of digital postings on a person's job, he offered only a suggestion.
"I strongly suggest, and the nation's future rests on whether my warning is heeded, that every state follow California's labor laws which prohibits employers from demoting, suspending, or discharging employees 'for lawful conduct occurring during nonworking hours away from the employer's premises.'"
Zulberti's play isn't to take steps to enact the change his wants so badly, but rather to drum up enough attention in hopes that others will enact it for him. He told the Daily Dot he hasn't been in contact with any members of Congress to discuss or propose legislation. Instead, he puts the onus on members of the House and Senate to approach him as he sits outside the Supreme Court.
"If they really cared about the country, there would be a line of congressmen right next to my beach chair.  If not to collaborate with me about legislation, they should at least be offering me their support and blessing and doing everything in their power to ensure I get more media coverage—not for me, but for my message and the good of the nation."
In the days since he's set up camp outside the nation's highest court, Zulberti has garnered considerable media attention that continues to grow. He posted on his personal Facebook page that on Thursday he would be a guest on Neil Cavuto's show on the Fox Business Channel. Additionally, he's spoken with prominent outlets including Reuters and The Washington Post, but nothing will satiate his appetite like the 90 seconds of prime time news coverage he is literally starving for.
Like a leftover from the Occupy Wall Street movement, Zulberti and his zeal for the protection of digital free speech remain camped out in a beach chair, with only a generator and an umbrella. He posts frequently on his Facebook and livestreams on his YouTube channel throughout the day. "Anyone can visit me at any time of the day until I get the coverage I seek or I die," he says. "This is where I'll be." 
 H/T Washington Post | Photo via Facebook