Atlantis, the Deep Web black market that made huge waves in the media with its public YouTube commercials, is shutting down due to "security concerns outside of our control," said the founders of the website in a statement released earlier today. 
It's unclear what has prompted the shutdown, which comes only two months after the fall of Freedom Hosting and an FBI malware attack on the Deep Web, and amidst widespread rumors that law enforcement agents are engaged in a campaign against online black markets like Silk Road. 
Atlantis was established in March 2013 as a rival to Silk Road, the best-known online black market. It offered cheaper fees, a more modern website and, its founders claimed, better security. Apparently, that security has been breached.
"Believe us when we say we wouldn't be doing this if it weren't 100% necessary," read a post on the Atlantis Facebook page and the site's forums. Vendors and customers have one week to withdraw Bitcoins from the website. Anything remaining will be donated to a drug-related charity of the staff's choosing.
Atlantis's moment in the sun came in July when it launched a slick commercial that spread across the web through influential websites such as The Verge, The Huffington Post and BuzzFeed. Just prior to the the commercial's launch, Atlantis had passed the milestone of $500,000 of products sold. It's unknown if Atlantis ever made it to $1,000,000 in sales overall, a threshold that Silk Road likely beats every single month several times over.
This announcement has prompted a bit of gloating and a lot of uncertainty across the Deep Web. Since its inception, Atlantis has been accused of being a police set-up and a poor imitation of Silk Road. Right next to that sense of victory, though, will be the all-important question: If someone can get to Atlantis, is it possible that they can get to Silk Road?
Over the last three weeks, Atlantis has suffered from overwhelming downtime that the staff blamed on problems in the Tor network. Silk Road and Black Market Reloaded, the two leading Tor black markets, have been relatively stable during the same period.
In an interview earlier this summer, Atlantis founder Loera said that the site processed "in the low hundreds of orders a day. These do fluctuate though. Sometimes we have low days. We have close to 600 vendors at this point (half of SR's vendor count according to a blog I read recently), so they're distributed across all of them."
Atlantis may never have overtaken Silk Road, but its modern interface promoted Silk Road founder Dread Pirate Roberts to upgrade his own market with improvements in feedback, security and design.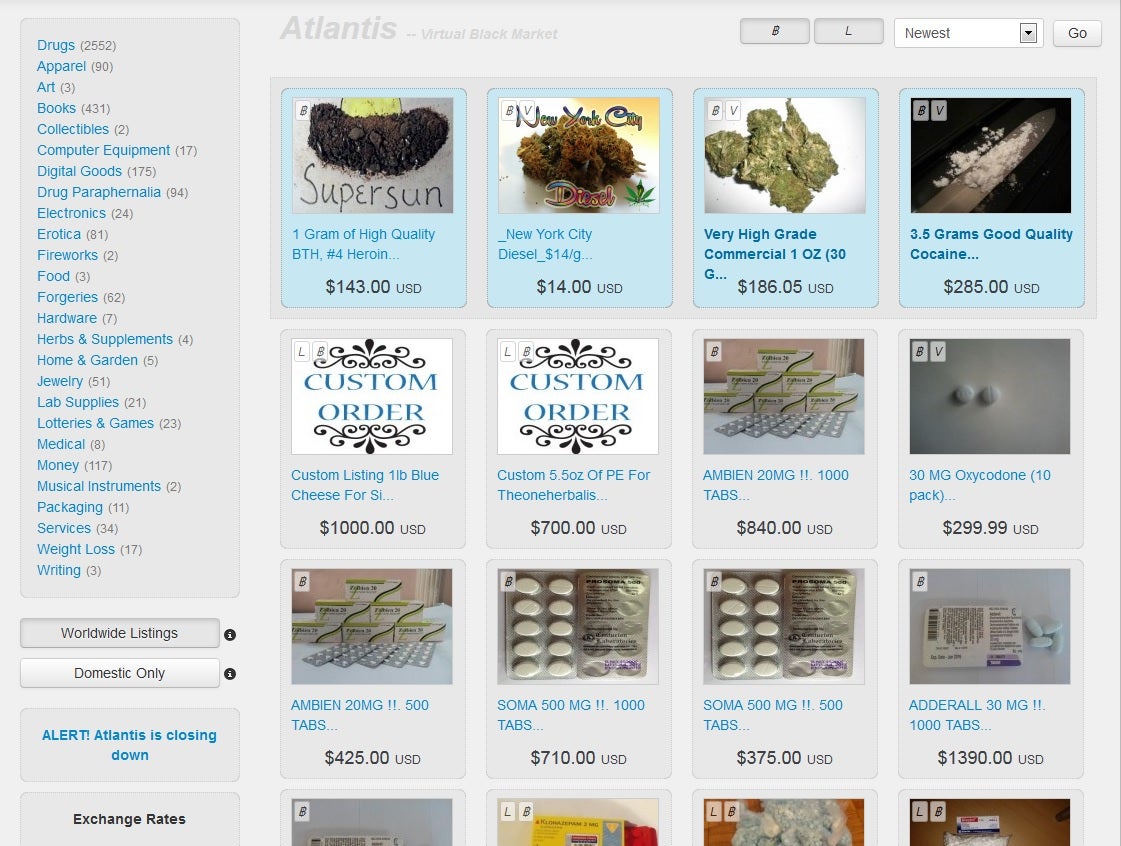 Canman, a cannabis vendor on both markets, compared the two black markets:
"Experience wise, Silk Road contains the critical mass of buyers which is the main difference," he wrote. "I would say I sell 20-30 times the volume on Silk Road, compared to Atlantis as it stands. Silk Road core site functionality works well, but Atlantis has the feel of a more seasoned development team in looks and the rapid deployment of new features."
Atlantis's exit from the world of Deep Web black markets leaves Silk Road and Black Market Reloaded unchallenged in their dominance.
Illustration by Max Fleishman