On Thursday afternoon, I bought almost one tenth of a Bitcoin. It cost me about $60 U.S.. The transaction wasn't particularly extraordinary—about 80,000 people trade bitcoins every day. What was special? I did it with an ATM located in a hipstery bar in downtown Austin, Texas.
The entire process was relatively straightforward, required zero technical knowledge, and lasted approximately seven minutes. It took place in the back room of Handlebar, a mustache-themed dive a block removed from the infamous party scene on Austin's Sixth Street.
The machine is the work of Robocoin, a Las Vegas-based manufacturer of the world's first bi-directional Bitcoin ATM (meaning it can both buy and sell Bitcoin on the spot), and Handlebar was billed as the first location in the United States to get one.
The bar sits in the heart of downtown Austin, just a couple blocks from the convention center where South by Southwest Interactive Conference is held every year. The festival has long been known as a place to showcase groundbreaking technologies in front of a tech-savvy audience. If there was any group likely to drop a couple hundred bucks at a Bitcoin ATM after slinging back a few drinks, it's the techies who attend SXSW.
While the process didn't take particularly long, it was slightly more complicated than using a standard ATM, largely because the first time you use the machine, you also have to register an account with Robocoin.
Here's the machine's main screen:
First, I entered my phone number. It then texted me a security code. Once I punched in the code, the machine scanned my ID, compared my picture to a photo it took of my face, and then took a scan of my handprint. It then told me to come back in five minutes as it processed my application for an account with Robocoin. While I was waiting, I noticed this guy would be watching over all the Bitcoin transactions: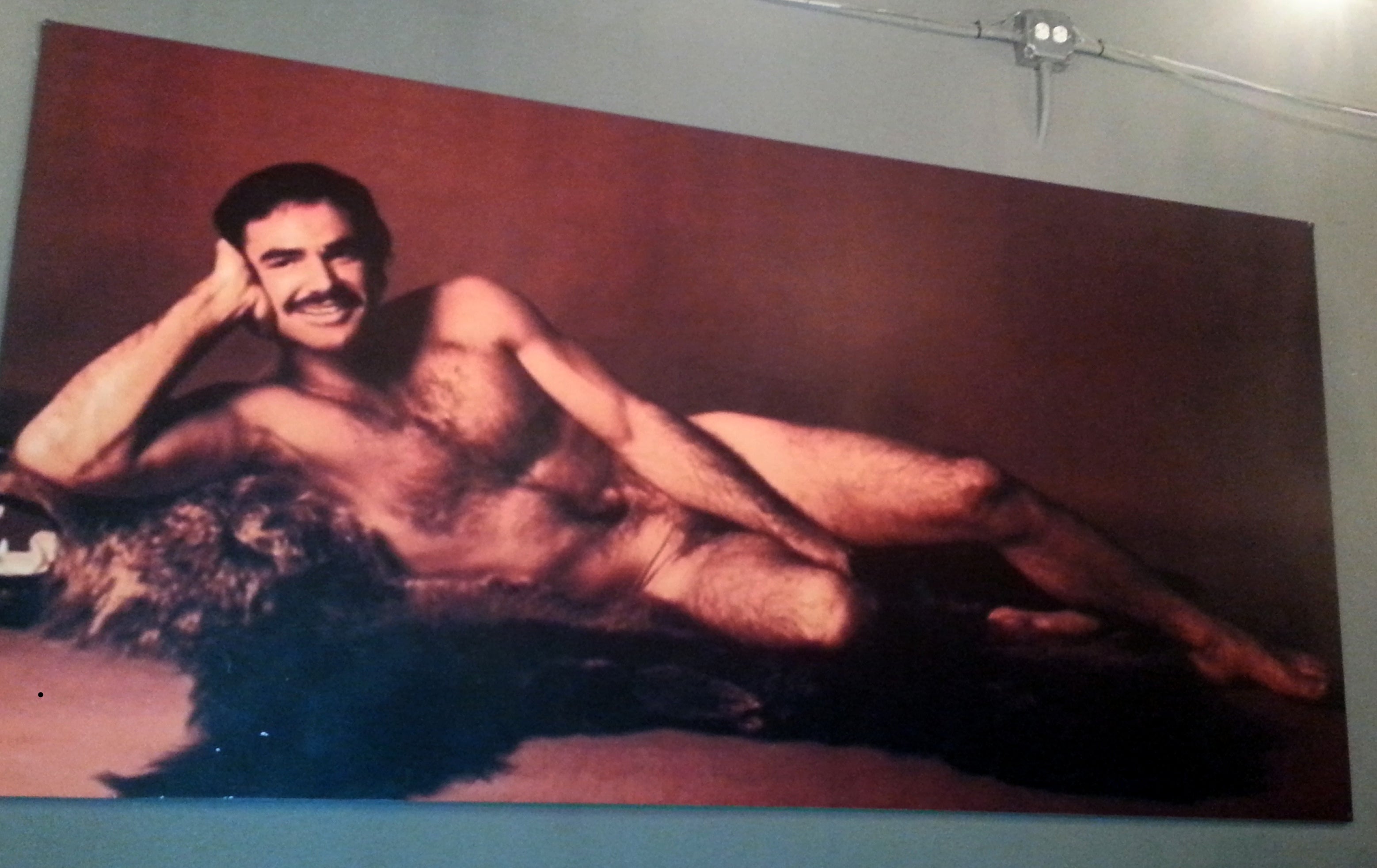 A few minutes later, I got another text saying I was approved. I went back to the machine, inserted some cash, held up a QR code with the address of my Bitcoin wallet. and, just like that, I was the proud owner of 0.095 BTC.
For people don't have a Bitcoin wallet, Robocoin will make one for you on the spot.
Naturally, being inside a bar, I immediately attempted to use my newly acquired virtual currency to buy a beer. But, ironically, the first bar to host a Bitcoin ATM doesn't actually accept bitcoins—though Handlebar does say its working on upgrading its payment systems to accept the currency as soon as possible.
While this ATM was billed as the first Bitcoin ATM in the country, one day prior to the unveiling, New Hampshire-based Liberty Teller unveiled its own Bitcoin ATM in Boston's South Station. And Canada has had its own unit for months. Last October, Robocoin rolled out a similar unit in downtown Vancouver coffee shop. On its first few days of business, the Vancouver ATM averaged about $30,000 worth of business per day.
Though every Bitcoin transaction is recorded in a public ledger, called the block chain, that anyone in the world can view, the identity of the people on either side of transactions can remain completely anonymous. As a result, Bitcoin has became the de rigueur payment system for drug-filled online black markets like the Silk Road, which was shut down after its alleged mastermind was arrested in San Francisco last year. It's in the context of these illicit dealings that many people first became aware of the entire concept of virtual currencies.
So simple, easy-to-use, public-facing products like Robocoin's Bitcoin ATM are part of a concerted effort by many within the Bitcoin community to better integrate virtual currencies into the larger economy. Originally the exclusive province of libertarian-minded technophiles, Bitcoin has quickly grown toward wider adoption—although buying and selling the currency is often viewed as an intimidating challenge for the uninitiated.
However, recent moves have started to seriously counteract that perception. In January, personal finance app Mint announced it would partner with the Bitcoin wallet service Coinbase to allow users to track their Bitcoin holdings just like they would their other investments. In addition, an increasing number of businesses have started accepting Bitcoin. Most notably, online retailer Overstock.com began allowing customers to pay in the currency. In the first 24 hours, Overstock reportedly earned $126,000 in revenue from users who paid in Bitcoin.
Robocoin sells each the machines for around $20,000 apiece. As with many standard ATMs, particularly the ones located in non-bank settings, the owners earn revenue from a small fee applied to each transaction.
Sam Piri of My Local Bitcoin ATM, the group that owns the Handlebar machine, told the Daily Dot he intends on installing a couple more Bitcoin ATMs throughout Austin during SXSW. They plan on putting one in the actual Austin Convention Center itself—ground zero for SXSW—and another at a local coffee shop.
One nagging problem for the service, however, are the almost invasive security procedures needed for a new account. Robocoin CEO Jordan Kelly acknowledged that Bitcoin enthusiasts, a group known for putting a high value on privacy, may initially balk at having to scan their IDs and give handprints in order to use the machines.
But he insisted Robocoin is going to great lengths to encrypt and secure user data and that these steps are essential in proving to the government that everything is on the up-and-up. It's all about creating a record of every transaction and linking that record to an actual human identity, much like a regular bank does when someone sets up an account, Kelly said.
?Bitcoin is pseudonymous, not anonymous, and we understand that. But some of that is going to have to go by the wayside," Kelly explained.
?If you want to live in a country with some kind of [financial] governance, you have to sacrifice a bit anonymity in order to get Bitcoin. I think Bitcoin is way more important than anonymity."
The process, he said, is about ?creating the simplest, easiest and fastest way for customers to enroll while simultaneously giving our operators [a way] to comply with anti-money laundering and ?know your customer' compliance."
Robocoin takes the conversion rate from the going rate on exchanges like Bitstamp and Vault of Satoshi. The company used to take prices from MtGox, until a technical issue caused MtGox to suspend withdrawals and enter into what's been called a ?whirlpool of death."
Though Vault of Satoshi recently announced it would begin allowing users to directly exchange another cyryptocurrency for dollars, the meme-themed  Dogecoin, Robocoin has no plans to incorporate anything other than Bitcoin for the time being.
?The focus right now is really on Bitcoin," Kelly said. ?Until the market really matures, until my dad is buying Bitcoin, we're not do anything that could potentially cloud the market."
There are a wealth of wholly legal places that accept Bitcoin online, even if adoption in the real world is coming along much more slowly. In Austin, there is only a small handful of locations that will take the virtual currency—a bookstore, a couple food trucks, and a gun shop. But, as Bitcoin-based companies like Robocoin push Bitcoin out of cyberspace and into the real world, brick-and-mortar adoption is bound to grow.
At the very least, I'm hoping to eventually make it back to Handlebar and turn that fraction of a Bitcoin I bought into a tall glass of beer.
Photo by BTC Keychain/Flickr