A right-wing influencer appears to be having trouble finding a brewery willing to craft his anti-woke beer. The brew was launched in response to Bud Light offering a commemorative can to a transgender influencer.
Conservatives practically foamed at the mouth over Bud Light giving trans influencer Dylan Mulvaney a can with her face on it. To express their outage, they've shot at the popular light lager, smashed it, and called for a boycott of the entire company. They quickly learned that boycotting Anheuser Busch is easier said than done, as the company brews many of the most popular beers in the country.
Seth Weathers decided to solve their woke beer woes by selling a brew that doesn't stand for LGBTQ equality in the slightest: Ultra Right 100% woke-free American beer. Weathers, who previously sold "Let's Go Brandon" wrapping paper at Christmas, just needed a company to brew it. Given his asking price of $19.99 plus shipping for a six-pack, this should've been an easy task. (A six-pack of Bud Light costs roughly $8-$10 at most retail locations in the United States.)
According to his viral YouTube ad for Ultra Right beer, Weathers wanted to sell a beer that didn't "use our money to indoctrinate our children with their woke garbage." It's illegal for children to drink beer, though it is of course legal for them to see ads for alcoholic beverages.
Weathers' website said of his anti-trans rights beer, "If you know which restroom to use, you know what beer you should be drinking." It bears mention that transgender people do know which restroom to use, conservatives just want to prohibit them from doing so.
Weathers seems to have hit a snag finding a brewery. The company he was so convinced would sell his anti-woke beer that he put its name on his website reportedly backed out after it saw how he was marketing it.
Mike Zoller, beer editor of PorchDrinking.com, first reported that Weathers attempted to tap Illinois-based Bent River Brewing Company to brew his anti-woke beer. Zoller also said that Bent River Brewing told him that Weathers used its name without permission.
"We were initially approached to possibly contract a beer for a customer," the company reportedly said. "Without our knowledge our name was listed on a website for a brief period of time. When we were made aware of the marketing for the product, we chose to pass on producing it."
Zoller included screenshots that show former versions of the website for what Weathers bills as "conservative dad's Ultra Right beer" claim it is "brewed and canned by Bent River Brewing Co." in Rock Island, Illinois.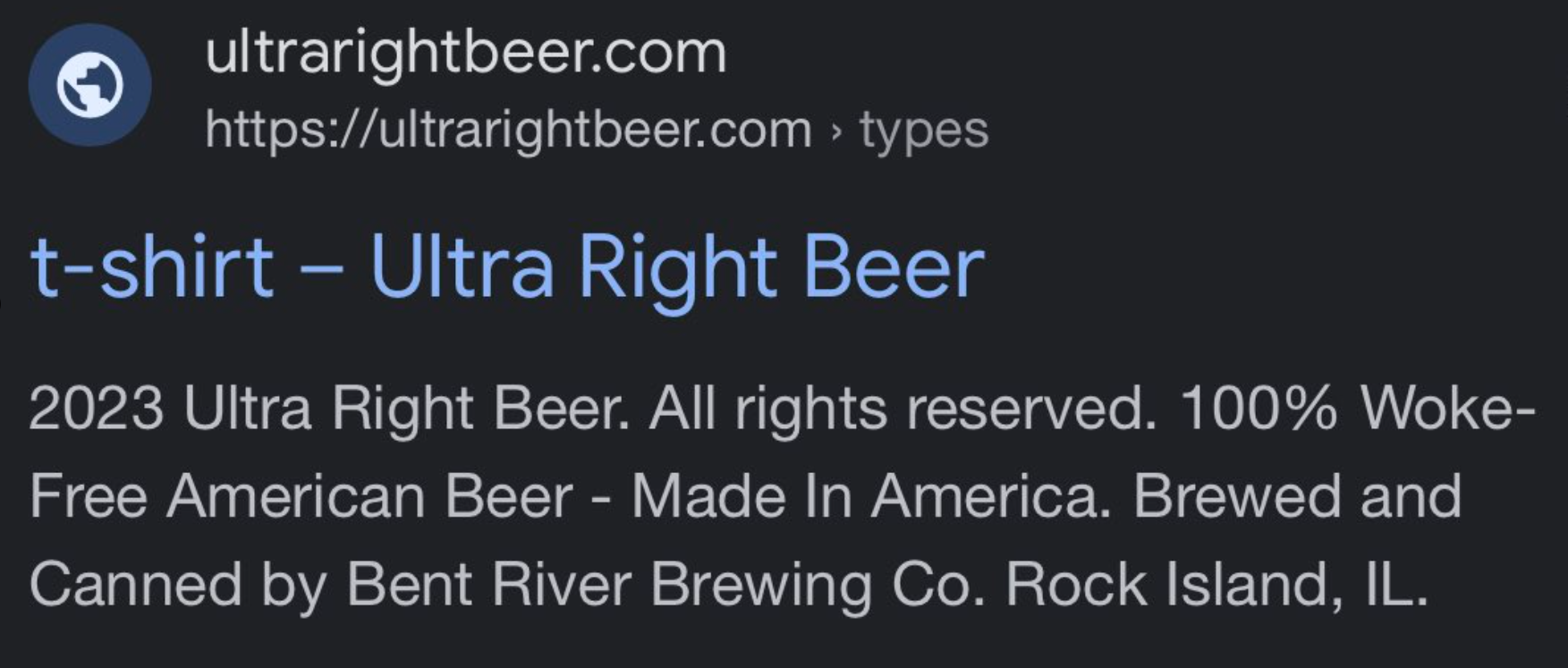 Google searches conducted by the Daily Dot also reveals the name "Bent River" in parts of Ultra Right Beer's website text.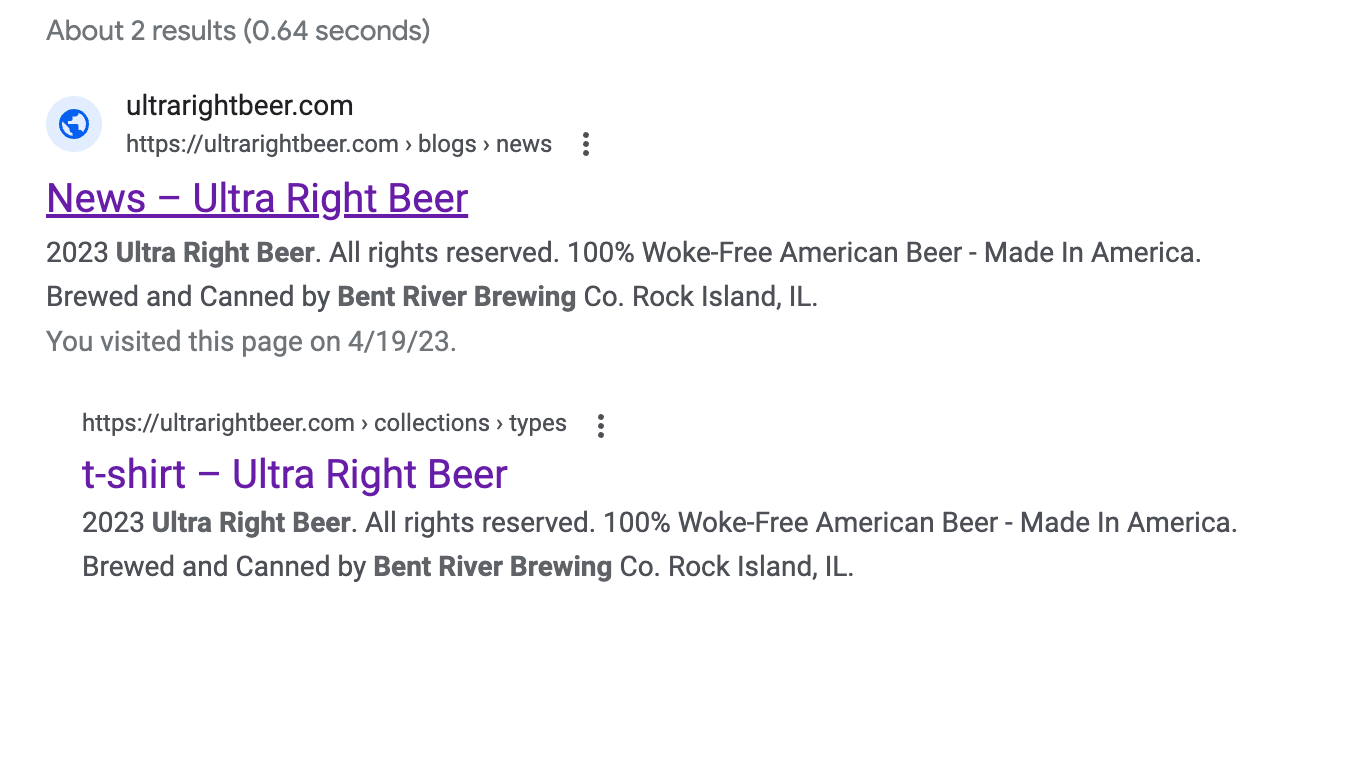 Bent River Brewing told the Daily Dot via email that "we were referred as a potential contract brewer. We declined."
They declined to comment further.
Ultra Right did not respond to an email seeking comment on Wednesday afternoon.
Ultra Right's website still says the beer is being crafted in Northern Illinois, where Bent River Brewing is based. An archive of the site on the Wayback Machine reveals that since Saturday, it changed the date the first six-packs were supposed to start shipping—May 11 or thereabouts—to the even more vague "approximately 30 days after order."
After Zoller corrected the record, some of Bent River Brewing's fans breathed a sigh of relief.
"Oh good. Bent River was my college brewery and [I] go there each time I'm back in the Quad Cities," wrote one.
Others made fun of Weathers and his anti-woke beer.
"Bent River tells right wing beer brand to 'get bent,'" joked @snchalmers79.
Update: After the announcement that Bent River was backing out, Weathers said that Big Kettle Brewing in Lawrenceville, Georgia, would handle brewing his beer.
According to an update from Weathers on Twitter, orders are supposed to begin shipping on June 12.
Some right-wing influencers have also begun to share pictures of six-packs they've received.


We crawl the web so you don't have to.
Sign up for the Daily Dot newsletter to get the best and worst of the internet in your inbox every day.