An Austin neighorhood Facebook page is turning heads.
The well-known page underwent a minor change to the process of requesting access. Now, if a new resident would like to join, they must answer several questions and agree to the group rules. One of those listed questions is getting blasted.
Protests in downtown Austin last weekend spurred the administrator of the group, Marty Hale, to add a new question: "Do you support BLM, Antifa or Democrats?"
The question gave several members of the group, as well as hopeful members, pause. Lakeway resident Marie LeAnn told KXAN that she finds the question unacceptable.
"I think it's unacceptable to take a garage sale page that people joined under one pretense and has over 16,000 people," she said. "To take that and turn it into something political, which many of us do not stand for, is not only disingenuous but unacceptable."
Another resident, Rachel Sill, said the question proves that racism "lives and breathes in Lakeway, Texas." Sill said the demographics of the Lakeway area, along with the discussions she's seen in the group over the years, create a perfect environment for the politically charged query.
Following the media attention the change prompted, the question has been removed. Lower on the list of "group rules," however, another section appears to be aimed at any potential Black Lives Matter protesters. No. 8 on the list of rules states that members agree to "No Organizing of Rioting or Protesting."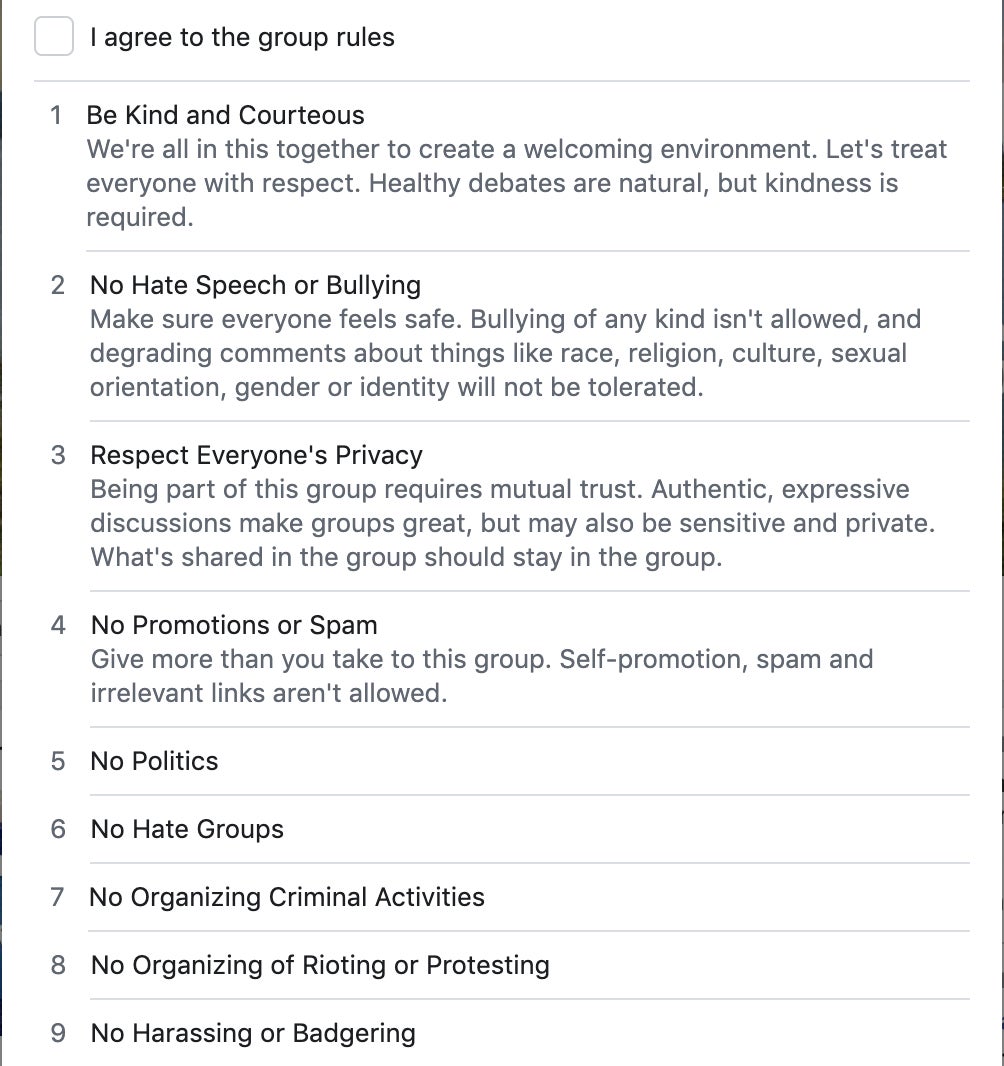 The group, according to long-time members, has shifted somewhat in recent months. What used to be a group for estate sales and trading furniture or household products has become an increasingly political space. Sill noted that she's seen more and more debates crop up recently on the page. Her previous conversations with Hale made it clear that he was in large part responsible for the shift.
"He said something to the tune of, 'If you are racist against whites, then we don't want you in the group,'" Sill said. "'If you don't like it, then leave.' Something with that rhetoric."
Speaking with KXAN, Hale contested this viewpoint. He told the news organization that the Lakeway page is not a political site. KXAN notes, however, a starkly political post previously pinned to the discussion board. The post discussed criminal charges against Charles Wade, a prominent figure in the pre-2016 Black Lives Matter movement. The post has since been deleted.
In response to KXAN noting the post, Hale said he's had issues with Black Lives Matter supporters in the past.
"We had a bunch of people hammer the site. We had a bunch of people who were in support of Black Lives Matter, antifa, and the Democratic Party, all trying to promote hate," he said. "We just want to know: What are they going to try to put on this page? Are they going to try to push their agenda? If they aren't going to buy, sell, or trade, then we don't want them."
Despite this fact, Hale said that answering "yes" to the question will not automatically bar you from access to the page. It merely spurs Hale to do further research. "If someone says: Yes, I support antifa, then we can go to their page and see if they are supporting hate crime," he said. "If they are, then no they are not going to be on here."
---
Today's top stories
H/T KXAN