Rep. Alexandria Ocasio-Cortez (D-N.Y.) does not face any serious challenge in her re-election campaign. But that hasn't stopped Republicans from lining up to run against her.
While there's likely no legislative future for those candidates hoping to get their name on the same ballot as the iconic congresswoman, Republican opponents enjoy the publicity that comes with touting themselves as the alternative to the young socialist.
And no candidate seems to crave the publicity more than ex-felon Antoine Tucker.
Tucker filed his candidacy in early June 2019 and introduces himself on a video on his campaign website as "the first ex-felon that's Black and Hispanic to run for Congress in the history of this nation."
In 2017, Tucker was profiled by Brooklyn Ink—a blog run by journalism students at Columbia. In that brief profile, he says that he spent long stretches of his life homeless before a federal informant caught him selling crack cocaine.
He earned a GED in prison and went on to own a tattoo shop in Brooklyn called Top Shelf Ink. Top Shelf Ink's Instagram page features a photo of Tucker and Kaya Jones in April 2019. Jones is on one of President Donald Trump's campaign advisory boards, but her C-list fame derives from her tenure as a back-up singer for the Pussycat Dolls.
The profile says of Tucker: "His opinions are not conventional by any means, including unusual takes on politics."
And on his website, he specifically calls out AOC's "globalist" agenda.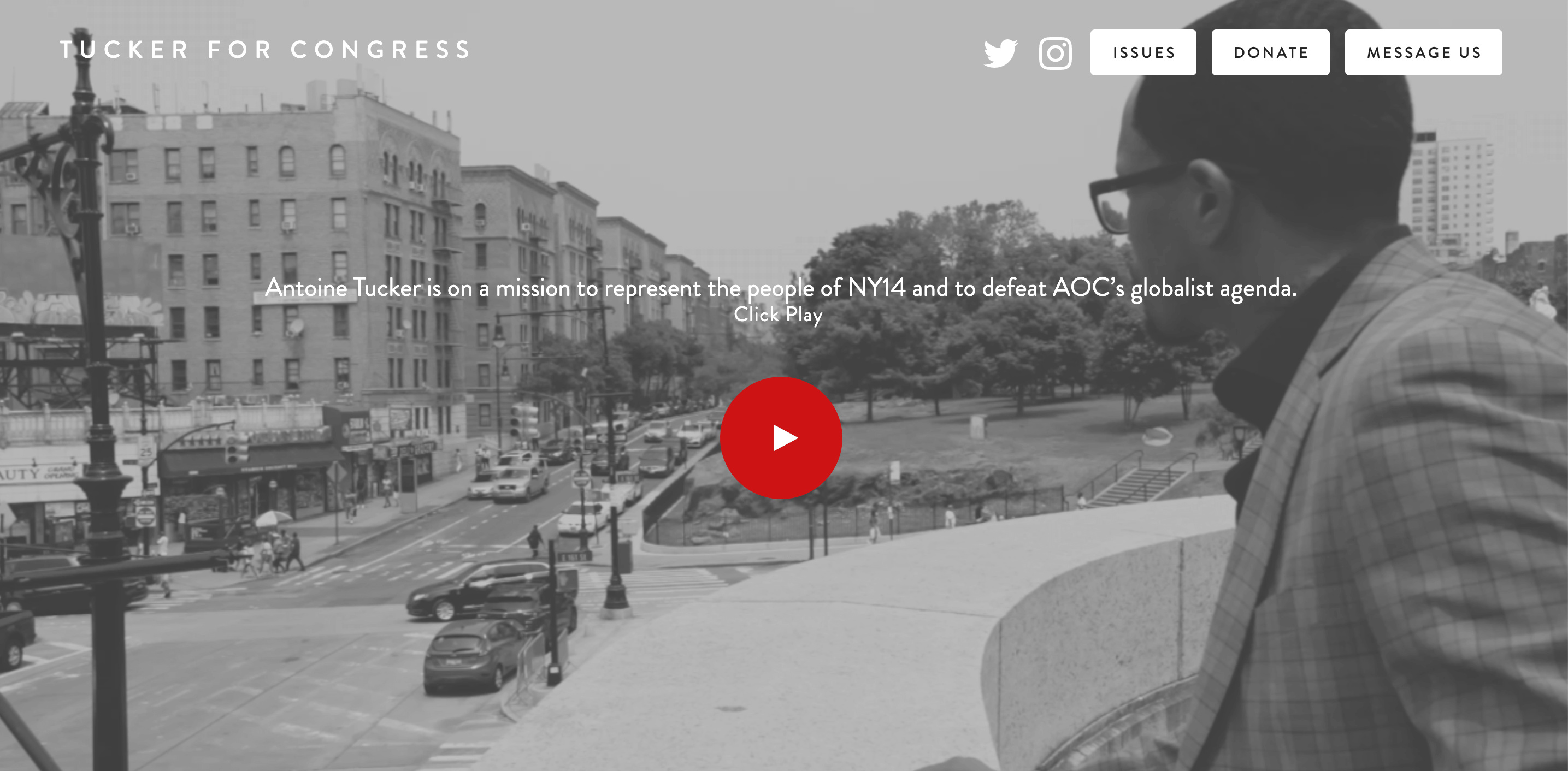 But while he rants online, the policies on his site aren't quite what one would expect.
His top priority on his site is education reform, where he calls for a system where parents can take the same classes as students, and teachers can hold parents accountable: "Children have potential and it is evident when parents are involved. The lack of parental reinforcement at home for poor behavior/attendance would allow teachers to issue referrals to the school guidance counselor so parents can receive assistance with communication skills and other needs."
The rest of his platform, despite challenging Ocasio-Cortez, comes across as progressive, with calls for housing reform, criminal justice reform, and clean energy.
While he doesn't stand a chance of being elected (the Republican candidate in Ocasio-Cortez's district got less than 15% of the vote in 2018), Tucker has succeeded in boosting his personality online.
He has almost 90,000 followers on Twitter, including Donald Trump Jr. There, he veers far from his platform, posting cringe videos and far-right propaganda.
In a post from early April that has nearly 325,000 views, Tucker wears an undershirt and a Yankees hat and paces beneath a sketch of Heath Ledger's Joker character and tells the camera: "Adam Schiff, you're a piece of shit and, come November, all of you pieces of shit is leaving D.C."
In a video uploaded on Easter that gained 56,000 views in 12 hours, Tucker declared "since it's Easter Sunday, I'll refrain from using profanity, but I'm still going to rip every last one of you journalists and globalists apart."
He spends the next 30 seconds accusing reporters of siding with the Chinese on coronavirus. At some points in the video, Tucker appears to be holding a joint.
In another one that has 1.2 million views, Tucker complains that the Democrats blocked the stimulus bill because "the Democrats don't give a fuck … they care about power, all of this shit is about power."
On Instagram, he's no stranger to pushing conspiracy theories, accusing Bill Gates of secretly being behind coronavirus and calling it a hoax.
Tucker has filed two quarterly reports—in Q2 and Q3 of 2019—that shed a bit of light on his candidacy. He did not file a report for the end of the year in 2019, prompting the Federal Election Commission to warn him that he may be subject to fines and remind him that there's no grace period for filing a late report—meaning that Tucker almost certainly owes a fine to the FEC.
According to his Q3 filing, Tucker had only $1,566 on hand. In that quarter, he raised $15,931.
While he does have some large donations, there are 98 appearances of a company called Jeld Productions—Tucker listed both payments and donations from the company, giving the impression that his campaign may be more of a money-laundering operation than a political endeavor.
The payments that Tucker's campaign made to Jeld Productions are listed as "social media marketing," but Jeld Productions does not appear to have any social media presence. A search for the corporation in New York brings up no results and its address is listed at an apartment complex in downtown New York City.
The first hit for Jeld Productions on Google goes to a site that doesn't exist.
There is a mention of "Jeld Electronics" on a DJ directory that lists it as being based in Brooklyn.
Meanwhile, Ocasio-Cortez has $2.9 million on hand and has raised $5.3 million this cycle. And though Tucker might have a large profile online, there are four Republican candidates with more money than him, according to OpenSecrets.
Tucker doesn't even use WinRed, the GOP's fundraising platform, opting instead to route donations through Squarespace. Since that platform is predominantly used for XYZ, Tucker's use of it as a campaign finance tool raises further questions about how he's handling his money.
The Daily Dot reached out to Tucker multiple times for information about Jeld Productions and to find out whether he has filed his delinquent FEC reports but did not receive a response.
READ MORE: