Michael Cohen, the longtime lawyer for President Donald Trump, is set to testify before Congress today in what is expected to be an explosive few hours of revealing tidbits about the president.
The New York Times published a copy of the prepared opening statement from Cohen, who pled guilty to lying to Congress—but says he hopes he can make amends with his testimony today.
The president has pushed back at Cohen, saying he's lying to get a reduced prison sentence.
Here are a few of the more damning lines from Cohen's opening statement:
1) Cohen jabs Trump with a Vietnam burn
Cohen describes conversations he had with the president regarding his Vietnam draft deferment. According to the testimony, Trump said he wanted to get medical records to help with the "negative press."
Trump said there was never any surgery, according to the testimony, and told him "You think I'm stupid? I wasn't going to Vietnam."
In the testimony, Cohen shoots back directly at Trump:
"I find it ironic, President Trump, that you are in Vietnam right now."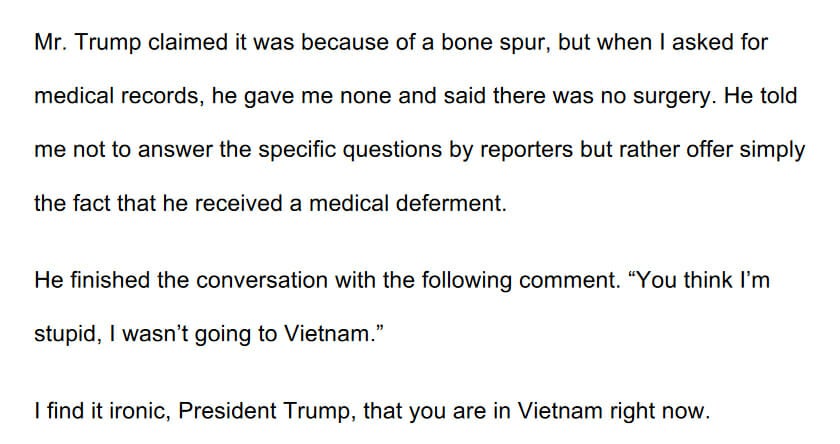 2) Trump thinks Don Jr. has the 'worst judgment of anyone in the world'
Cohen makes it clear that he does not know of "direct evidence that Mr. Trump or his campaign colluded with Russia," but added that he has "suspicions."
He discusses the infamous Trump Tower meeting between Donald Trump Jr., other campaign officials, and several Russians. According to the testimony, "something clicked" in Cohen's mind and he remembered his son telling his father "the meeting is all set."
Cohen says what "struck" him was that Trump had a low opinion of his son, telling Cohen he "had the worst judgment of anyone in the world."
So, as Cohen's statement says, he believed that the now-president knew about the meeting.

3) Unsurprisingly, 'Individual 1' is Trump
When Cohen pled guilty to lying to Congress last year, a criminal information document referred to an "Individual 1" numerous times, including how Cohen worked in trying to secure a real-estate project in Russia for that person.
At the time, Twitter joked about the fact that it was almost assuredly the now-president who was referred to as "Individual 1" in the document.
Well, the speculation can now be put to rest. In his opening remarks, the president's former longtime lawyer made it clear: "Individual 1" is Trump.

4) Trump knew about the WikiLeaks email dump
Cohen also said that then-nominee Trump knew in advance that WikiLeaks would be dumping a trove of stolen Democratic National Committee emails during the election.
Cohen's statement says that Roger Stone told Trump about the upcoming email dump during a conversation. The president said, according to the statement, "wouldn't that be great."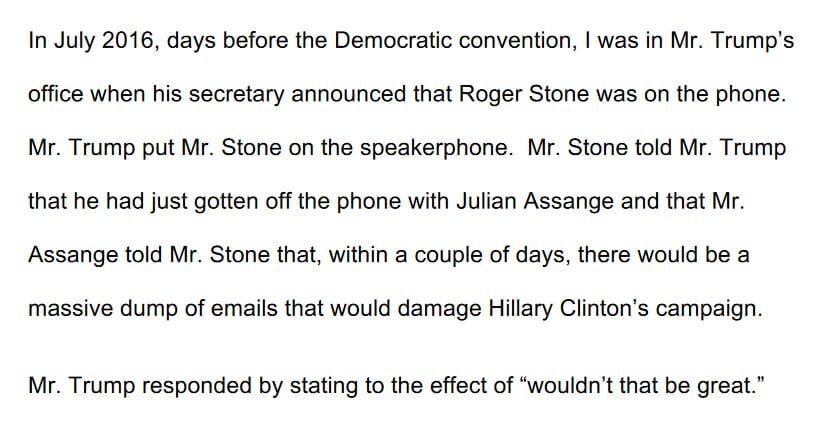 5) Trump is a 'racist'
Cohen goes into details about times when the now-president allegedly showed racist views. His former lawyer says the president asked him if he could name a country "run by a black person that wasn't a 'shithole,' and told him that "only black people could live that way" when driving through a "struggling neighborhood in Chicago."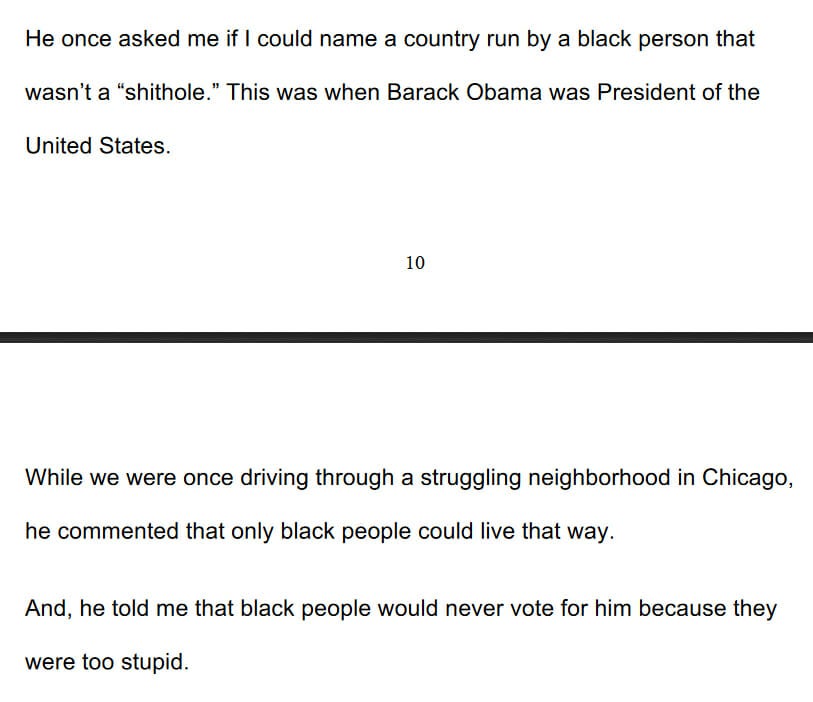 You can read all of the opening statement, courtesy of the New York Times, here.
READ MORE: