As it turns out, 4chan—the website allegedly behind the recent stolen trove of nude celebrity photographs—has a legal policy to help victims, such as actress Jennifer Lawrence, remove stolen content. There's only one problem: It's completely useless. 
4chan's legal policy is meant to provide intellectual property owners with a process for reporting infringement through the Digital Millennium Copyright Act (DMCA), the 1998 law that governs how copyrighted material is managed online. On most websites, all Ms. Lawrence would have needed to do is provide a physical or electronic signature, descriptions of the alleged stolen content, and a few other legal statements. But not 4chan.
The reason isn't entirely a bad thing for victims: In all likelihood, whatever copyrighted material you've decided to complain about will be gone long before you can file your report. 
The average lifespan of an image on 4chan is five minutes. By the time you finish reading the 600-something-word DMCA policy, refresh the page with the offending content and you're likely to see this:
As explained in 4chan's FAQ under the heading "My post disappeared! Where'd it go," content is pruned from the website at a high rate. Since each image board is limited to sixteen pages at most, only threads that rapidly become popular remain on the site. 4chan is fairly unique in that all of its content is eventually deleted. There are no archives. And even if a thread does remain active, it's usually only accessible for a few hours. That's hardly enough time for the figurative ink on your complaint to dry. 
So, if stolen images, such as the private nudes of roughly 100 celebrities, disappear so quickly from 4chan's boards, and copyrighted material removes itself from the website, where's the real issue and why didn't #CelebGate photos vanish like so many lolcat memes? The answer is, of course, obvious.
Other than the fact that there are way too many vile jerks in the world, one seemingly insurmountable problem is the sheer vastness of the Web itself. Due to the popularity of 4chan, not to mention the celebrity of the women in the photos, the stolen pictures quickly spread to thousands of other websites. They were packaged into hundreds of easily downloadable torrents, which are still being seeded by tens of thousands of users. 
To be fair, 4chan has taken steps to prevent the stolen photographs from being uploaded again. Users who try are hit with a message warning them that their IP addresses are being recorded. This has done very little to prevent the pictures from being posted, however. There are plenty of ways to avoid the censors and dozens of threads pop up every hour featuring the stolen photos.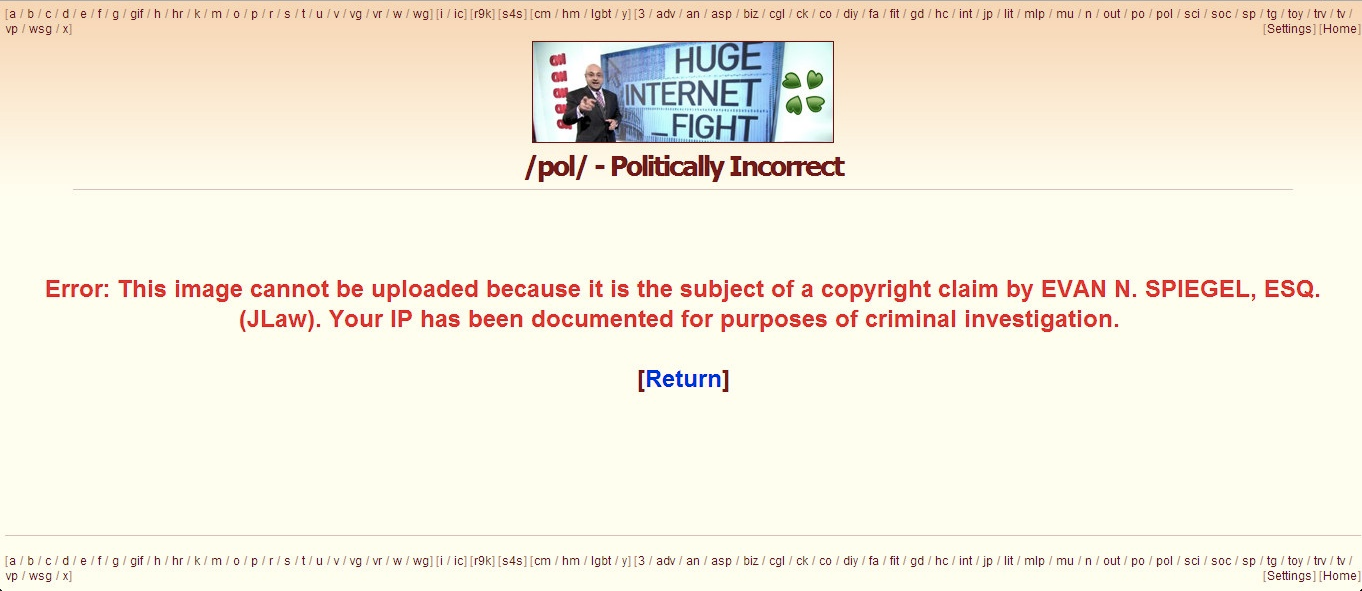 But the main problem—something you may not want to hear—is that this exactly how the Internet was designed to function. Entire economies have been erected around the virability of media online. And since we can't trust any one person or government to censor the Internet appropriately, without abusing that awesome power, we've settled for relatively unrestricted free speech. 
That's not to say that the individual responsible shouldn't be mercilessly hunted down, and punished to the full extent of the law. But there may never be a mechanism or legal policy that respects our freedom of expression and protects our privacy absolutely 100 percent of the time. 
Unfortunately, the Internet we've created, while often a remarkable tool for positive social change, will always be just as accessible to those who wish to use it to harm others. 
Photo via  MingleMediaTVNetwork/Flickr (CC BY-SA 2.0)