Facebook may forever be in a state of advertising woe, but it hasn't had a problem milking money from the U.S. State Department. An internal report chides the department spending $630,000 for Facebook likes, boosting followers from 100,000 to 2 million on its main page.
When it comes to wasteful government spending, $630,000 is a pittance. What's more interesting is the insight the case study provides into the pitfalls of trusting Facebook with your advertising money.
Indeed, like a lot of people who've bought followers on Facebook, the department soon found the return was hardly worth it. Many of those 2 million followers barely engaged, or when they were, they had little of value to add. You can buy followers, but you can't buy the right kind of followers.
"Many in the bureau criticize the advertising campaigns as 'buying fans' who may have once clicked on an ad or 'liked' a photo but have no real interest in the topic and have never engaged further," the department's inspector general wrote in the report.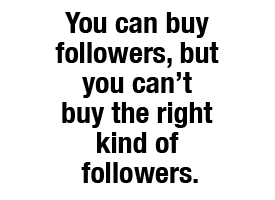 One comment particularly insipid comment singled out by the report read: "So nice pic." (We presume it was referring to a pretty photograph.)
Making things worse, the department soon realized that paying for followers wasn't enough. It now had to pay again just to reach them.
This was thanks to an infamous change Facebook made to its newsfeed algorithm in September 2012, which severely cut into a page's reach. Around the same time, Facebook launched a new advertising feature that let page owners pay to reach more of their followers. This immediately caused a problem for the State Department:
"This change sharply reduced the value of having large numbers of marginally interested fans and means that IIP must continually spend money on sponsored story ads or else its 'reach' statistics will plummet." 
The effects were profound. One post on "Cyber Censorship," for instance, reached 234,000 Facebook users on its first day, but "only about 20,000 would have received the item on their newsfeed without advertising." Same goes for a post on "Women and the Web," which reached 360,000 viewers thanks to advertising; only 27,000 would have seen it without the paid push.
The lesson? Be careful advertising on Facebook. You might get stuck in a money pit.
Read the full report at the Washington Examiner.
Illustration by Jason Reed