As the recent paid editing scandal on Wikipedia shows, companies will pay people significant sums to edit the open-source encyclopedia. The practice is frowned upon by Wikipedians, as it raises serious concerns about objectivity. But ignoring the problem leads nowhere.
It's time to explicitly permit paid editing—under the right conditions.
The problem came to light when Wikipedians discovered a group of "sockpuppets" (different accounts and personas used to create the illusion of diversity or support for a specific viewpoint) allegedly run by company called Wiki-PR. The company specializes in creating, developing, and monitoring Wikipedia articles about their clients. It makes sense: Wikipedia is one of the most popular websites in the world, making its prime position in search results incredibly valuable real estate.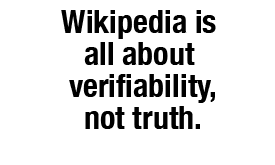 Immediately after the problem surfaced, the Wikipedia community began to weed out promotional edits and ban sockpuppet users with redoubled energy. In November, the Wikimedia Foundation sent a public cease-and-desist letter to Wiki-PR alleging terms-of-use violations, among other potential legal claims.
While this particular PR editing scheme drew red flags, quite surely thousands of other edits on Wikipedia motivated by commercial self-interest are still flying under the radar. Most organizations want to be presented in a good light in the largest and most popular encyclopedia in human history, and many have the resources to hire professionals to create or sway content.
Theoretically, this shouldn't be a major problem. After all, Wikipedia is all about verifiability, not truth. As long as the articles are written from a neutral point of view, verifiable, and do not contain original research, they should be fine—and if they do not adhere to the rules, they should be deleted or corrected on the spot.
However, the reality is not so simple. On Wikipedia, the best articles are typically those that spark a debate and attract different editors, as a diversity of views and sources makes them more balanced and better developed: Quality is forged through conflict. (I cover this and other phenomena of Wikipedia at length in my book, Common Knowledge? An Ethnography of Wikipedia, forthcoming in April 2014 from Stanford University Press.)
This is rarely the case for obscure articles about companies or their products, which do not garner much attention from normal editors. Moreover, while the Wikimedia community has been quite successful in fending off regular trolls and vandals, if the number of ill-willed edits from hired professionals increases, this will become much more difficult. After all, volunteers may have less time than people who are paid specifically to make those edits, who may also be additionally trained to avoid detection.                                                                  
For this and other reasons, the Wikipedia community has often treated any kind of paid editing with suspicion. For instance, the nonprofit Philip Greenspun illustration project in 2007, aimed at creating and improving illustrations for the encyclopedia, never gained much momentum and was discontinued.
In a similar effort, some Wikipedians have attempted linking anonymous edits—usually represented only by an IP address—with corporations (a popular tool used for that purpose was WikiScanner). In some cases whole organizations have been under strong restrictions regarding editing Wikipedia, the Church of Scientology being one notable example.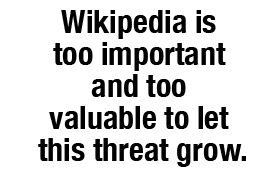 This may be related to the fact that Wikimedians are often driven by ideology and passion and sometimes even believe that editing Wikipedia should, in principle, be done only for the greater good. So it is quite understandable that they treat any offer of paid contributions with suspicion. In this spirit, Sue Gardner, the executive director of the Wikimedia Foundation, issued a statement highly critical of paid advocacy editing by means of sockpuppets and misrepresenting affiliation.
However, instead of outright rebuttal, it may be worthwhile to think about new rules and policies for Wikipedia regarding PR editing. This is mainly a practicality and inclusiveness issue. If the status quo remains, dealing with these edits will require either removing all of them (including those which, despite their commercial character, followed all editing rules to the letter) or treating them on a case-by-case basis, which could be prohibitively time-consuming.
In his Wikimania 2013 Hong Kong presentation, Christophe Henner, vice-chairman of Wikimedia France and also a marketing professional, recognized this need. Henner made the argument for creating procedures to register all PR editors officially. In a way, some elements of such a system are already in place on the German Wikipedia, where accounts created for corporations are allowed to voluntarily register and, after confirmation from a company's email, are labeled with a special template on their user pages. Also, the Wikimedia U.K. chapter has a working draft of a best practices guideline for PR professionals on Wikipedia.
This idea makes a lot of sense, but perhaps it should go two steps further. It should, for instance, be considered by other Wikimedia projects. Each project is autonomous and separately decides its policies and guidelines. For instance, what is a rule on English Wikipedia, does not have to be followed on Polish Wikipedia or English Wiktionary, and so on. Not only should corporations be required to register (on each project they edit), but PR companies, just like lobbyists, should also state their client lists so that there is transparency in reviewing their contributions. Maybe they should even either be flagged as PR on the recent changes watch list or required to have a special suffix in their username. A plethora of technical possibilities would allow for better alerting Wikipedians to their edits.
That way, it would be clear anything these PR editors write should be read with caution and perhaps flagged for additional verification of reliability. Still, a lot of their edits might have informational value. For instance, one can imagine an airplane producer paying to develop good articles about engines, or the city of Bruges paying for a significant development of content in an article about it, or a university paying for high-quality photos of its campus and distinguished alumni‒all through commissioned editing but without compromising Wikipedia's main principles.

In a similar vein, some organizations may want to hire professionals in copyright law and in editing Wikipedia to submit their media files for public use: You would be surprised by how many organizations would love to make their repositories available to everyone but do not know how.
The main advantage of this solution would be that if such policies were established, all remaining undeclared PR edits would be clear-cut vandalism. They could be eliminated on the spot, with no need for the community to discuss neutrality, verifiability, and other policies. At the same time, paid edits from officially registered PR accounts would more likely adhere to the rules and serve the purpose of developing Wikipedia.
Paid edits do and will take place on Wikipedia. Just ignoring this phenomenon will not make it go away. We already know that the traditional procedures and methods, so effective against regular trolls and vandals, are much less useful against trained professionals. As long as hired editors are not required to disclose their role or their clients, what they do is subject to much less control.
Wikipedia is too important and too valuable to let this threat grow.
Dariusz Jemielniak is associate professor of management at Kozminski University (Poland); author of Common Knowledge? An Ethnography of Wikipedia (2014, Stanford University Press); an administrator, bureaucrat, and checkuser on Polish Wikipedia, and a steward for all Wikimedia projects. He also currently chairs the Funds Dissemination Committee of the Wikimedia Foundation for a second term.
Illustration by Jason Reed