Apparently, jamming White Denim, Girls, and Arthur Russell makes me a Hipster Mermaid.
"You were the quirky nerd before it was cool. In fact, you've done everything first: from shopping at Goodwill, to digging through vinyl crates at your aunt's garage sale. But now that everyone's off the bandwagon, you want to make sure they know you were there first. Not that you really care, because caring is lame unless it's about the environment."
That's according to What's Your Stereotype, a new app developed by the Echo Nest, the company that provides the data analysis that powers Pandora Radio. Users can sync their Facebook likes, profile on This is my Jam, or manually insert their favorite bands into the generator to be told which meme best exemplifies their taste in music.
Basically, it's like the Drinkify This cocktail shaker from last year, but plugged into Know Your Meme instead of a liquor cabinet.
Here's a sampler of the Daily Dot's newsroom soundtrack.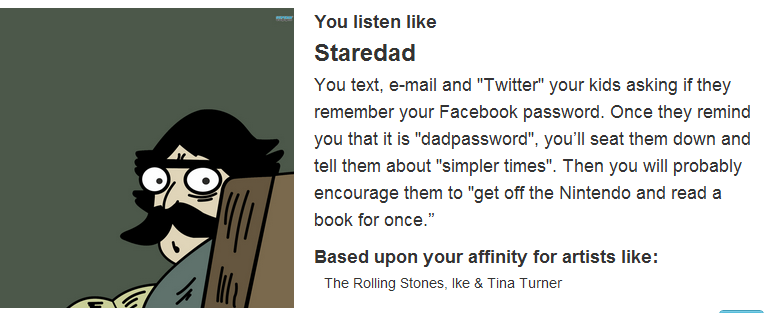 Click here to find out your stereotype.
Just remember where you heard this first.
Photos via Echo Nest