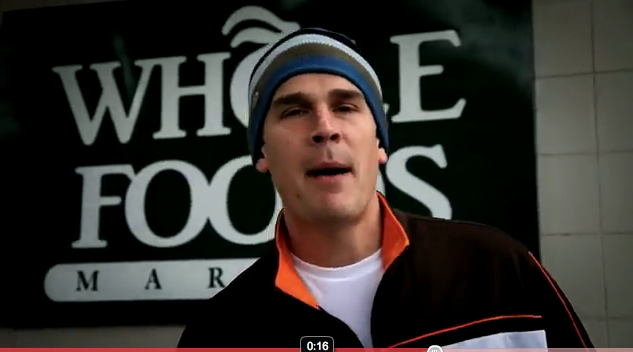 For DJDave, viral-video success is just starting to get real — in the Whole Foods parking lot.
 The 37-year-old California native was better known as David Wittman until a week ago, when he posted a rap video about the upscale grocery chain that spread faster than outrage over Whole Foods CEO John Mackey's views on healthcare. The Daily Dot spoke to Wittman about his creation.
"I found myself almost having a standoff one day in the parking lot at Whole Foods, like 'What's up dude?'" said Wittman, recalling the incident that led him to post the video on a recent Saturday. "I started saying the hook to myself in the car, with this joke gangster perspective. It just worked. I really do get a lot of those things that are in the song and a couple others. It's just funny how consistently those things happened. At some point, you just have to put things in perspective. It's a pretty silly situation all things considered."

Wittman's not your average Humboldt Fog connoisseur, though.

A longtime DJ with a strong jazz background, Wittman has served as staff composer for Santa Monica's prestigious advertising firm Elias Arts for the past 12 years. He's scored successful campaigns for Budweiser ("Wild West"), Pepsi ("Beach"), and Nike ("Magnet") to name but three, and has picked up Cannes Lion and Clio awards for his original compositions.

More recently, Wittman's taken to film scores, contributing to 2006's A Guide to Remembering Your Saints and Fighting, not to mention the recent The Son of No One, starring Al Pacino, and Yelling to the Sky, which premiered earlier this year at the Berlin International Film Festival.

"I would never call myself a rapper," he clarified from his office at Elias Arts. "That's just a matter of going to Berkeley High and just growing up in the Golden Era of hip-hop with A Tribe Called Quest and De La Soul."

Even still, Whittman wrote the lyrics in a mere 30 minutes, with the original beat, which he describes as a cross between 1990s boom-bap and Skrillex's modern dubstep, following roughly a month later. He uploaded the finished MP3 to Soundcloud, a song-hosting service.

"About 1,000 folks listened to it," said Wittman, "but that was it. People said I needed to make a video."

The first production by Fog and Smog, a creative collaborative of film editors and producers, "Whole Foods Parking Lot" is a high-caliber video on a micro-budget. The video went bonkers on Facebook shortly after American Idol host Ryan Seacrest posted it on his wall, and has since amassed 1,245, 573 views at last count. The song's being pushed on iTunes, and even Whole Foods has publicly endorsed the work.

Wittman says several fans have also submitted remixes. (Both the instrumental and a capella versions are available for free download.)

"It's been crazy," he says. "When something goes viral, it's exponential; each step is so much bigger than the next."

While the Lonely Island, Saturday Night Live's suave brat pack, has already proven the demand and crossover appeal of YouTube-friendly hip-hop—the digital age's answer to Weird Al Yankovic's classic parodies—Wittman has no intention of trying to cash in on the endeavor or plans for a follow-up video.

"I could walk around LA and make jokes about various ironic things at farmer's markets," Wittman concluded, "but I don't want to try too hard to keep it going."
He's just keeping it real for now.