Every year, when the Coachella lineup is announced, there's an outcry. Earlier this week, it was revealed that rap duo OutKast would be reuniting and headlining the April festival. And then it was revealed that a lot of people don't know who OutKast is.
The Tumblr Who Is OutKast? has been collecting some of the more oblivious responses. As Coachella's demo gets younger and younger, the gap between generations becomes more apparent. Remember when Jimmy Kimmel sent a reporter to Coachella to ask about fake bands, and nearly everyone took the bait? Remember in 2011, when people were tweeting about not knowing who Arcade Fire was?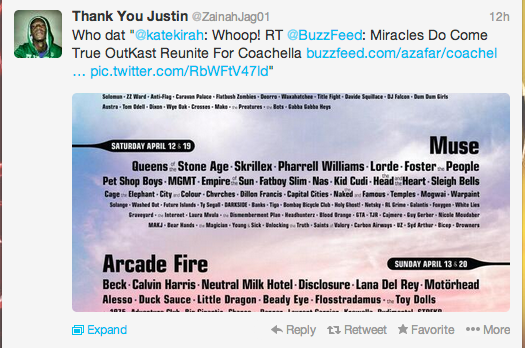 i'm only going to coachella for lorde and ellie goulding… i mean why is outkast headlining and who is muse? i hate 80's music…

— carloS Santolalla (@carloSantolalla) January 10, 2014
There's also been a strong response to the people who are willfully ignorant of OutKast's musical legacy beyond that "shake it like a Polaroid" song. It's olds versus youngs on Twitter.
ok if you don't know who Outkast is i honestly can not and will not hang out with you ever

— DJ Catalyst (@djcatalyst) January 10, 2014
IDC. There is NO excuse for not knowing who Outkast is, not when they're still doing guest verses, dropping solo albums, etc. #GetOffMyLawn

— ANNA ⚓ JOHN (@suitablegirl) January 10, 2014
That 'Who Is Outkast?' link I posted last night was tough to read. They were so important to me growing up & the new generation is clueless!

— DJ OBSCENE (@DJOBSCENE) January 10, 2014
Of course, this happens with every generation. But seriously, have you seen the Coachella lineup? Who is Duck Sauce? There's a band called The Internet? #whoistheinternet?
The Who Is OutKast? Tumblr is taking submissions. if you see something, say something.
Image via Tulane Public Relations/Flickr