Por mucho tiempo, Sudamérica ha sido un continente dominante en el fútbol, lo cual está mejor expresado en sus victorias en la Copa Mundial y en su historia de jugadores trascendentales como Pelé, Maradona y Messi. El continente también tiene una historia extensa y rica de ligas profesionales y sus equipos más importantes enfrentándose en un torneo masivo anual conocido como la Copa Libertadores. Aquí está todo lo que necesitas saber sobre la Copa Libertadores y cómo verla en línea.
¿Qué es la Copa Libertadores?
La Copa Libertadores, la cual inició en 1960, también es conocida como la CONMEBOL Libertadores (CONMEBOL es la federación de 10 naciones sudamericanas que juegan fútbol). El torneo ha tenido diferentes aspectos y formaciones a lo largo de su historia, pero ahora se asemeja a su prima europea, la Liga de Campeones. Como la Liga de Campeones, la Copa Libertadores incluye a 32 equipos de gran rendimiento de las ligas de máxima categoría de 10 naciones (en realidad, el campo inicia con 47 equipos, pero se reduce al número más favorecedor con el torneo a través de una serie de partidos de calificación). Al principio, los equipos compiten en ocho grupos de cuatro equipos cada uno, y los primeros dos de cada grupo avanzan a una fase eliminatoria de 16 equipos.
La edición del 2018 vio a los acérrimos rivales argentinos River Plate y Boca Juniors avanzar a las finales, lo cual resultó problemático debido al formato de ida y vuelta y como local y visitante de las finales. Mientras que el partido de ida en el estadio de Boca finalizó con un empate 2 a 2, el partido inicial de vuelta se pospuso después de que el autobús del equipo de Boca fue atacado en camino al partido por fanáticos entusiastas de River. River ganó el partido, el cual se movió a Madrid dos semanas después de su fecha inicial debido a los problemas persistentes de seguridad, con la estrella Pity Martínez anotando el segundo de los dos goles de tiempo extra en su partido final para el equipo antes de unirse a Atlanta United, campeones del MLS.
La final de este año será de un solo partido y tendrá lugar hasta el 23 de noviembre en Santiago, Chile. La fase eliminatoria iniciará a finales de julio y continuará durante finales de verano y otoño.
Han pasado casi 20 años desde que un equipo haya ganado los torneos consecutivos, con Boca Juniors logrando esa hazaña en el 2001. Los cinco ganadores principales de todos los tiempos son argentinos, encabezados por Independiente con siete, Boca Juniors con seis, el Peñarol de Uruguay con cinco, y River Plate y Estudiantes con cuatro cada uno.
¿Qué equipos de la Copa Libertadores debo conocer?
Un número de los equipos más conocidos de Sudamérica han calificado para las fases grupales de la edición del 2019.
Argentina, con siete puestos, está representado otra vez por River Plate y Boca Juniors, además de San Lorenzo y Huracán, dos equipos establecidos en Buenos Aires que tienen su propia rivalidad constante. San Lorenzo obtuvo atención internacional en el 2013 con el ascenso del Papa Francisco; el líder de la iglesia católica es un fanático de toda la vida del equipo.
Brasil, quien por lo general obtiene siete puestos, tiene un octavo debido a la victoria del Athletico Paraneanse en la Copa Sudamericana secundaria de la CONMEBOL (similar a la Liga Europea de la UEFA). Entre las potencias brasileñas tradicionales de este año se incluyen Palmeiras, Gremio, Flamengo, Cruzeiro y Sao Paolo.
Los otros ocho números de CONMEBOL obtienen cuatro puestos cada uno. Diez equipos, entre los que se incluyen el Nacional de Uruguay y un trío de equipos paraguayos (Olimpia, Libertad y Cerro Porteño) ya han avanzado a la ronda de los 16. Boca Juniors, Gremio y Universidad Católica de Chile están entre los equipos más grandes de Sudamérica que aún necesitan participar en los partidos finales grupales (del 7 al 9 de mayo) para decidir si se dividirán en la fase grupal y avanzar a la fase eliminatoria.
Campeones de la Copa Libertadores
2018: River Plate (Argentina)

2017: Gremio (Brasil)

2016: Atlético Nacional (Colombia)

2015: River Plate (Argentina)

2014: San Lorenzo (Argentina)

2013: Atlético Mineiro (Brasil)

2012: Corinthians (Brasil)

2011: Santos (Brasil)

2010: Internacional (Brasil)

2009: Estudiantes (Argentina)
Transmisión en vivo de la Copa Libertadores: Ve los partidos de la Copa Libertadores gratis
Cada uno de los siguientes servicios se transmite en beIN SPORTS, brindando una prueba de una semana y por consiguiente una forma sencilla de ver los partidos de la Copa Libertadores gratis.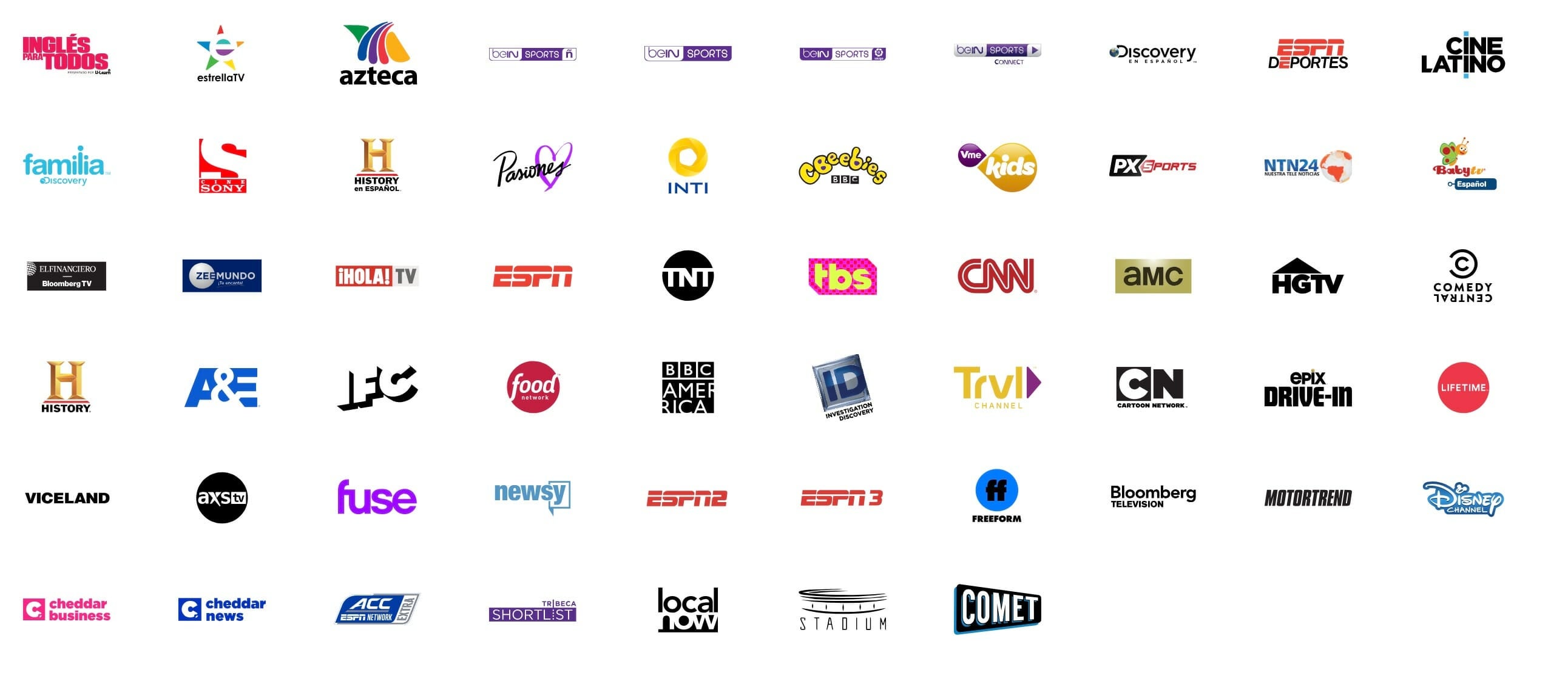 Costo: $25 a $40 al mes (después de una prueba gratuita de 7 días) en inglés o $30 para Best of Spanish + Sling Orange o Best of Spanish + Sling Blue
Dispositivos compatibles con Sling TV:

Fire Stick y Fire TV de Amazon, Apple TV, Android TV, Roku, Xbox One, Google Chromecast, Oculus Go, y dispositivos iOS y Android

Canales locales en Sling TV:

NBC y Fox (consulta la disponibilidad local aquí)
Sling TV es una de las opciones más accesibles y flexibles para ver televisión en vivo por Internet. Puedes escoger entre dos planes básicos, cualquiera de los cuales cuesta $25 al mes. Sling Orange ofrece tres canales de ESPN, Disney Channel y Freeform, junto con otros 20 canales. Sling Blue ofrece aún más canales, incluyendo algunas opciones locales, FS1, FX y canales especializados en deportes como NFL Network. Por $40 al mes, puedes combinar los dos paquetes en el bien llamado Sling Orange + Blue. Sling TV te permite personalizar aún mejor con más de una docena de paquetes adicionales de deportes, comedia y mucho más. También podrás rentar películas o suscribirte a canales premium como Showtime y Starz.
Para las familias bilingües, también hay Sling TV Latino, un paquete que incluye más de 15 canales en español imprescindibles por $10 al mes, incluyendo NBC Universo, beIN Sports y History en Español. También puedes añadir el paquete Best of Spanish TV a Sling Orange o Sling Blue por solo $5 al mes para tener canales como ESPN Deportes.
---
Costo: $44.99 el primer mes, $54.99 al mes posteriormente (después de una prueba gratuita de 7 días)
Dispositivos compatibles con FuboTV:

Roku, Apple TV, Fire Stick y Fire TV de Amazon, Android TV, y dispositivos iOS y Android

Canales locales en FuboTV:

Fox, NBC y CBS (consulta la disponibilidad local aquí)
FuboTV es conocido principalmente como un servicio de transmisión de deportes y es sin duda la mejor opción que hay para el futbol internacional, pero es mucho más que eso. Además de las opciones especializadas en deportes como NFL Network, Big Ten Network y NBA TV, tendrás buenos canales como HGTV, CNN, Bravo, AMC, BBC America, Hallmark y Lifetime Movies. De hecho, el paquete básico de FuboTV ofrece más de 85 canales sin siquiera incluir Comedy Central, MTV, Nickelodeon, Paramount Network, VH1 y otros canales que serán añadidos pronto gracias a un nuevo acuerdo con Viacom. Lo único que le falta es ESPN.
Para las familias bilingües, es difícil ganarle a FuboTV. Cada suscripción tiene UniMás, Galavisión, NBC Universo, beIN Sports, Univision y Fox Deportes. Por $7.99 más al mes, Latino Plus agrega CNN en Español, TyC Sports y otros.
The Daily Dot puede recibir un pago en relación con las compras de productos o servicios que aparecen en este artículo.
Este artículo fue escrito originalmente por Phil West en inglés.