How are you preparing for Hurricane Sandy? Stocking up on goods? Checking your generator? Or are you, like many Twitter users, rapidly signing up for as many parody accounts as you can? The Daily Dot has compiled a rundown of these hastily compiled jokers, listed in order from funny to head-scratchingly bad.

1) HURRICANE SANDY (@AHurricaneSandy) 182,890 followers
A continual stream of all-caps diatribe, @AHurricaneSandy is the voice of Sandy if hurricanes were openly, cockily devoted to "WRECKIN SHIT UP" and referred to a rival hurricane as a "BASIC BITCH." The handiwork of Detroit-based comedian Elijah Daniel.


2) Frankenstorm (@MRFrankenstorm) 572 followers
A nod to the hurricane's nom de Halloween—it's a product of several storms mashed together—@MRFrankenstorm takes that nickname literally, tweeting Hurricane sentiments in the stilted monster speech of Frankenstein's monster (well, the movie versions).


3) Romney's Storm Tips (@RomneyStormTips) 36,820 followers
Born from comments Mitt Romney made in 2011 that U.S. states and the private sector—not the federal government— should be mainly responsible for disaster relief (though his campaign has clarified that he wouldn't actually abolish FEMA), @RomneyStormTips both pokes fun at how the Governor might be handling Sandy if he were president now and makes boilerplate Romney jokes with a hurricane flavor.


4) Obama Storm Tips (@obamastormtips) 4 followers
In the same vein as Romney's Storm Tips, the Obama version pins hurricane references onto standard jokes about the President. It's not clear that the account's creator is actually a Romney supporter, though, since a quarter of its tweets are retweets of either Romney's Storm Tips or people joking with the #RomneyStormTips hashtag.

5) Hurricane Sandy (@hurricanesandy) 662 followers
Despite more than six hundred tweeters already following in anticipation, the squanderer who registered @hurricanesandy account has yet to tweet.

6) hurricanesandy (@sandyhurricane) 4 followers
Apparently registered by a well-meaning Romney supporter, hurricanesandy has only tweeted in one flurry of activity, on Oct. 22, the day of the final presidential debate. Four of the account's five tweets seem intended to slam Barack Obama; the fifth links to Mitt Romney's official site. Apparently, at one point during the debate, the tweeter found a look on Obama's face to be priceless, though there's no context to tell when that moment was.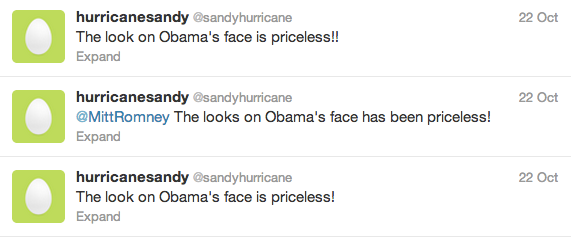 Photo via @AHurricaneSandy/Twitter